Bally: Not Just Another Pretty Face...Er, Shoe
Back to the Blog... | Post Feedback | Author Bio | Printer-Friendly
One hundred and sixty years ago, Bally & Co. was founded by the Brothers Bally in Schönenwerd, Switzerland. Appropriately, enough, in the family's basement, as these stories go. While Carl Franz and Fritz Bally worked together for a few years, Fritz left the business and not long after that, Bally set up a shoe factory to craft the goods that Carl was manufacturing. The firm grew exponentially, and by 1916 employed 7,000 workers.
The company's shoes were always in demand, it seemed: It was Bally boots that climbers wore to ascend Mount Everest in 1953; it was Bally footwear that was donned by the Swiss athletes in 1956 at the Winter Olympics in St. Mortiz; and it was Bally footwear that went to the moon in 1969 -- that famous "That's one small step for a man, one giant leap for mankind." Well, that foot was wearing Bally. Bally can even lay claim to developing and designing the first classic pump, as we know it today.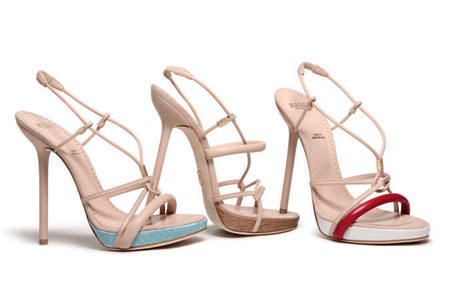 Of course, these days, the company is regarded for its stylish fashion, small leather goods and accessories, as much as it is for those famous coveted shoes. The joint creative directors, Michael Herz and Graeme Fidler, have created a unique contemporary aesthetic for the brand, revolving around the element of surprise garnered by the unexpected juxtaposition of materials, styles, aesthetic. As Bally celebrates its 160 years of style, innovation, and fine craftsmanship, the company has produced a delightful, two-minutes-forty-second video here, celebrating its heritage. Enjoy 160 years in 160 seconds!
Posted on September 29, 2011 - by

---
Reader Feedback - Be the first to kick-start this discussion...



---
About the Author: About the Author: Ruth J. Katz is a well-known shopping and service writer based in New York City. She has written about shopping for 25 years for New York magazine; covered the topic on-air at Fox-TV for several years as the Home Services expert; and had her own show on both the USA and Lifetime Cable networks. Katz wrote extensively for The New York Times as well, and contributed periodically to the New York Daily News. She is a passionate shopper, always looking for not merely a good buy, but the best buy, ferreting out a "steal" or discovering up-and-coming designers. She has written five books and is a former contributing editor to Hearst's Redbook, Classic Home, and Colonial Homes; she is currently a Contributing Editor of New York Home, Golf Connoisseur, The Modern Estate, and Promenade magazines. She is also the former Shopping Director for Davler Media's Manhattan Living.

Recent Entries: