Skin So New and Skin So Soft
Back to the Blog... | Post Feedback | Author Bio | Printer-Friendly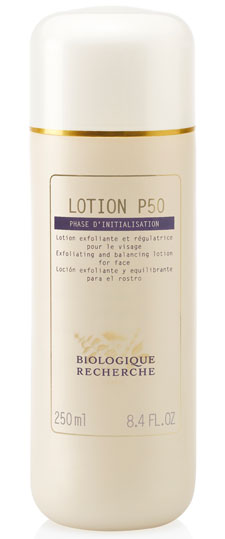 I have a few secret weapons in my beauty arsenal -- and yes, they are all short of a face lift -- that I rely on for an age-defying, smooth, clear, and clean complexion. The newest one which I added about six months ago is Biologique Rechere's P 50V Exfoliator. It has been on the market for only a few years (just FYI, the 8.5 ounce bottle is $85, and lasts quite a long time). I had been meaning to get around to giving it a road-test for at least the last year, since a beauty editor friend began raving about it, and finally six months or so ago, I started using it. (It is suggested that you apply it twice a day, and I do it twice a day a few days a week, and the rest of the week, only once a day.)
There are three products in this company's P50 line -- the V that I use, for sensitive skin, the W for "mature" skin, and the plain old P50 for "regular," less sensitive skin. They all basically do the same thing -- exfoliate. And in so doing, the solution helps to get rid of old, dead skin cells; therefore, it always seems like your face is fresh and bright. The key active ingredients are usnic acid, lactic acid, witch hazel, onion extract, and sage extract; the formula is vitamin-enriched, and as it exfoliates, it purifies and tones, controlling oil; and, I think, it keeps zits (ugh, blackheads, whiteheads, and even discolored areas -- perhaps even rosacea) down to a bare minimum.
The company was founded a generation ago by a dermatologist/biochemist, Dr. Yvan Allouche, and his wife, Josette, a physiotherapist. Their vision was to develop a product line that would restore skin to its youthful glow and protect it moving forward. Today, the company is run by their son, also a doctor, who continues his parents' traditions and develops methodologies and protocols that are both innovative in approach and pioneering in their ingredients. It's not that widely sold in the States, so you have to hunt a bit for it; a fast Internet search ought to net you a retailer in your nabe.
Another product from the company I have tried and really love is the BioKiss lipbalm. I am always looking for a balm that keeps my lips chap-free during the cold months, and this one really did the trick last winter. It is designed to protect lips from "eternal aggressions" and its non-stick (very important to me) formula is rich in botanical lipids. It almost feels like it's nourishing and repairing when you apply it. (It's also good at the beach.) I am eager to start to use other products in the line and see how they stack up. Stay tuned.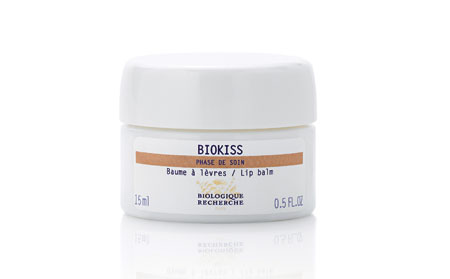 Posted on October 11, 2011 - by

---
Reader Feedback - 4 Replies

1
by 1 @ 12/31/11, 10:04:58 AM

-1'

1
by -1' @ 12/31/11, 10:04:58 AM

1

-1'
by 1 @ 12/31/11, 10:04:58 AM

1

1
by 1 @ 12/31/11, 10:04:59 AM

1