It Feels Free: Paying with American Express Points
Back to the Blog... | Post Feedback | Author Bio | Printer-Friendly
Eager to take advantage of the Columbus Day sales, I went to a big box retailer for a TV. I knew what I wanted, but I also wanted the best price. I searched around the Internet, also, and ultimately found my hole-in-one at a Manhattan retailer. The entire purpose of my odyssey was to locate the unit and then pay for it with my American Express points, which I had transformed into AmEx gift cards last spring, when the company ran a "sale" for 20% more value. Not a bad deal. Wish I had had more points to convert. It seemed too good to be true, but it was true...and when I bought my TV, it felt like I was getting it for free!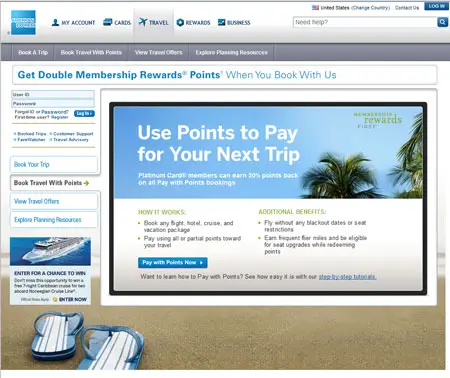 So, that led me to sleuth around the AmEx Web site and then I looked into the company's Pay with Points Program. This is a way to pay for vacations-flights and hotels—with your Membership Rewards points. This program seems particularly user-friendly, unlike trying to use airline points to do anything, what with the miasma of black-out dates and rules. With Membership Rewards Pay it with Points, there are no blackout dates—an amazing perk—considering holiday vacation time is approaching. There are also no seat restrictions on flights. Just try to snag a free flights, using 25,000 points, during the next few months and you'll want to shoot yourself.
But with the Pay with Points program, bookings are not restricted to a particular number of seats in a cabin, and there is great airline flexibility all around. Moreover, AmEx guarantees that people using the Pay with Points program are guaranteed the lowest rates. Pretty good. A great perk. Just go online to American Express and book yourself a few airline seats and a swell vacation in the Caribbean for the dead of winter.
Posted on October 14, 2011 - by

---
Reader Feedback - Be the first to kick-start this discussion...



---
About the Author: About the Author: Ruth J. Katz is a well-known shopping and service writer based in New York City. She has written about shopping for 25 years for New York magazine; covered the topic on-air at Fox-TV for several years as the Home Services expert; and had her own show on both the USA and Lifetime Cable networks. Katz wrote extensively for The New York Times as well, and contributed periodically to the New York Daily News. She is a passionate shopper, always looking for not merely a good buy, but the best buy, ferreting out a "steal" or discovering up-and-coming designers. She has written five books and is a former contributing editor to Hearst's Redbook, Classic Home, and Colonial Homes; she is currently a Contributing Editor of New York Home, Golf Connoisseur, The Modern Estate, and Promenade magazines. She is also the former Shopping Director for Davler Media's Manhattan Living.

Recent Entries: