St. Jude's and HSN Partner with the Annual Heart Designer Ornaments
Back to the Blog... | Post Feedback | Author Bio | Printer-Friendly
I'm about to take off for a week of work outside the country, and I just know that when I return -- while Halloween will still be a day or two away -- the Christmas decorations will be up everywhere....last year, I returned to the city in late October and saw the holiday decorations up in no less than a half dozen "big" stores, and while that may not have included the department stores, there was still plenty of glitter and tinsel around brand-name stores.
So, it's time to start thinking Xmas. The Home Shopping Network 2011 Heart Designer Ornament Collection just went up on the company's Web site last week, and if the past few years' sales are any indication, they will sell out way before Xmas. The ornaments are elegant, fun, and romantic holiday-themed, created by forty-plus Home Shopping Network designers and "friends," a star-studded group. The list of participants reads like a guide to A-list celebs: Martha Stewart, Mariah Carey, Colin Cowie, Todd English, and Nate Berkus, among the many. The ornaments are charming and highly collectible, priced from around $10 to $40. The ornaments are available on hsn.com through the holiday season.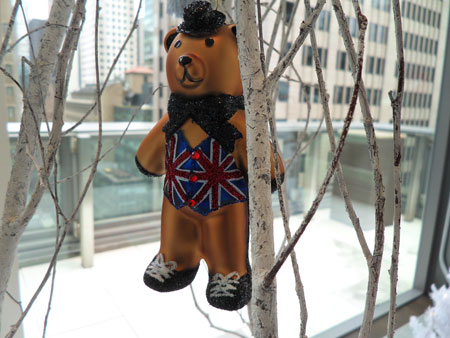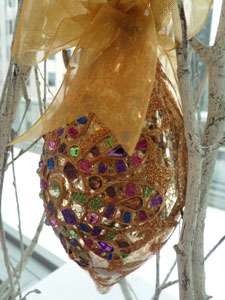 You won't mind (and certainly will not regret) spending any amount on these ornaments, as 100% of the profit, which is at least 30% of the selling price, will go to St. Jude Children's Research Hospital, supporting its ongoing and pioneering efforts to find cures and to save children with cancer and other catastrophic diseases. You could not give to a more worthy charity, as you might well imagine: Giving the gift of health to a child is surely among the greatest gifts of all.
There are a lot of ornaments with rhinestones, glitter, bejeweled surfaces, and sparkly elements, so if you like glam with your Yule, as I do, you'll especially love the many glitzy offerings; among my favorites is the colorful jewel-mosaic ornament from jeweler R. J. Graziano (right). There are about a half-dozen teddy bear ornaments, and many others with doggie and animals themes. There is a sweet doggie with a furry Santa hat on, from jewelry designer Heidi Daus; a cameo designed from renowned cameo jeweler Amedeo; and, also appropriate to his profession, is Emeril Lagasse's ornament, an ear of corn. There are serious ornaments, with a slightly religious tone, and some far more playful. In short, there is something for everyone here.
Posted on October 20, 2011 - by

---
Reader Feedback - Be the first to kick-start this discussion...



---
About the Author: About the Author: Ruth J. Katz is a well-known shopping and service writer based in New York City. She has written about shopping for 25 years for New York magazine; covered the topic on-air at Fox-TV for several years as the Home Services expert; and had her own show on both the USA and Lifetime Cable networks. Katz wrote extensively for The New York Times as well, and contributed periodically to the New York Daily News. She is a passionate shopper, always looking for not merely a good buy, but the best buy, ferreting out a "steal" or discovering up-and-coming designers. She has written five books and is a former contributing editor to Hearst's Redbook, Classic Home, and Colonial Homes; she is currently a Contributing Editor of New York Home, Golf Connoisseur, The Modern Estate, and Promenade magazines. She is also the former Shopping Director for Davler Media's Manhattan Living.

Recent Entries: