A Wondrous Show: The Sandoz Collection at A La Vielle Russie
Back to the Blog... | Post Feedback | Author Bio | Printer-Friendly
Mechanical Wonders: Antique Automatons and Contemporary Watchmaking is a must-see exhibit, now showcased at one of New York City's most jewel-like gallery-shops, A La Vieille Russie; the show is co-sponsored by renowned watchmaker Parmigiani Fleurier, one of the most prestigious of the Swiss haute horlogerie brands of collectible watches. The exhibit opened last week and will continue through December 10 (see below for hours and other particulars).
This astonishing show, while aimed at watch collectors and connoisseurs of automatons and Fabergé objets, is a treat for anyone who loves beautiful decorative objects. The show offers a unique opportunity to celebrate the art of watchmaking, and many of the pieces on exhibit are being seen here in America for the first time: There are mechanical marvels, exquisite "trinkets" from Fabergé (including the majestic Imperial Peacock and Swan eggs, pictured below), and masterful, contemporary timepiece creations of Parmigiani Fleurier.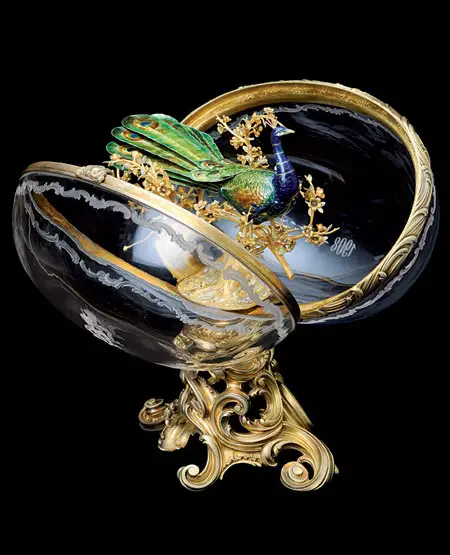 The pieces on display are from the exclusive Maurice Sandoz Collection, which was restored by Michel Parmigiani. Sandoz, a writer, composer, and collector of timepieces and automatons, had an eye for exceptional pieces. Upon his arrival in the United States in 1941, he began to cultivate a close relationship with A La Vieille Russie. Through this collaboration, in 1954, Sandoz acquired the celebrated Imperial Swan Egg, created by the jeweler extraordinaire, Peter Carl Fabergé. The Sandoz Collection now consists of several pieces by this legendary Russian jeweler, including the Miniature Piano, the Imperial Peacock Egg, the Youssoupoff Clock, the Golden Peacock, and of course, the Imperial Swan Egg -- all of which are on display throughout the exhibit. Other wondrous items include a perfume "gun," a miniature sewing kit, etuis and bibelots of all type, cane handles, magicians boxes, vanity mirrors, and the like. One is more staggeringly stunning than the next.
Michel Parmigiani has always been committed to the centuries-old tradition of watchmaking excellence and today his company produces exclusive mechanical timepieces. Each piece within the Sandoz Collection boasts a variety of unique features. In tribute to this event, Parmigiani chose to create two timepieces, each of which reproduces a particular mechanism from the collection, honoring two of Sandoz' pocket watches—an oval watch with telescopic hands and a Perrin Frères pocket watch. Both of these exquisite specimens date from the 1800s.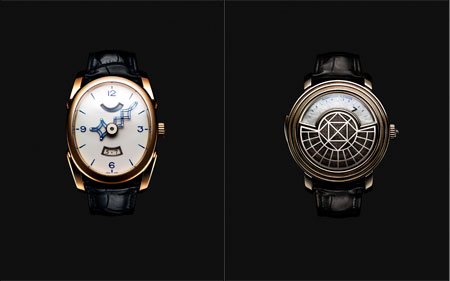 Parmigiani's homage to the former is a timepiece with telescopic hands that run around the radii of an oval-shaped dial. As they reach the 12 and the 6 marks, each hand extends to its greatest length and when each reaches the 3 and the 9 marks, each compresses. Within these two hands—in order to effectuate this intricate elongation and shortening—there are sixty different parts! The second, the watch honoring the Perrin Frères, is an elaborate minute repeater with cathedral chimes, with the time displayed in a half-moon aperture with hours passing by—a reverential nod to the inventiveness of the master watchmakers of the past. On the back of the calibre, the blued-steel cathedral chimes come in a highly original serpentine shape around the movement, perfectly visible through the sapphire crystal case-back.
A La Vieille Russie has remained a family enterprise since its founding in Kiev in 1851; the gallery has been at its present location on the corner of Fifth Avenue and 59th Street since 1961, and is currently under the direction of brothers Messrs. Paul and Peter L. Schaffer and Paul's son, Dr. Mark A. Schaffer. Over the years, among its customers are many celebrated aficionados of fine collectibles, like Queen Maria of Romania, the Duke and Duchess of Windsor, and King Farouk of Egypt.
The exhibition was originally scheduled to run through November 26 and has now been exetnded to December 10; it is open daily, Monday to Friday, 11 a.m. to 6 p.m., Thursday, 11 a.m. to 7 p.m., and Saturday, 12 p.m. t 5 p.m. (Closed on Thanksgiving, November 24th). There is an admission fee, $15.00, to benefit the Jazz Foundation of America. A La Vieille Russie is located at 781 Fifth Avenue (at 59th Street), New York City; 212-752-1727
Posted on November 01, 2011 - by

---
Reader Feedback - Be the first to kick-start this discussion...



---
About the Author: About the Author: Ruth J. Katz is a well-known shopping and service writer based in New York City. She has written about shopping for 25 years for New York magazine; covered the topic on-air at Fox-TV for several years as the Home Services expert; and had her own show on both the USA and Lifetime Cable networks. Katz wrote extensively for The New York Times as well, and contributed periodically to the New York Daily News. She is a passionate shopper, always looking for not merely a good buy, but the best buy, ferreting out a "steal" or discovering up-and-coming designers. She has written five books and is a former contributing editor to Hearst's Redbook, Classic Home, and Colonial Homes; she is currently a Contributing Editor of New York Home, Golf Connoisseur, The Modern Estate, and Promenade magazines. She is also the former Shopping Director for Davler Media's Manhattan Living.

Recent Entries: