Discovering the Discovery Center - The Dead Sea Scrolls in NYC
Back to the Blog... | Post Feedback | Author Bio | Printer-Friendly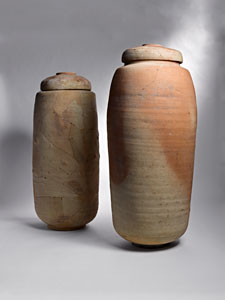 If you have never been to the Discovery Center in Times Square, at 226 West 44th Street, literally just off Times Square, then it's time to discover it. Located in the old New York Times building, the Center is currently mounting a stellar exhibit, The Dead Sea Scrolls: Life and Faith in Biblical Times, and it is a veritable educational Mecca.
The exhibit features the most comprehensive collection of ancient artifacts from Israel ever organized, including one of the largest collections of the priceless (and that is no MasterCard reference), 2000-year-old Dead Sea Scrolls displayed in North America. There is also an actual three-ton stone from Jerusalem's Western Wall -- no easy feat to bring all this here.
The Scrolls themselves are of religious, historical, and cultural importance and they comprise both Biblical and extra-Biblical documents, written in Hebrew, Aramaic, and Greek; the mostly parchment Scrolls are considered among the world's most significant archeological discoveries. They date from about 150 BCE to 70 CE. They were hidden for years and were unearthed in 1947 by a local goat herder, around the Dead Sea. (The exhibit has mounted a wonderfully educational film depicting this and telling the story of how the Scrolls came to light.) In total, there are nearly 1,000 Scrolls, with 20 on display here (with ten being shown at any given moment). Those on display include text from the Books of Psalms, Isaiah, Deuteronomy, and others.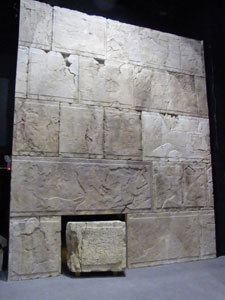 Among the other outstanding objects to see in the show are many newly discovered objects from the Holy Land. These hundreds of items help piece together the texture and fabric of daily life during Biblical times through the period when the Dead Sea Scrolls were authored and then hidden; altogether, these artifacts provide a unique window into the period when the traditions, and ultimately religions, that we know as Judaism and Christianity emerged from the Holy Land.
The show was created by the Israel Antiquities Authority from the collections of the Israel National Treasures and produced by Discovery Times Square and the renowned Franklin Institute in Philadelphia. The exhibit will be mounted through April 15, 2012. It is open seven days a week: Monday to Thursday, from 10 a.m. to 7 p.m.; Friday to Sunday, 10 a.m. to 8 p.m. Tickets must be purchased 90 minutes prior to closing. Tariffs are $25.00 (adults); $19.50 (children, 4 to 12—children under 4 are free); $22.50 (senior). Group sales are available. For additional information: 866-987-9692 and info@tsxnyc.com.
Posted on November 07, 2011 - by

---
Reader Feedback - Be the first to kick-start this discussion...



---
About the Author: About the Author: Ruth J. Katz is a well-known shopping and service writer based in New York City. She has written about shopping for 25 years for New York magazine; covered the topic on-air at Fox-TV for several years as the Home Services expert; and had her own show on both the USA and Lifetime Cable networks. Katz wrote extensively for The New York Times as well, and contributed periodically to the New York Daily News. She is a passionate shopper, always looking for not merely a good buy, but the best buy, ferreting out a "steal" or discovering up-and-coming designers. She has written five books and is a former contributing editor to Hearst's Redbook, Classic Home, and Colonial Homes; she is currently a Contributing Editor of New York Home, Golf Connoisseur, The Modern Estate, and Promenade magazines. She is also the former Shopping Director for Davler Media's Manhattan Living.

Recent Entries: