Great Inspiration: Unveiling 220 Years of Watchmaking Art at Girard-Perregaux
Back to the Blog... | Post Feedback | Author Bio | Printer-Friendly
Girard-Perregaux, the luxury Swiss manufacturer of haute horologie, is showcasing its most classic, iconic timepieces for the first time in New York City. The brand is currently celebrating 220 years of watch-making history, and in so doing, is honoring many of the genius, virtuoso watchmakers who have contributed over two centuries of fine watch-making, extraordinary craftsmanship, and great ingenuity to the company's legendary reputation. Upon viewing the intimate exhibition, it will become instantly apparent why this company has such a burnished reputation. Included in the show are outstanding pieces from the proprietary Girard-Perregaux collection, many watches being the ne plus ultra of quality, excellence, and originality. On display will be a stunning collection of timepieces, from elegant pocket watches to multiple, award-winning wristwatches, from both past and present collections, each infused with the company's traditions of impeccable artistry and skillful expertise.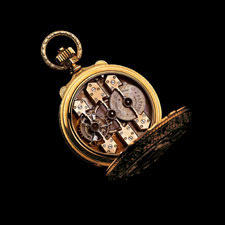 Girard-Perregaux is paying tribute to the finest moments of its history by presenting its most famous pocket watches, like the 1889 La Esmeralda (right) and its 1840 Lepine pendant watch, signed by J.-F. Bautte & Co, in addition to its classic wristwatches. These include the 1991 Tourbillon, the 2009 version of the Vintage 1945, and the 1966 Tourbillon, with its refined architecture, and which is now the standard bearer, as the company's 220th Anniversary wristwatch (pictured on our home page). To observe the steady movements of these watches is to understand the spirit and genius of a particular time and place.
The exhibition is taking place at the Girard-Perregaux boutique, at 701 Madison Avenue (63rd Street), and is open to the public (free) from Friday, November 18th to Wednesday, November 23rd, daily, from 10:00 a.m. to 6:00 p.m. (closed Sunday, the 20th). Additional information: www.girard-perregaux.com; 646-495-9915.
And if you haven't gotten your fill of watches from this outstanding show, you can then hop over to A La Vieille Russie, at Fifth Avenue and 59th Street, to see the exhibition of the historic Parmigiani watches we wrote up two weeks ago. That exhibition has another few days left for viewing...and by then, after viewing both, you should be sated with the splendor and wonder of fine watches...and ready to buy a new one!
Posted on November 14, 2011 - by

---
Reader Feedback - Be the first to kick-start this discussion...



---
About the Author: About the Author: Ruth J. Katz is a well-known shopping and service writer based in New York City. She has written about shopping for 25 years for New York magazine; covered the topic on-air at Fox-TV for several years as the Home Services expert; and had her own show on both the USA and Lifetime Cable networks. Katz wrote extensively for The New York Times as well, and contributed periodically to the New York Daily News. She is a passionate shopper, always looking for not merely a good buy, but the best buy, ferreting out a "steal" or discovering up-and-coming designers. She has written five books and is a former contributing editor to Hearst's Redbook, Classic Home, and Colonial Homes; she is currently a Contributing Editor of New York Home, Golf Connoisseur, The Modern Estate, and Promenade magazines. She is also the former Shopping Director for Davler Media's Manhattan Living.

Recent Entries: