Manhattan Lapin: 'Harvey' Is an Official Spring/Summer Thing on Broadway!
Back to the Blog... | Post Feedback | Author Bio | Printer-Friendly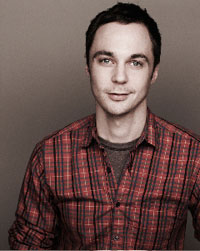 The tantalizing rumors have been confirmed: Jim Parsons [a k a Sheldon Cooper on the hit CBS sitcom The Big Bang Theory] will star as Elwood P. Dowd in Roundabout's revival of Harvey, Mary Chase's deliriously loopy 1940s comedy about a man and his "unwavering friendship with a 6-foot-tall, invisible white rabbit."
Casting the drolly deadpan Parsons in the role immortalized on the screen in 1950 by James Stewart is, to say the least, inspired. Having last appeared on Broadway in a minor, albeit memorable role, in Larry Kramer's this year's Tony winning play The Normal Heart, the Emmy and Golden Globe Award winner will be joined onstage at Studio 54 by two of my favorite actors, Jessica Hecht and Charles Kimbrough.
Hecht, who's been busy finishing up a string of films (she plays Emma Goldman in J. Edgar and just wrapped The English Teacher alongside Julianne Moore, Greg Kinnear, and Nathan Lane, e.g.), was last seen on Broadway in a 2010 (Best Actress Tony nomination) in A View From the Bridge with Liev Schreiber and Scarlett Johanssen. But I have to say, I'm looking forward to seeing her become hilariously unhinged as Elwood's sister, Veta.
Kimbrough, probably most well known for his Emmy-nominated role as Jim Dial on Murphy Brown, has a gift for playing middle-aged guys cut from stuffy, men's club cloth who can pivot into lunacy at the flip of a comic coin. I expect his portrayal of Dr. William R. Chumley, M.D. (at the sanatorium where much of the play's action takes place) is destined to be another wildly funny ride for theatergoers.
On the Roundabout Theatre's blog, the company's Artistic Director, Todd Haimes observes that both he and the show's director, Scott Ellis have wanted to collaborate on the classic comedy for quite some time., but wanted to be certain that they found the right actor to take on the Jimmy Stewart role.
"In Jim Parsons, I really think we've found the perfect Elwood P. Dowd for today," Haimes observes. "He has such charm and sweetness in him, and I know that Jim has always loved this piece, for good reason. I think he has exactly the right spirit to make you believe in that six-foot rabbit all over again. And Jessica Hecht is someone who has long been a favorite at this theater. When we did a reading of the play, she and Jim made perfect comic foils, and I can't wait for our audience to see their hilarious dynamic on stage."
As for the nuts and bolts lowdown, Harvey begins previews on May 18th and officially opens on June 14th. It is slated for a limited run through August 5th, 2012.
Posted on November 29, 2011 - by

---
Reader Feedback - Be the first to kick-start this discussion...



---
About the Author: City Guide Theatre Editor Griffin Miller moved to New York to pursue an acting/writing career in the 1980s after graduating magna cum laude from Case Western Reserve University in Cleveland, Ohio. Since then, she has written for The New York Times, For the Bride, Hotels, and a number of other publications, mostly in the areas of travel and performance arts. She currently is the theatre and spa editor for Promenade Magazine as well as theatre editor for all NYMetroParents publications. An active member of The New York Travel Writers Association, she is also a playwright and award-winning collage artist. In addition, she sits on the board of The Lewis Carroll Society of North America. Griffin is married to Richard Sandomir, Sports Media reporter for The New York Times.

Recent Entries: