From Head to Feet - Emjoi's Micro-Pedi Magic Gizmo
Back to the Blog... | Post Feedback | Author Bio | Printer-Friendly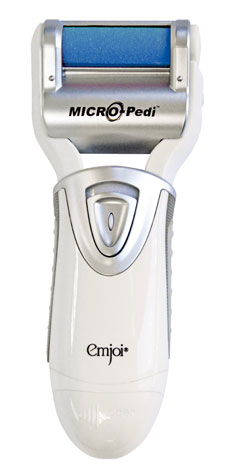 Last week, I touted the Panasonic Facial Steamer, and now, we are skipping from the face, all the way down to the feet. A few months ago, I discovered a wonderful new gizmo for removing rough, hard calluses and keeping feet soft and pink. I've been using it ever since -- perhaps using it more aggressively than most consumers, 'cause I think I wore out a roller in six weeks! The Emjoi Micro-Pedi is a little machine that looks like a little shaver -- well, sort of. And where the shaver would have its heads, the Micro-Pedi has an abrasive roller made of microscopic mineral particles that zooms around and "files" or buffs off calluses painlessly, easily, and quickly. It's a miracle device -- honest and true -- that is both gentle and highly effective. No more abrasive pumice stones, no more slicing with a cutting tool (always a dangerous proposition -- I cannot tell you how many times I have cut myself!), no more metal files that look like cheese graters.
Believe me, my best friend and I are always looking for stuff to keep our feet soft and callus-free. I will spare you the litany of all the apparati and emulsions we've bought and tested. BUT, nothing comes close to the Emjoi Micro-Pedi: It will get off hardened calluses in no time flat, and it's easy to use -- it has a nice ergonomic handle, and it's a snap to clean. The roller spins at an astonishing 30 times per second!
It's so effective, you'll want to do your pedicure over a towel, to catch all the callus debris -- and if you use a dark-colored catch-all, you'll kinda gasp at the amount of detritus you remove! It operates with two AA batteries, and is conveniently portable; so much so, that I took it on a trip a few weeks ago and it's now packed for another trip. It comes with two different rollers: coarse and very coarse. The only downside to this wondrous product is that when you need to buy replacement rollers, you have to buy the set, and frankly, I'd be happy just buying the extra coarse. The machine itself is $39.95 and a pack of the replacement rollers is $19.95.
I would heartily recommend the Micro-Pedi as a fab stocking stuffer, and I guarantee it will be the hit of somebody's Christmas morning!
Posted on December 07, 2011 - by

---
Reader Feedback - Be the first to kick-start this discussion...



---
About the Author: About the Author: Ruth J. Katz is a well-known shopping and service writer based in New York City. She has written about shopping for 25 years for New York magazine; covered the topic on-air at Fox-TV for several years as the Home Services expert; and had her own show on both the USA and Lifetime Cable networks. Katz wrote extensively for The New York Times as well, and contributed periodically to the New York Daily News. She is a passionate shopper, always looking for not merely a good buy, but the best buy, ferreting out a "steal" or discovering up-and-coming designers. She has written five books and is a former contributing editor to Hearst's Redbook, Classic Home, and Colonial Homes; she is currently a Contributing Editor of New York Home, Golf Connoisseur, The Modern Estate, and Promenade magazines. She is also the former Shopping Director for Davler Media's Manhattan Living.

Recent Entries: