Broadway News for the New Year
Back to the Blog... | Post Feedback | Author Bio | Printer-Friendly
ADIEU, ADIEU, ADIEU …
Well, my Broadway loving brethren – and "sisthern" (I have officially declared 2012 "Year of the Contrived Lisp") -- the New Year's ball has dropped and so have two more Broadway shows: Relatively Speaking, the star-packed trilogy of new one act comedies by Ethan Coen, Elaine May and Woody Allen will be exiting the Brooks Atkinson Theatre on Sunday, January 29.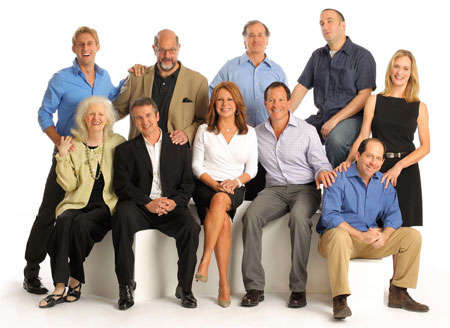 And so, good-bye to Caroline Aaron, Bill Army, Katherine Borowitz, Lisa Emery, Ari Graynor, Steve Guttenberg, Danny Hoch, Julie Kavner, Jason Kravits, Richard Libertini, Mark Linn-Baker, Max Gordon Moore, Patricia O'Connell, Allen Lewis Rickman, Grant Shaud and Marlo Thomas, the versatile ensemble cast -- especially comic sitcom veterans Ms. Thomas, Mr. Linn-Baker and Grant Shaud -- and, of course, Mr. Libertini, who will forever live in my most sublime surrealist of memories for his whacko dictator in the original (1979) version of the film The In-Laws.
Also leaving the TKTs roster of half-pricers is Lysistrata Jones -- a musical about a losing basketball team (and the babes that date them) -- beloved by Ben Brantley and teen-to-20s theatergoers, but evidently not enough so to keep it afloat beyond January 8th's matinee performance at the Walter Kerr. Inventive, perky but evidently a tad too lightweight for January's diminishing audiences, the show is the second new musical of the fall/winter season to bite the dust, the first being Bonnie & Clyde, which was gunned down on December 31.
KA-CHING, KA-CHING, KA-CHING….
In the plus column -- along with those super sell-outs The Book of Mormon and Wicked -- SPIDER-MAN Turn Off The Dark has been raking in the big bucks, ringing in 2012 as Broadway's single-week highest grossing show ever, taking in $2,941,790.20 (playing to 17,375 audience members: 100.02% capacity at Foxwoods Theatre).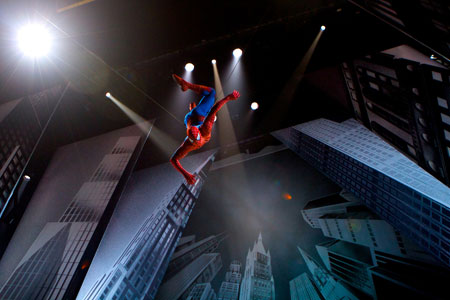 Acknowledging this awesome accomplishment, Bono and The Edge, who wrote the ear-catching score, issued the following statement:
"What a fantastic bit of news to kick off 2012. It just goes to show that you can't keep a good superhero down. We are raising our glasses to our indefatigable cast and crew, and the theatre-goers who watch them every night. Broadway is a very special place, we love being a small part of it."
Posted on January 05, 2012 - by

---
Reader Feedback - Be the first to kick-start this discussion...



---
About the Author: City Guide Theatre Editor Griffin Miller moved to New York to pursue an acting/writing career in the 1980s after graduating magna cum laude from Case Western Reserve University in Cleveland, Ohio. Since then, she has written for The New York Times, For the Bride, Hotels, and a number of other publications, mostly in the areas of travel and performance arts. She currently is the theatre and spa editor for Promenade Magazine as well as theatre editor for all NYMetroParents publications. An active member of The New York Travel Writers Association, she is also a playwright and award-winning collage artist. In addition, she sits on the board of The Lewis Carroll Society of North America. Griffin is married to Richard Sandomir, Sports Media reporter for The New York Times.

Recent Entries: