The January Art Scene in New York City
Back to the Blog... | Post Feedback | Author Bio | Printer-Friendly
Art is a-popping these next few weeks here in Gotham and that should be a real treat for collectors, design aficionados, art-insiders, as well as curious neophytes to the art world. The annual Winter Antiques Show, the granddaddy of them all, in its 58th season, opens this week at the Park Avenue Armory, and promises to deliver, as usual, art of all stripes -- provided thast art comprises antiques through the 1960s. The show features the best of the best, and is arguably the most prestigious antiques show in America. There are photographs, antiquarian books, extraordinary needlework/textiles, furniture, ceramics, ironwork, and even eye-popping vintage jewelry.
However, the entire second half of the month promises to be an art-lovers' delight, with so much more to view, and perhaps to buy. Two shows not to miss:

The Art Fair Company -- which organizes, among other fairs, the Sculpture Objects & Functional Art Fair, which we always rave about -- will launch The Metro Show, a new arts and design fair that will replace The American Antiques Show (TAAS), formerly organized by the American Folk Art Museum (which, despite some rough patches, is still breathing, thank you very much). Among some of the dealers who are premiering at this new, expanded show are New York galleries Barry Friedman Ltd.; Cavin-Morris; Galerie St. Etienne; and Schillay Fine Art. Expect to see objets spanning 300 years of remarkable American design, ranging from folk art, furniture, fine and decorative arts, to jewelry, ceramics, silver, and American arts and crafts, and American Indian art.
The Art Fair Company will add a few new components to the old American Antique Show, including European fine and decorative arts, modern design, and photography. The debut show will showcase nearly 50 exhibitors, whose offerings will encompass everything ranging from fine and decorative treasures dating from the pre-Columbian era through the twentieth century, including such diverse works as Japanese woodblock prints and tribal, oceanic art.
The opening night preview will take place Wednesday, January 18. The American Folk Art Museum will host a fundraising dinner that same evening in conjunction with the preview. The Metropolitan Show will be held January 19-22, at the Metropolitan Pavilion, 125 West 18th Street. The opening night preview party is by invitation and costs $75. The show will be open to the public from Thursday through Sunday, daily from 11 a.m. to 7 p.m., save for Sunday, the last day, when the show closes at 5:30 p.m.
Also opening this week, with the debut evening's gala (by invitation) on Friday the 20th, is the Master Drawings Week show, open to the public from Saturday the 21st to Saturday, the 28th, with works being shown at various galleries along Madison Avenue. Collectors, connoisseurs, curators, and art aficionados who appreciate works on paper look forward annually to Master Drawings/New York in January. This acclaimed event is a visual feast of highly sought-after art work -- from water colors, oil sketches, pen-and-ink drawings, pencil renderings, old botanicals, and so on -- all on paper. (The two dozen dealers who are part of this extravaganza do not show prints or photography.) Offerings include everything from incomparable 16th-century drawings to more modern, 21st-century pieces, with prices ranging from the low thousands to over the million-dollar mark.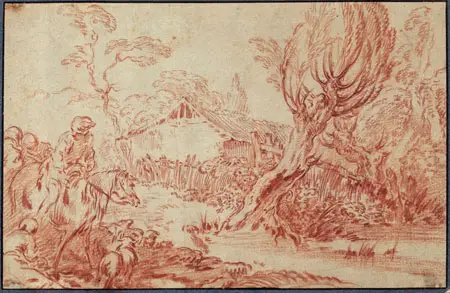 Among the specialty dealers participating in MDNY is Monroe Warshaw of Kunstkabinett (showing at Kraushaar Galleries, 74 East 79th Street; 212-288-2558), who has focused on Old Master drawings for the last decade. While his specialty area is the highly sought-after and scarce Northern Drawings (early Netherlandish and German), Warshaw also deals in Italian and French works. Pictured above is a rare, early drawing by François Boucher (1703-1770), a work that shows Watteau's influence on the artist, evident in the willow tree and farm buildings.
All the dealers are on the Upper East Side, so strolling from venue to venue presents an opportunity for a pleasant promenade up Madison Avenue. The week of viewing premieres with previews (by invitation) Friday evening, January 20th, and continues daily, open to the public, until Saturday, January 28th, open daily from 11 a.m. to 6 p.m,, but on Sunday, the 22nd, form 2 p.m. to 6 po.m. For further information, call 212-755-8500.
Posted on January 16, 2012 - by

---
Reader Feedback - Be the first to kick-start this discussion...



---
About the Author: About the Author: Ruth J. Katz is a well-known shopping and service writer based in New York City. She has written about shopping for 25 years for New York magazine; covered the topic on-air at Fox-TV for several years as the Home Services expert; and had her own show on both the USA and Lifetime Cable networks. Katz wrote extensively for The New York Times as well, and contributed periodically to the New York Daily News. She is a passionate shopper, always looking for not merely a good buy, but the best buy, ferreting out a "steal" or discovering up-and-coming designers. She has written five books and is a former contributing editor to Hearst's Redbook, Classic Home, and Colonial Homes; she is currently a Contributing Editor of New York Home, Golf Connoisseur, The Modern Estate, and Promenade magazines. She is also the former Shopping Director for Davler Media's Manhattan Living.

Recent Entries: