Jewels to Captivate Your Eye and Heart: The Headley-Whitney Museum
Back to the Blog... | Post Feedback | Author Bio | Printer-Friendly
If you made it to the SOFA show this past week (it ended yesterday and was last week's blog post), then chances are you appreciate exquisitely handmade, fine, functional art (and craft, if you will), as well as unique jewelry. So, if the latter tickles your fancy, then you'll want to at least look on at the Headley-Whitney Museum's Web site in case your travels do not take you to Lexington, Kentucky, between now and July 8th...and if they do, then you'll want to visit the museum, for sure.
The Headley-Whitney (a Smithsonian affiliate) is a little-known jewel in the pantheon of jewelry: George W. Headley III (1908-1985) studied art at the Art Students League in New York and l'Ecole des Beaux-Arts in Paris. He later apprenticed as a designer with the well-known New York jeweler Paul Flato in the '30s, and shortly thereafter, he opened his own bijoux boutique in California at the posh Hotel Bel-Air. Before long, he had a loyal fan base, devotees who included such Hollywood glitterati as Fanny Brice, Mae West, and Joan Crawford.
After nearly a decade of success on the West Coast, Headley returned to his family farm, La Belle, in Lexington and continued his career designing jewelry and bibelots. In 1960, he married Barbara Whitney Henry Peck, sister of noted thoroughbred horseman Cornelius Vanderbilt Whitney and daughter of the sculptor Gertrude Vanderbilt Whitney, the founder of New York's Whitney Museum of American Art. In '68, he opened his distinctive Jewel Room and Library building on the scenic grounds of the family homestead. The museum complex was completed with the addition of a new main building and a sort of charming, albeit a bit wacky, shell grotto.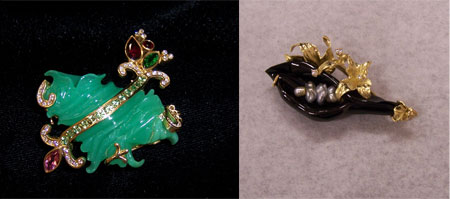 Left: Garden of Delight by Paula Crevoshay; right: pin by Angela Conty
The museum continues to mount gorgeous shows like The Cutting Edge II: A Gem and Jewelry Invitational, highlighting the decorative arts and, of course, jewelry. This lovely, carefully curated show showcases the works of 23 jewelers. The stunning jewelry on display includes brooches, rings, earrings, necklaces, bracelets, as well as wonderful eyewear and sumptuous objets de vertu, like pens, spoons, and decorative metalwork. This amazing exhibit features the work of 23 American and Canadian contemporary jewelers and gem carvers, many of whom have garnered prestigious awards including accolades from the American Gem Trade Association. Some of the fine jewelers have been featured in the pages of Promenade, our luxury magazine, and include Darryl Alexander, Jackie Anderson, Paula Crevoshay, Derek Levin, Todd Reed, Gil Roberts, Naomi Sarna, and Llyn Strelau, among the group.
The Headley-Whitney Museum is open Tuesday through Friday from 10 a.m. to 5 p.m., and Saturday and Sunday noon to 5 p.m, with the last tour at 4pm. For additional information: 859-255-6653 or visit the museum's Web site.
Posted on April 25, 2012 - by

---
Reader Feedback - Be the first to kick-start this discussion...



---
About the Author: About the Author: Ruth J. Katz is a well-known shopping and service writer based in New York City. She has written about shopping for 25 years for New York magazine; covered the topic on-air at Fox-TV for several years as the Home Services expert; and had her own show on both the USA and Lifetime Cable networks. Katz wrote extensively for The New York Times as well, and contributed periodically to the New York Daily News. She is a passionate shopper, always looking for not merely a good buy, but the best buy, ferreting out a "steal" or discovering up-and-coming designers. She has written five books and is a former contributing editor to Hearst's Redbook, Classic Home, and Colonial Homes; she is currently a Contributing Editor of New York Home, Golf Connoisseur, The Modern Estate, and Promenade magazines. She is also the former Shopping Director for Davler Media's Manhattan Living.

Recent Entries: