A Weighty Issue - EatSmart Precision Voyager Digital Luggage Scale
Back to the Blog... | Post Feedback | Author Bio | Printer-Friendly
So, imagine my shock and chagrin when Delta Airlines charged me for overweight luggage—a whopping $75 (but that is a whole lot better than the $400 I heard someone pay on another recent trip) and there was nothing that could be done about it. I was lugging about a million copies of Promenade magazine—our lovely mag!—to give to give to a million (OK, ten) people in the UK and even if I took those mags out, and attempted to hand-carry them, my suitcase was still five pounds (a mere five pounds, I'd like to point out to the Luggage Police) overweight...so I plunked down the tariff grudgingly. But since I am a loyal frequent flyer, the counter agent promised me frequent flyer miles to make the financial sting less sharp. (Alas, I never got them...and, yes, I will write to Delta sooner or later to remind them.)
So, to make sure this would never happen again and to be 100% certain I was never a recalcitrant flyer and overweight again (not the bod, but the luggage), I picked up the WONDERFULLY PRACTICAL EatSmart Precision Voyager digital luggage scale.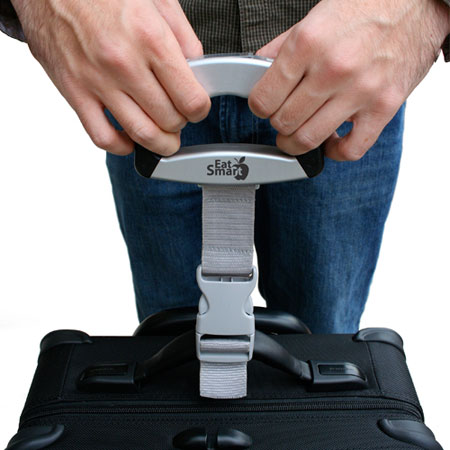 I have used EatSmart's food scale (more about that in a few weeks), and know their products to be accurate, durable, and well made. So, it was definitely a worthwhile investment for moi, since I am on the road a fair amount of time. And here is why you'll want one, too, for all your upcoming summer/holiday travel, since vacation time is upon us. It is reasonably priced (you'll find it most places for $19.95) and it will, potentially, save you a bundle; I have actually seen people at airports remove clothing out from their suitcases, abandoning goods in the airport.
It is simple to use: Just pack and zip up your bag, then secure the clip over the valise's handle. The scale has an easy-grip handle (you can use both hands, a smart design feature) with the scale built right into the handle. Then lift! The scale beeps when it has determined the weight and it's easy to read, with a back light. You can also check the avoir du poids in pounds or in kilos. When you turn it off, the scale resets to zero. But here is the best part -- I learned that my own luggage weigh an incredible 17 pounds!!! I was shocked. Next time, I'll buy luggage that is lighter weight. That sure takes a bite out of your clothing weight allotment.
And if you are a shopper, and think your luggage is going to -- shall we say? -- weigh more on the return trip, then just throw the scale into your suitcase pocket and you can weigh your luggage before the return trip, also. (The scale can weigh up to 110 pounds but if you are totin' a suitcase that weigh that much, then you're in serious trouble—back trouble and wallet trouble!) The sale comes with a battery that EatSmart says has a very long life, so you should be set for quite some time. Trust me, this is an item that is worth its weight in gold!
Posted on May 07, 2012 - by

---
Reader Feedback - Be the first to kick-start this discussion...



---
About the Author: About the Author: Ruth J. Katz is a well-known shopping and service writer based in New York City. She has written about shopping for 25 years for New York magazine; covered the topic on-air at Fox-TV for several years as the Home Services expert; and had her own show on both the USA and Lifetime Cable networks. Katz wrote extensively for The New York Times as well, and contributed periodically to the New York Daily News. She is a passionate shopper, always looking for not merely a good buy, but the best buy, ferreting out a "steal" or discovering up-and-coming designers. She has written five books and is a former contributing editor to Hearst's Redbook, Classic Home, and Colonial Homes; she is currently a Contributing Editor of New York Home, Golf Connoisseur, The Modern Estate, and Promenade magazines. She is also the former Shopping Director for Davler Media's Manhattan Living.

Recent Entries: