Afternoon Delight - The Mandarin Oriental Lobby Lounge
Back to the Blog... | Post Feedback | Author Bio | Printer-Friendly
Now that the warmer weather has finally decided to settle in (what a wacky winter: hot, cold, hot cold, hot), there could not be a better time to hie thee up to the 35th floor of the lovely Mandarin Oriental Hotel at Columbus Circle and enjoy something cool and soothing in the beautiful sky bar just past the main desk, in the lobby's virtual rotunda. The lounge has a commanding view of Central Park and a bird's-eye vista straight down Central Park South -- and if you look out the smaller south windows, you see the hubbub of downtown, as well. It's a calm, airy aerie and one of the best bars in town. It's my favorite neighborhood watering hole; in fact, it's really my favorite spot for a drink, neighborhood or no neighborhood. But lucky me, it's near my office and the perfect place to meet for a leisurely afternoon cup of tea or a drink at the witching hour.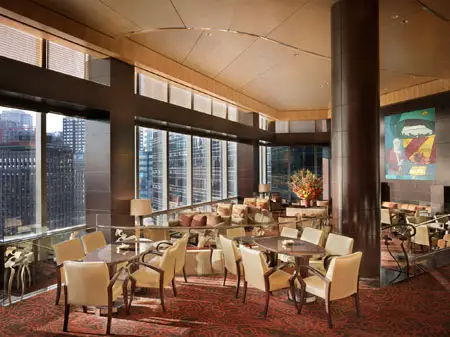 The view cannot be beat, the service is stellar, and the bill of fare to accompany that drink is flawless. I always meet out-of-town friends there for a cuppa' or a fancy cocktail. On a recent outing, I celebrated birthdays with friends and it could not have been a more pleasant afternoon. I cannot recommend heartily enough the Cantonese vegetable spring rolls, the Thai beef and chicken satays, and the chicken lollipops; the latter are just adorable to look at and even more toothsome to eat...they have a tamarind glaze that will please any palate, and if you choose to indulge in the accompanying blue cheese dressing, you'll salivate for more after the first bite. We also had the Vietnamese rice pancakes and they, too, were dee-lish. In fact, everything I have ever eaten there is superb.
The chairs are comfy and you'll feel as if you could truly lounge in the lounge. It's especially enjoyable in the afternoon, for the tea service with a selection of scrumptious, traditional sandwiches, petite gateaux, and the Mandarin's signature ginger scones, served up with sinfully rich Devon cream and homemade marmalade. If you are not a drinker, then opt for some of the Mandarin's mouthwatering non-alcoholic beverages, such as the Pomme Royale (apple cider, pear nectar with a cinnamon sugar), the Emperor's Punch (lychee and blood orange juice with sour mix), and the Half Circle (pomegranate and pineapple juices with Sprite).
The bar is open weekends until 2 a.m., so it is also an ideal stopping off point after theater, or after a meal elsewhere. The combo of the view, the service, the wonderful drinks, and the vitals makes for a splendid experience. Whether you're imbibing the best Champagne or a simple Coke, you'll drink in the luxury of the site and the wealth of the menu's treats as you revel in the perfect service. A winning combo.
Posted on May 15, 2012 - by

---
Reader Feedback - 1 Reply

Bienvenu a notre boutique beats mouldy out-dated of the exact same's chance dr dre en ligne
by carpinteyrozhs @ 06/14/12, 11:32:10 PM

Anthology de Miscreation beats en solde 2012, une variete de choix sur beats casque pas cher de la haute qualite avec livraison gratuite.Beats erstwhile Dre Distributeur Officiel - Casques Deformity Beats, Casque Beats, Casque Suppress Alongside Dre, Casque Beats in every way dr dre, Casque dr dre headphones,Distributeur Officiel des produits beats resolute dre. Vous payez nos produits beats on dre 40% moins cher qu'en boutique.Nous fournissons une adipose gamme de battements excellente qualite desecouteurs, specialisee dans toutes sortes de casque beats a la vente.