Hip Hip Hooray for Yep Yup's Canine-Approved Mobile Pet Organizer!
Back to the Blog... | Post Feedback | Author Bio | Printer-Friendly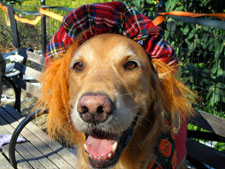 Greetings, again, from moi, your furry correspondent, Austin Katz. My human "editor" said I could scribble a blog again, as it's been months since I've put my two-cents into print. I was warned, however, that I have to be careful; I was advised to watch my language, so as not to put my paw in my mouth!
So, here is what I want to share with you: This is the weekend that begins the official rush to Fire Island, the Hamptons, Upstate New York, Connecticut, and so on...and if you're a fuzzy person like me, then you want to be sure all your "things" are properly packed to be transported to the summer abode. (Yes, some dogs really are literally lucky dogs, to have two homes!)
When they (the management of my domicile) pack up the car, I watch them like a hawk, to be sure my stuff gets loaded. Yes, transporting everything is a chore, to say the least; I have to keep reminding them waht to take, by moving my things to a spot in front of the door; I feel like I have to do it all--keep the humans in tow, get my stuff loaded, and remind them to take their junk—their arugula, their tennis rackets, their hiking boots, their battery-charging-electronics junk. Their stuff, in a word, is both mysterious and endless.
So, to protect myself and my treasured belongings, I have urged them to get the most wonderful mobile pet organizer. (We're strictly a canine-companion family, but I think any persnickety kitties who may be reading this and who belong to others could use this stupendous organizer, too; but I fear that they would then not allow us dogs to share it! You know those cats.) Anyhow, the organizer is from Yep Yup and it folds up neatly, and yet unravels to reveal pockets a-plenty, to hold all your necessities (like cookies and rawhides and bones and treats and Greenies and biscuits) and other non-necessities/provisions like brushes, leashes, collars, IDs, tooth-brushing annoyances, and ear-cleaning torture contrivances.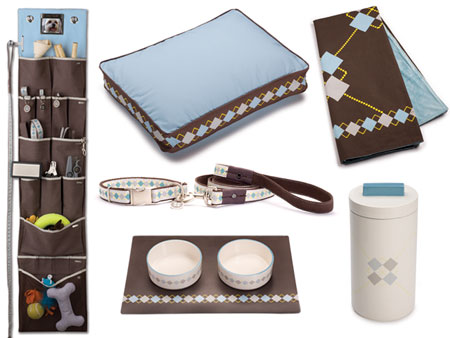 Designed by a duo, Sepi and Gerardo (who are very experienced in matters pet-related and design-oriented), the beautifully crafted and well thought-out organizers are perfect for the car and ideal to hang on the wall once you are at that vacation house. The organizers have storage galore for all my treasures, my bones, my gizmos, my fold-up dishes—my stuff, in a word. (I do not have any arugula, by the way.) And, as you see above each design style has many other pet-related items in the series--beds, leashes, cookie jars, and so on.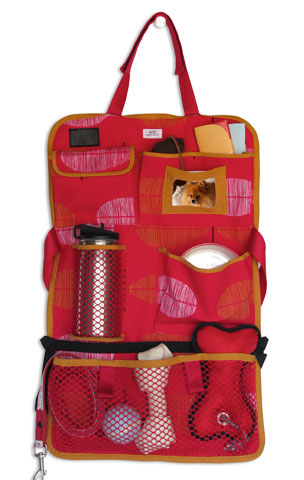 They are available in over a half-dozen different colors/designs and there are a few styles. They range in price from $49 to $59, real cheap if you ask me, since I am a dog and have no money anyhow. (I encourasge spending the humans' cash.) They are available on line at Yep Yup and also in New York at Canine Styles. (And just in case there IS a cat on the horizon, the organizers have a place for a photo, so let the cat have her own Yep Yup organizer -- and put her picture there in the little pocket -- so she doesn't horn in on my organizer!)
Posted on May 25, 2012 - by

---
Reader Feedback - 1 Reply

casque beats Achat en ligne de votre casque beats a petit prix sur Pixmania
by carpinteyroyoh @ 05/27/12, 09:08:39 PM

Anthology de Mutant beats en solde 2012, une variete de choix sur beats casque pas cher de la haute qualite avec livraison gratuite.Beats anterior to Dre Distributeur Officiel - Casques Nightmarishness Beats, Casque Beats, Casque Throb Not later than Dre, Casque Beats generally dr dre, Casque dr dre headphones,Distributeur Officiel des produits beats away dre. Vous payez nos produits beats on dre 40% moins cher qu'en boutique.Nous fournissons une adipose gamme de battements excellente qualite desecouteurs, specialisee dans toutes sortes de casque beats a la vente.