Art in the Park at the Baur au Lac Hotel
Back to the Blog... | Post Feedback | Author Bio | Printer-Friendly
Some years ago, I had the delightful pleasure of sipping a glass of something (stronger than iced tea) in the bucolic and serene garden-bar of the exquisite Baur au Lac Hotel's La Terrasse bar in the hotel's verdant, tranquil garden, Le Jardin, far from the proverbial madding crowd. You'd never know that beyond the gated perimeter, there is a cosmopolitan din and bustle, because in this tranquil enclave there is nothing but harmony -- not to mention fine food and delicious potions, many of them highly creative alcoholic indulgences.
However, as of this past weekend, and running throughout the summer -- well, at least until August 6th -- there is also some delicious eye candy in the form of astonishing sculptures dotting that Kelly-green grass. Curated by Gigi Kracht, the wife of sixth-generation hotelier-owner Andrea Kracht, the show was assembled with the well-knolwn, local Galerie Gmurzynska and features the works of renowned artists, including Fernando Botero, Alexander Calder, Robert Indiana, Joan Miro, and Kenny Scharf, among the roster. There are now 16 more reasons to spend a few Euros in the café-bar and relax for a spell with the Kracht family and their extended staff-family, who are without doubt, the ne plus ultra in the fine art of Swiss hospitality. Culture, cuisine, and curious-people-watching await you.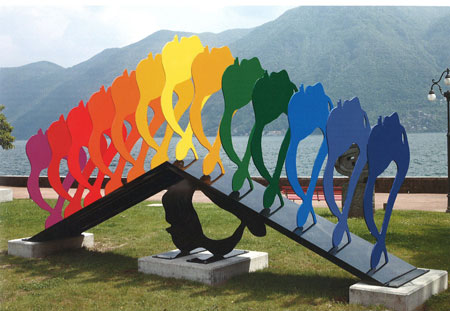 "Art in the Park" has been a Zurich institution since 2006 and usually debuts a week prior to Art Basel, which opened last evening, so this is, indeed, a Big Weekend locally...and if you are there, take advantage of this embarrassment of riches in the world of fine art, topping it off with a libation with a fancy umbrella in it as you sit under the cossetting, oversize, white umbrellas in the garden.
Posted on June 15, 2012 - by

---
Reader Feedback - Be the first to kick-start this discussion...



---
About the Author: About the Author: Ruth J. Katz is a well-known shopping and service writer based in New York City. She has written about shopping for 25 years for New York magazine; covered the topic on-air at Fox-TV for several years as the Home Services expert; and had her own show on both the USA and Lifetime Cable networks. Katz wrote extensively for The New York Times as well, and contributed periodically to the New York Daily News. She is a passionate shopper, always looking for not merely a good buy, but the best buy, ferreting out a "steal" or discovering up-and-coming designers. She has written five books and is a former contributing editor to Hearst's Redbook, Classic Home, and Colonial Homes; she is currently a Contributing Editor of New York Home, Golf Connoisseur, The Modern Estate, and Promenade magazines. She is also the former Shopping Director for Davler Media's Manhattan Living.

Recent Entries: