Breathing Right in a Tough Allergy Season: Air-o-Swiss to the Rescue
Back to the Blog... | Post Feedback | Author Bio | Printer-Friendly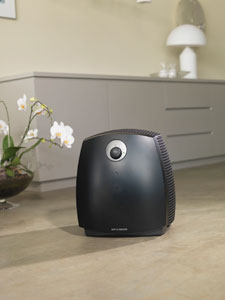 If you are sneezing your brains out, as the saying goes, because of allergies in this season of big-time, high-count pollen, then do as I do: I had already put away my two-in-one humidifier and air purifier, because all winter long I usually just think of it as a humidifier, only because that is my main need—the radiators in my apartment are so fiercely hot and give off such drying heat, that I need to put as much moisture in the air as possible.
But, in truth, the Air-o-Swiss is just as much an air purifier, and when I started sneezing from allergies as winter turned to spring, and now, as spring has turned to summer, I realized that it was time to get the appliance out of the closet, and impress it into service.
The Air-o-Swiss "machine" that I swear by is model #2055A Air Washer, which offers a highly effective humidifying system and which operates without evaporator wicks or filters, and without anything other than a fascinating system of discs that turn and cleanse the water. (Think of the water wheels on a paddle boat.) This action removes impurities from the air in a natural, simple fashion. (Trust me, seeing is believing.) You never need to deal with replacement filters or that really laborious cleansing process.
The water tank has a transparent window, so you can see just how much is in it, and when the water gets low (when this 2-in-1 machine senses that there is no water left in the water base, it shuts off. The interesting thing is that you never see a mist emanating from the machine, as you do with a steam system or ultrasonic humidifier. However, I can attest to the fact that it delivers moist and purified air…and since I set it up again, I've scarcely sneezed.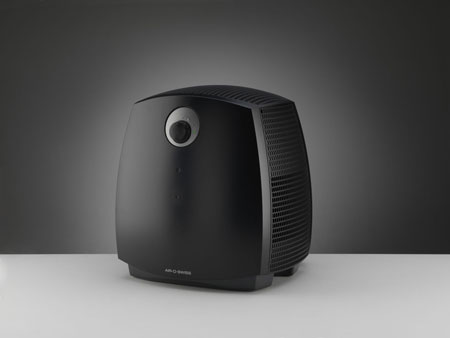 You can also sprinkle a cotton ball with a fragrance or essential oil and place it in an internal specifically designed container; this will allow the machine to scent the air at the same time it humidifies and purifies. The Air-o-Swiss air washer is ideally suited for rooms that are up to about 600 square feet in volume. It's also decent-looking, kinda' box-like, and is available, as Henry Ford supposedly quipped, in black, black, or black.
Since most stores have stopped selling humidifiers and have put them into storage, go directly to the manufacturer's Web site at www.airoswiss.net and grab one—you'll use it all year long. The suggested retail is $329.99, and it's worth every dime.
Posted on June 25, 2012 - by

---
Reader Feedback - Be the first to kick-start this discussion...



---
About the Author: About the Author: Ruth J. Katz is a well-known shopping and service writer based in New York City. She has written about shopping for 25 years for New York magazine; covered the topic on-air at Fox-TV for several years as the Home Services expert; and had her own show on both the USA and Lifetime Cable networks. Katz wrote extensively for The New York Times as well, and contributed periodically to the New York Daily News. She is a passionate shopper, always looking for not merely a good buy, but the best buy, ferreting out a "steal" or discovering up-and-coming designers. She has written five books and is a former contributing editor to Hearst's Redbook, Classic Home, and Colonial Homes; she is currently a Contributing Editor of New York Home, Golf Connoisseur, The Modern Estate, and Promenade magazines. She is also the former Shopping Director for Davler Media's Manhattan Living.

Recent Entries: