The Eyes Have It! IT Cosmetics' Magical Brow Power
Back to the Blog... | Post Feedback | Author Bio | Printer-Friendly
Tweezing my eyebrows and getting the just-right shape has never been one of my beauty-regime issues. While all my contemporaries have to run to the eyebrow-threading salons weekly (and years ago it was the eyebrow-tweezing temples of beauty), I have never had to deal with any plucking or tweezing: I have skimpy eyebrows—and always have had anemic brows. I tried eyebrow pencils galore over the years to try to create some life in my brow line and I have used mascara on my brows, to darken what hairs there are—all aimed to make my brows look more shaped, fuller. Nothing was terribly successful.
But then I met Jamie Kern Lima, co-founder of IT Cosmetics, at a beauty extravaganza. She took one look at my brows and couldn't wait to get her hands on my face!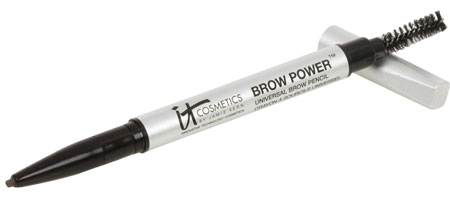 Although IT Cosmetics (which stands for Innovative Technology) sells blushers, lip colors and stains, eye liners, and so on—more or less a complete range of helpful beauty products—it is her Brow Power that is the number-one seller. (QVC is her main outlet and she has garnered awards there and within the beauty community for this product.) Amazingly, the Brow Power product comes in one color, and one color only...and unlike Henry Ford's auto, it is not black! And despite the single shade, it seems to adjust to your personal color by virtue of the pressure you use on the pencil-like stick when applying it. It seems like magic to me.
Jamie worked her sleight of hand on my brows, applying short, light, quick strokes, and then she used the other end of the Brow Power pencil—a little brush—to sort of brush my brows to accept the powdery color, to sort of claim that color as its own. Whatever is in it (and here are a few of the ingredients, all meant to be gentle and kind of your skin—biotin, nettle extract, green tea, Vitamins A, C, and E), makes the color adhere to your skin, looking like real hairs. It is magical, truly. And it lasts for the day. At a mere $32.00 (plus shipping and handling), it is a steal.
Lima has created this product with plastic surgeons, and has worked with doctors in creating the bulk of her line—so that everything she produces is a problem-solver. Additionally, IT Cosmetics has partnered with the American Cancer Society's Look Good, Feel Better program and for every Brow Power pencil sold, one is donated to the LGFB initiative, to help women face the effects of cancer with confidence. Brava, Jamie!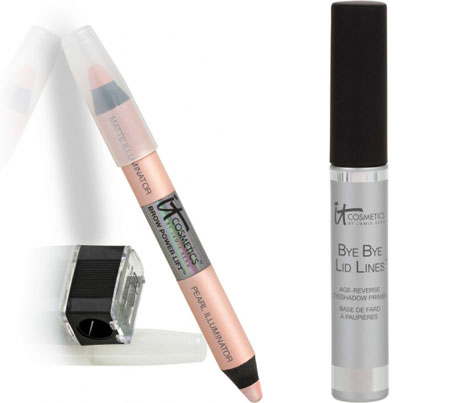 And lest I forget: You may also want to try IT's Brow Power Lift Illuminating Anti-Aging Pencil of Light; it's got micronized pigments in it that instantly add light and lift to the area where it is applied. It's a wonderful partner for the Brow Power. Another perfect product for the eyes is the Bye Bye Lid Lines Anti-Aging Eyeshadow Primer Duo, which functions to lock any eye shadow in place so that it doesn't crease or "migrate" elsewhere on the lid. Bye Bye Lid Lines also helps to reduce the appearance of fine lines and is laced with hydrolyzed collagen, green tea, grapeseed, and Vitamins A, C, and E. Another winner and the third for an Eye Trifecta!
Posted on July 23, 2012 - by

---
Reader Feedback - Be the first to kick-start this discussion...



---
About the Author: About the Author: Ruth J. Katz is a well-known shopping and service writer based in New York City. She has written about shopping for 25 years for New York magazine; covered the topic on-air at Fox-TV for several years as the Home Services expert; and had her own show on both the USA and Lifetime Cable networks. Katz wrote extensively for The New York Times as well, and contributed periodically to the New York Daily News. She is a passionate shopper, always looking for not merely a good buy, but the best buy, ferreting out a "steal" or discovering up-and-coming designers. She has written five books and is a former contributing editor to Hearst's Redbook, Classic Home, and Colonial Homes; she is currently a Contributing Editor of New York Home, Golf Connoisseur, The Modern Estate, and Promenade magazines. She is also the former Shopping Director for Davler Media's Manhattan Living.

Recent Entries: