Duality Cosmetics' Nail Paks: A Solution in a Bottle
Back to the Blog... | Post Feedback | Author Bio | Printer-Friendly
Barbara Lampugnale, a mother of six (yes, six) girls knows a thing or three about cosmetics, it would seem—if only from all the years her daughters have played dress-up. A problem-solver since she was a kid herself, at age six she produced a wardrobe of Barbie clothes out of old socks. Throughout her adolescence, she continued to dabble in the creative—crafting clothing, jewelry, candles, and what-nots for friends. It's no wonder she ended up in the creative field, building a successful interior design firm.
In April, she gave birth to her latest creation (not another daughter)—Duality Cosmetics' Nail Pak. Ever the inventor, she felt that women could use an entire manicure kit (well, more or less) in a single bottle, and thus Duality was born. The Nail Pak is a three-in-one nail-care kit. The simple bottle of polish actually houses a small nail file and 40 pre-soaked and -treated (no acetone, yeah!) nail polish remover pads. Unscrew the polish bottle from the base and the rest of the magic becomes visible.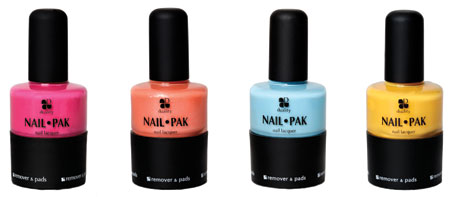 Florence, the first product in the Nail Rescue Collection is formulated to soothe and rebuild nails; it's a base and top coat combo, engineered to fight off UV damage, yellowing, stains, discolorations, and chipping. There are six fashion colors in that first collection (My Girls), and that premiere collection was quickly followed by Hope Springs Eternal, the second collection, with another six colors, all peppy and just-right for summer. They retail for $15.00.
Posted on August 03, 2012 - by

---
Reader Feedback - Be the first to kick-start this discussion...



---
About the Author: About the Author: Ruth J. Katz is a well-known shopping and service writer based in New York City. She has written about shopping for 25 years for New York magazine; covered the topic on-air at Fox-TV for several years as the Home Services expert; and had her own show on both the USA and Lifetime Cable networks. Katz wrote extensively for The New York Times as well, and contributed periodically to the New York Daily News. She is a passionate shopper, always looking for not merely a good buy, but the best buy, ferreting out a "steal" or discovering up-and-coming designers. She has written five books and is a former contributing editor to Hearst's Redbook, Classic Home, and Colonial Homes; she is currently a Contributing Editor of New York Home, Golf Connoisseur, The Modern Estate, and Promenade magazines. She is also the former Shopping Director for Davler Media's Manhattan Living.

Recent Entries: