Perfect Drinkware: Tervis
Back to the Blog... | Post Feedback | Author Bio | Printer-Friendly
I have been a house-captive for a while, napping on the sofa and snoozing in bed....the result of having become, a few weeks ago, a bionic woman with a new knee. One thing that is always at my side is my Tervis drinking glass, with its plastic lid (with an easy-slide opening) with just enough room for me to insert a straw for quick access. It is particularly convenient, simple to use, and practical for my purposes—keeps hot things hot and cold things cold, and when sealed shut, I don't have any concern that the lid will leak if I knock it over. And if I am using it with a straw, the opening is still small—so if I do accidentally hit it and it turns over, I'm not worried that there will be a mess on the carpet. (I wouldn't dream of keeping a drinking glass with no lid by my side--I'm pretty sleepy at times, and reach for the glass with a less than radar-targeted vision!--any more than I would keep a glass next to me that is made out of actual, breakable glass.)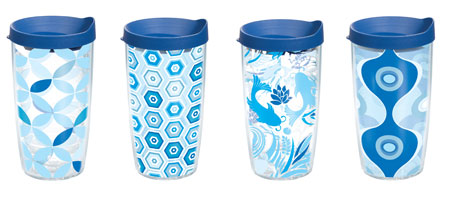 I have used Tervis products for years, but these days I find myself truly relying on them. So I did a little more research on the company and discovered that Tervis drinkware has had been made in America since 1946 by a family-owned and -operated company. (Created by two engineers—one G. Howlett Davis and the other a Frank Cotter—who chose an amalgam of their names for the company title; today that company employs a staff of 700!!) The duo discovered the natural insulating powers of air to create a permanently sealed, double-walled tumbler and the result was Tervis drinkware, manufactured from a high grade of a resin or plastic. It indestructible...not to mention, safe for use near the pool, or for outdoor use at picnics, etc.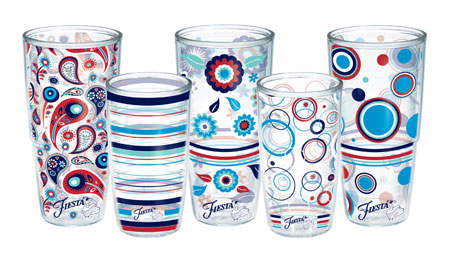 Tervis drinkware comes with a lifetime guarantee, even if you've long thrown out the receipt. If it says Tervis on the bottom, the company will honor the product and replace it if it's disappointed you in its performance. But chances are, it will not disappoint: It's virtually unbreakable, and is freezer- and microwave-safe. Also, the combos of design, color, and size make for countless choices; the company says, in fact, that it sells thousands of designs—and the company also does many specialty, customized items, with corporate logos and proprietary pictures, etc.....so you may well have gotten a Tervis tumbler (and not even realized it), with a giveaway from a corporation—there are licenses with Disney, Star Wars, NASCAR, Hello Kitty, and with just about every professional sports team you can think of, from the NFL and the NBA to the NHL. The sizes are variable (from 10 ounces to 24 ounces), and there are even coffee cups and water bottles, the newest item in the Tervis family.
While you can certainly shop on line, there is also extesnive Tervis inventory at over 5,000 retailers, including biggies like Bed, Bath & Beyond and department stores like Macy's. (Prices can range from about $12.00 to $20.00 for the water bottle.)
Posted on August 09, 2012 - by

---
Reader Feedback - Be the first to kick-start this discussion...



---
About the Author: About the Author: Ruth J. Katz is a well-known shopping and service writer based in New York City. She has written about shopping for 25 years for New York magazine; covered the topic on-air at Fox-TV for several years as the Home Services expert; and had her own show on both the USA and Lifetime Cable networks. Katz wrote extensively for The New York Times as well, and contributed periodically to the New York Daily News. She is a passionate shopper, always looking for not merely a good buy, but the best buy, ferreting out a "steal" or discovering up-and-coming designers. She has written five books and is a former contributing editor to Hearst's Redbook, Classic Home, and Colonial Homes; she is currently a Contributing Editor of New York Home, Golf Connoisseur, The Modern Estate, and Promenade magazines. She is also the former Shopping Director for Davler Media's Manhattan Living.

Recent Entries: