Bad Hair Day? HairUWear Can Bring Sunshine and Glamour to a Gloomy Day
Back to the Blog... | Post Feedback | Author Bio | Printer-Friendly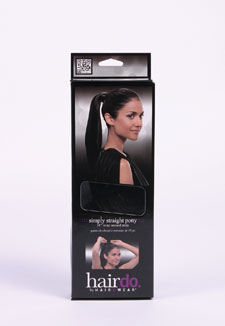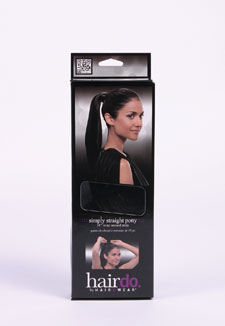 Hear ye, hear ye, ladies: If you have been plagued all summer with the frizzies, with over-chlorinated tresses that refuse to be coaxed into the style you are trying to command, or if you're just having generally and consistently bad hair days, I have found the perfect solution for all these ills: Hair pieces and sundry extensions, demi-wigs, pony tails, and more from the Hairdo Collections of HairUWear.
I stumbled upon a 16" curly extension piece (it's really like a half-wig, in truth), that was easily the answer to one's prayers for perfect summer hair. And the off-the-rack color was pretty darn close to my own, so it meant that I could have perfect hair—effortlessly—all summer. The hottest July on record brought with it the steamiest, most humid month for hair and so it was that I ended up using my Hairdo extension piece.
When I was little—not to date myself—I think we more or less called this sort of half-wig that fits over your crown, a fall; I remember, because my mother had one, and I thought it was very glam and exotic, but it sure didn't look like the stunning (and reasonably priced) model that Los Angeles-based hair stylist Ken Paves has dreamed up. His is a convex cap of mesh netting, about 8" in diameter, and it form-fittingly nestles like a little hat on the crown of your head. If you keep the front part of your hair brushed over it (and if you put your own hair in a barrette extending over it), then it looks just about as natural as can be.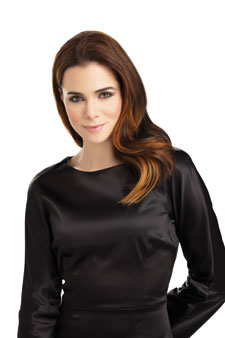 Paves is a celeb stylist and does Red Carpet hair and editorial do's (think: Harper's Bazaar, Vanity Fair, Elle, and Allure) for bold-faced names; his client list includes the likes of Jennifer Lopez, Celine Dion, Eva Longoria, and Jessica Alba. In 2006, he launched his award-winning line of hair extensions, dubbed Hairdo, and a few years later, he began selling many of these really fun (and practical) products on QVC. Today, QVC has well over a dozen different hair fashions (extensions, chignons, braids, pony tails, short and long do's, and so on from the highly versatile Paves.
Newest, just being introduced to the line in the next week or two are: a 16" Ombre Extension ($49); a Texture Wrap ($19), a blend of straight and crimped styles; French Braid Band ($10); Beach Curl Pony ($49): Clip-In Bang ($29); 18" Simply Straight Pony ($49): 16" Fineline Extension ($99): 23" Wavy Extension ($99): 20" Wavy Extension ($99): 22" Straight Extension ($99). Truly, there is something here for your every need...and with luck, the shades will be good for you, also: For example, the 23" Wavy Extension comes in 11 colors—from ebony and chocolate copper to glazed strawberry. Other shades available with some of his line include ginger brown, buttered toast, and chocolate ombre. Guaranteed you'll find something you like and something that flatters your skin tones and eye color; as I said, the one I have been wearing is a pretty good match, considering my hair color seems to change with the sun, anyhow.
The fiber itself is synthetic, and Paves has trademarked it True2Life, as it can be styled and "fooled around with" just as you'd treat your own hair—wash it, dry it with a hair dryer, use a crimper, a straightener, a curling iron, whatever. You will find that it responds to your styling tools the same way your own hair does, and that even adds to the ease of use. The company claims that it manufactures more hair additions than any other firm in the world and that it harnesses cutting-edge technology to create versatile and affordable hair wardrobes. (Prices for the multi-faceted line range from as little as $10 for the French braid—that you could really use as a sort of headband), to $99.00 for the most lavish, longest, and most opulent of near-full wigs. For more information, and to find a retailer besides QVC, visit the company Web site, www.hairuwear.com.
Posted on August 14, 2012 - by

---
Reader Feedback - Be the first to kick-start this discussion...



---
About the Author: About the Author: Ruth J. Katz is a well-known shopping and service writer based in New York City. She has written about shopping for 25 years for New York magazine; covered the topic on-air at Fox-TV for several years as the Home Services expert; and had her own show on both the USA and Lifetime Cable networks. Katz wrote extensively for The New York Times as well, and contributed periodically to the New York Daily News. She is a passionate shopper, always looking for not merely a good buy, but the best buy, ferreting out a "steal" or discovering up-and-coming designers. She has written five books and is a former contributing editor to Hearst's Redbook, Classic Home, and Colonial Homes; she is currently a Contributing Editor of New York Home, Golf Connoisseur, The Modern Estate, and Promenade magazines. She is also the former Shopping Director for Davler Media's Manhattan Living.

Recent Entries: