Sizzling Summer Coolers: SodaStream's Latest
Back to the Blog... | Post Feedback | Author Bio | Printer-Friendly
Quite some time ago I wrote about SodaStream and Soda Club, the world's largest manufacturer, distributor, and marketer of home carbonation systems, and how useful and practical a SodaStream machine would be in your home for the Xmas holidays. Well, it would be all the more useful in your home, on your patio, on your boat, at your picnic, and so on, in summertime, too—and it still qualifies right now as summertime—when we are all drinking way more liquids and when we are very conscious of hydrating.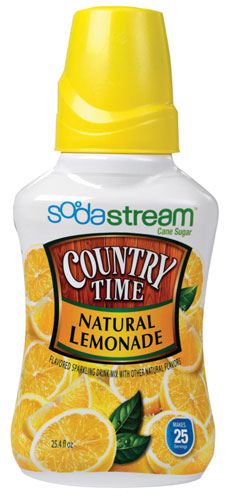 I have been virtually attached to my Soda Stream machine like glue all summer, given that I am (as I may have mentioned) post-op, and supposed to drink plenty of liquids anyhow. My Soda Stream machine is chugging out liter upon liter. And this year, I am soooo happy as two of my favorite brands with wonderful drink flavors have now become part of the Soda Stream family: Crystal Light and Country Time.
Country Time now has a naturally sweetened lemonade as well as its original lemonade, and a combo of iced tea and lemonade called Half & Half, which is really one of my all-time beverages of choice. How great to be able to make it myself with my Soda Stream machine! And to have it fizzy! My other beloved year-round drink is Crystal Light's Peach Iced Tea and that flavor, too, is now available from Soda Stream, as is the new Crystal Light Fruit Punch. (And a few more Crystal Light flavors are coming into the fold down the road.) But I wouldn't want to slight any of the other flavors on the regular menu from Soda Stream, flavors I have favored over the years: the wonderfully exotic ones, like Apple Mango, Black Currant & Pear, and Pink Grapefruit.
If those are not compelling enough reasons to scotch the cans and bottles of sodas and switch to a Soda Steam make-your-own-carbonated-beverages system, consider the following:
**460 billion beverage cans and bottles are manufactured worldwide each year
**Recycling rates hover just under 25% nationwide
**141 billion beverage cans and bottles go to landfill each year
**It takes over 400 years for a plastic bottle to begin decomposing
And dare I remind you, you will save a ton of money, too!
Posted on August 20, 2012 - by

---
Reader Feedback - Be the first to kick-start this discussion...



---
About the Author: About the Author: Ruth J. Katz is a well-known shopping and service writer based in New York City. She has written about shopping for 25 years for New York magazine; covered the topic on-air at Fox-TV for several years as the Home Services expert; and had her own show on both the USA and Lifetime Cable networks. Katz wrote extensively for The New York Times as well, and contributed periodically to the New York Daily News. She is a passionate shopper, always looking for not merely a good buy, but the best buy, ferreting out a "steal" or discovering up-and-coming designers. She has written five books and is a former contributing editor to Hearst's Redbook, Classic Home, and Colonial Homes; she is currently a Contributing Editor of New York Home, Golf Connoisseur, The Modern Estate, and Promenade magazines. She is also the former Shopping Director for Davler Media's Manhattan Living.

Recent Entries: