The Metropolitan Opera's LIVE IN HD Presentations Grace the End of Summer
Back to the Blog... | Post Feedback | Author Bio | Printer-Friendly
Get out your picnic supplies and your soft, traveling cushion. It is once again time to start thinking about the free (as in it costs no money) ten nights of opera, Met Opera: Live in HD, in the Plaza at Lincoln Center, starting Saturday evening, August 25th (and ending September 3rd, Labor Day). It is one of the greatest gifts that residents of the Big Apple receive--and did I mention, it's free!!?? This is the fourth year that it is being presented to eager Gothamites, as the event annually gathers greater and greater critical mass, it becomes more and more popular, even among people who have never savored opera before. (Last year more than 40,000 people attended; the seating in the Plaza accommodates 3,000, on a first-come, first-served basis.) The Live in HD performances are affecting, intimate, and imminently accessible. Presented in a larger-than-life fashion on the massive screen against the opera house's facade, each opera is fully translated with subtitles , so no need to try to divine what is happening, especially in some of opera's more complicated, convoluted, logic-defying, plot-twisting libretti.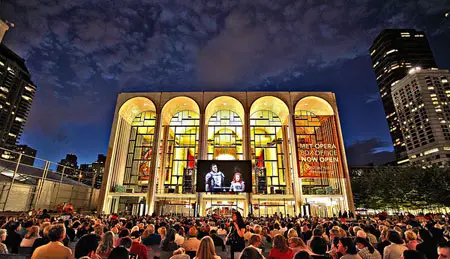 Operatic superstars abound in the ten nights of presentation: David Daniels, Natalie Dessay, Joyce DiDonato, Plácido Domingo, Mariusz Kwiecien, Jonas Kaufmann, Anna Netrebko, Juan Diego Flórez, Karita Mattila, Marina Poplavskaya, Dmitri Hvorostovsky, and Diana Damrau, are but the proverbial tip of the star-studded iceberg. So, come early, bring your dinner, camp out a bit, and make new friends with those around you, and enjoy this fabuloso gift, The Met: Live in HD, that is bestowed upon us, made possible by a generous grant from its founding sponsor, The Neubauer Family Foundation, and with global corporate sponsorship provided by Bloomberg.
Curtain times vary (ranging from 7:30 pm to 8:00 pm), so see the schedule below:
Saturday, August 25, 7:30 PM: THE ENCHANTED ISLAND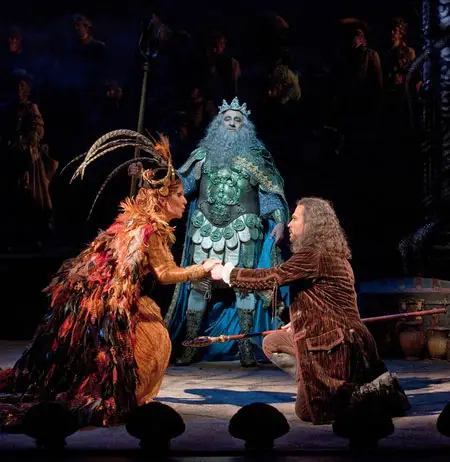 (left to right) Joyce DiDonato as Sycorax, Placido Domingo as Neptune, and David Daniels as Prospero in The Enchanted Island. Photo: Ken Howard/Metropolitan Opera
This world-premiere Baroque fantasy combines music by Handel, Vivaldi, and Rameau with a new libretto inspired by Shakespeare. Conducted by William Christie, directed by Phelim McDermott and Julian Crouch, and starring Danielle de Niese, Lisette Oropesa, Joyce DiDonato, David Daniels, Anthony Roth Costanzo, Plácido Domingo, and Luca Pisaroni. Approximate running time: 180 minutes
Sunday, August 26, 7:30 PM: DON GIOVANNI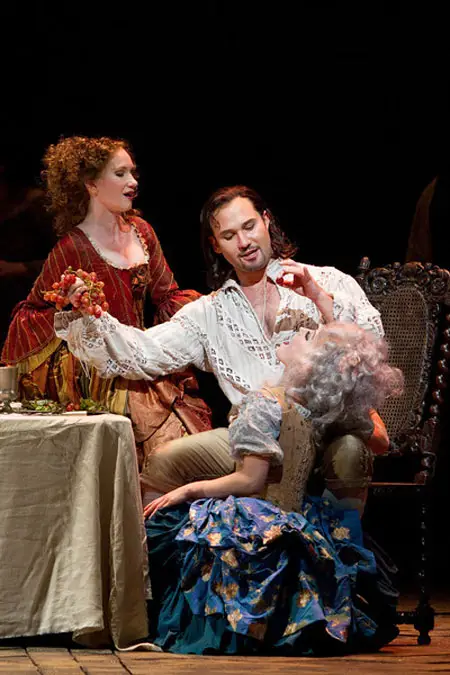 Mariusz Kwiecien (center) in the title role of Mozart's Don Giovanni. Photo: Marty Sohl/Metropolitan Opera. Taken during the rehearsal at the Metropolitan Opera on October 4, 2011.
Michael Grandage's new production of one of opera's supreme masterpieces stars Mariusz Kwiecien in the title role. Principal Conductor Fabio Luisi leads the Met Orchestra and a cast that also includes Marina Rebeka, Barbara Frittoli, Mojca Erdmann, Ramón Vargas, and Luca Pisaroni. Approximate running time: 173 minutes
Monday, August 27, 8:00 PM: LA SONNAMBULA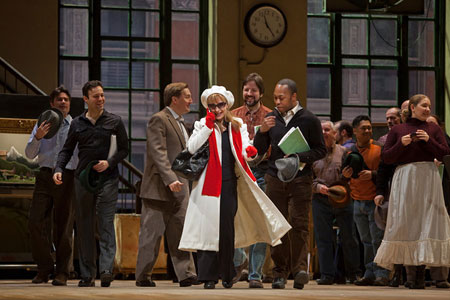 A scene from Bellini's La Sonnambula with Natalie Dessay as Amina. Photo: Ken Howard/Metropolitan Opera. Taken during the rehearsal on February 25, 2009 at the Metropolitan Opera in New York City.
Natalie Dessay and Juan Diego Flórez deliver bel canto fireworks in Mary Zimmerman's inventive production of Bellini's opera, which places the action in a contemporary rehearsal room where a production of La Sonnambula is being prepared. Evelino Pidò conducts. Approximate running time: 137 minutes
Tuesday, August 28, 7:45 PM: SATYAGRAHA
Philip Glass's landmark opera, whose Sanskrit title translates as "truth force," explores Mahatma Gandhi's formative years in South Africa. The visually extravagant production, starring Richard Croft, is directed and designed by Phelim McDermott and Julian Crouch and conducted by Dante Anzolini. Approximate running time: 165 minutes
Wednesday, August 29, 8:00 PM: SALOME
Karita Mattila gives a tour-de-force performance as the title heroine of Strauss's powerful drama, based on Oscar Wilde's play. Juha Uusitalo is Jochanaan in the Met's striking production, conducted by Patrick Summers. Approximate running time: 106 minutes
Thursday, August 30, 7:45 PM: LA CENERENTOLA
Rossini's charming Cinderella story is ideally served by an extraordinary cast, led by Elīna Garanča in the title role, Lawrence Brownlee as her prince, and Alessandro Corbelli as Don Magnifico. Maurizio Benini conducts a production that also stars Simone Alberghini and John Relyea. Approximate running time: 162 minutes
Friday, August 31, 7:30 PM: FAUST
Jonas Kaufmann, Marina Poplavskaya, and René Pape bring Gounod's retelling of the Faust legend to dramatic life in director Des McAnuff's new production, which updates the story to the dawn of the nuclear age. Yannick Nézét-Séguin conducts. Approximate running time: 177 minutes
Saturday, September 1, 8:00 PM: LE COMTE ORY
Bartlett Sher's Met premiere production of Rossini's vocally dazzling comedy features a trio of bel canto stars: Juan Diego Flórez in the title role, Diana Damrau as Countess Adèle, and Joyce DiDonato in the trouser role of the page Isolier. Maurizio Benini conducts. Approximate running time: 141 minutes
Sunday, September 2, 8:00 PM: IL TROVATORE
David McVicar's acclaimed 2009 production stars four extraordinary Verdi singers: Sondra Radvanovsky is Leonora, Marcelo Álvarez is Manrico, Dmitri Hvorostovsky sings Count di Luna, and Dolora Zajick is Azucena. Marco Armiliato conducts. Approximate running time: 142 minutes
Monday, September 3, 7:30 PM: ANNA BOLENA
Anna Netrebko stars as the ill-fated queen in David McVicar's Met premiere production, which opened the 2011–12 season. Ekaterina Gubanova is her rival, Jane Seymour, Ildar Abdrazakov sings Henry VIII, and Stephen Costello is Lord Percy. Marco Armiliato conducts. Approximate running time: 180 minutes
Posted on August 23, 2012 - by

---
Reader Feedback - Be the first to kick-start this discussion...



---
About the Author: About the Author: Ruth J. Katz is a well-known shopping and service writer based in New York City. She has written about shopping for 25 years for New York magazine; covered the topic on-air at Fox-TV for several years as the Home Services expert; and had her own show on both the USA and Lifetime Cable networks. Katz wrote extensively for The New York Times as well, and contributed periodically to the New York Daily News. She is a passionate shopper, always looking for not merely a good buy, but the best buy, ferreting out a "steal" or discovering up-and-coming designers. She has written five books and is a former contributing editor to Hearst's Redbook, Classic Home, and Colonial Homes; she is currently a Contributing Editor of New York Home, Golf Connoisseur, The Modern Estate, and Promenade magazines. She is also the former Shopping Director for Davler Media's Manhattan Living.

Recent Entries: