Don't Cry for Me, Argentina: Treasures from Buenos Aires' Evita Museum Arrive in New York
Back to the Blog... | Post Feedback | Author Bio | Printer-Friendly
In commemorating the 60th anniversary of the death of Argentina's beloved Eva Perón, and also marking the 10th anniversary of the founding of the Museo Evita in Buenos Aires, treasures from the South American museum are being exhibited here in New York City for the first time ever. Evita: Passion and Action will be mounted at the Consulate General of Argentina, starting September 7.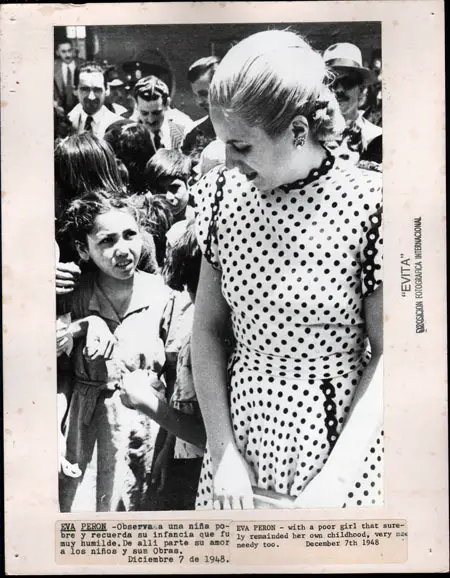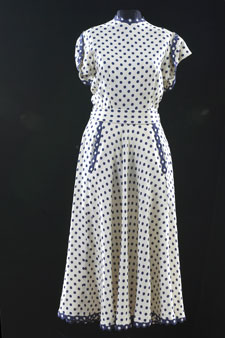 Dedicated to one of Argentina's most celebrated figures and one of the 20th century's cultural and political icons, the exhibition will showcase some 50 works, including paintings and photographs of Evita as well as stunning garments from her personal wardrobe. This is the first time these items have traveled, and short of going to Argentina, this is the only opportunity to see these artifacts. Sponsored by the Ministry of Tourism of Argentina, the Consulate General of Argentina in New York, and the Argentina National Institute of Tourism Promotion, the exhibition will remain open to the public until the 28th of September.
Established 10 years ago in July, 2002, the Museo Evita, or Eva Perón Museum, was created as part of the Instituto Nacional de Investigaciones Históricas Eva Perón (INIHEP) under the auspices of the National Secretariat of Culture. The INIHEP continues the study of Eva Perón's role in Argentine history, functioning as a center for research, an archive for documents and oral histories, and a publication center for investigative studies.
The museum was founded by Evita's great-niece, María Cristina Álvarez Rodríguez, who continues to be closely involved in its operations and is honorary president of the Eva Perón National Institute of Historical Research. The Museo Evita is located in the fashionable Palermo section of Buenos Aires. Housed in the early 20th-century mansion of the Carabassa family, constructed as a single-family residence in Plateresque and Italian Renaissance styles, the building was declared a National Historical Monument in 1999.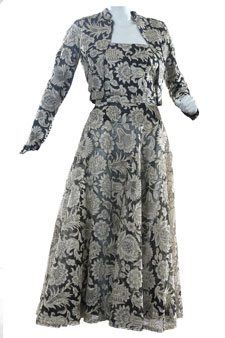 The journey through the museum is presented chronologically from Evita's childhood, and chronicles her family and formative years, and her journey to Buenos Aires from Los Toldos. Her beginnings in show business, followed by her meeting Juan Perón, and ultimately her role as First Lady, are all explored in the museum's diverse exhibits.
The museum's collection contains paintings and photographs; clothing (including some of her remarkable ball gowns and serious "business" suits), shoes, and jewelry; historical documents; and other memorabilia, many loaned by the Álvarez Rodríguez family. The items on display in New York were selected from the main collection by Museo Evita curator Gabriel Miremont, who is a prominent expert on the life and contributions of Eva Perón.
The Consulate General of Argentina is located at 12 West 56th Street (between Fifth and Sixth Avenues). Exhibition hours are 10:00 a.m. to 5:00 p.m., closed Saturday and Sunday except September 22 and 23, when the show will be open from 9:30 a.m. to 5:00 p.m. There is no admission charge.
Additional information: 212-603-0443
Posted on September 04, 2012 - by

---
Reader Feedback - Be the first to kick-start this discussion...



---
About the Author: About the Author: Ruth J. Katz is a well-known shopping and service writer based in New York City. She has written about shopping for 25 years for New York magazine; covered the topic on-air at Fox-TV for several years as the Home Services expert; and had her own show on both the USA and Lifetime Cable networks. Katz wrote extensively for The New York Times as well, and contributed periodically to the New York Daily News. She is a passionate shopper, always looking for not merely a good buy, but the best buy, ferreting out a "steal" or discovering up-and-coming designers. She has written five books and is a former contributing editor to Hearst's Redbook, Classic Home, and Colonial Homes; she is currently a Contributing Editor of New York Home, Golf Connoisseur, The Modern Estate, and Promenade magazines. She is also the former Shopping Director for Davler Media's Manhattan Living.

Recent Entries: