LOOT 2012: Mad About Jewelry
Back to the Blog... | Post Feedback | Author Bio | Printer-Friendly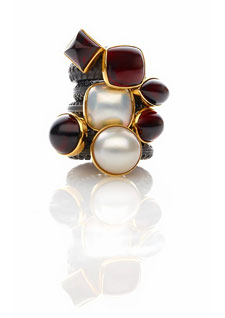 The word "loot" conjures up images of precious (perhaps purloined?) treasures—the spoils and bounty of war, plundered golden artifacts encrusted with diamonds, chalices and goblets dripping with ormolu, tomb-raided objets d'art. You get the idea: Prized, valuable "stuff," objects that can elevate the spirit or enlighten civilization—things meant to be coveted and cherished.
Twelve years ago when the Museum of Arts and Design began its annual LOOT extravaganza-event, it was hoped that the buying public would react that way—and come to purchase the splendorous and valuable jewelry showcased in this pop-up shop/exhibit. Here are riches designed by contemporary studio artists—jewelers you do not find at a typical "jewelry store"—many of whom have never shown in the States. Their works are inventively modern pieces, some created with precious metals and stones, and other jewelry crafted from unexpected materials such as titanium, stainless steel, glass, wood, rubber, fabric, leather, paper, and found objects.
Unlike any other jewelry event in the country, LOOT 2012 gives aficionados and neophytes alike the opportunity to meet some of the most innovative and sought-after jewelers working today...and to buy highly collectible bijoux from these gifted artists. This curated edition of LOOT is the grandest ever and represents an international cavalcade of over 50 fine jewelers. (It will also showcase the work of jewelry students from Gotham's own Fashion Institute of Technology.)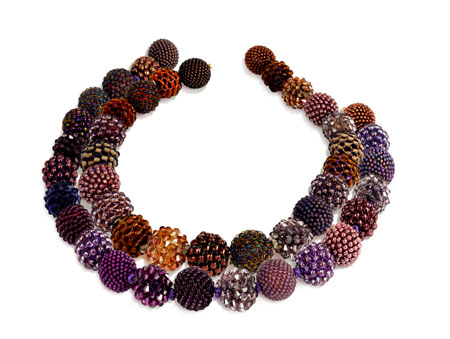 For the first time, LOOT will honor esteemed German jeweler Axel Russmeyer, who will receive the inaugural LOOT Award for Contemporary Art Jewelry. Russmeyer's signature work is constructed from extraordinarily stunning, ethereal, and elegant beaded-beads that he painstakingly creates by hand and then works into the most appealingly seductive earrings, necklaces, and bracelets (such as the one pictured above). Talk about wanting to covet jewelry—he's your man. (Russmeyer's works at the show will range in price mostly from $1,250 to $3,250, although there are highly desirous necklaces that soar up to $12,500.)
The show-sale is being staged September 11 to 15 at the Museum; proceeds benefit the exhibition and education programs of the Museum of Arts and Design. LOOT 2012 is made possible in part through the generosity of the Silver Institute: Silver Promotion Service and MAD's Jewelry Study Day is supported by Van Cleef & Arpels. Additional info: madmuseum.org; madaboutjewelry.tumblr.com
Posted on September 11, 2012 - by

---
Reader Feedback - Be the first to kick-start this discussion...



---
About the Author: About the Author: Ruth J. Katz is a well-known shopping and service writer based in New York City. She has written about shopping for 25 years for New York magazine; covered the topic on-air at Fox-TV for several years as the Home Services expert; and had her own show on both the USA and Lifetime Cable networks. Katz wrote extensively for The New York Times as well, and contributed periodically to the New York Daily News. She is a passionate shopper, always looking for not merely a good buy, but the best buy, ferreting out a "steal" or discovering up-and-coming designers. She has written five books and is a former contributing editor to Hearst's Redbook, Classic Home, and Colonial Homes; she is currently a Contributing Editor of New York Home, Golf Connoisseur, The Modern Estate, and Promenade magazines. She is also the former Shopping Director for Davler Media's Manhattan Living.

Recent Entries: