Will Wonders Never Cease: C Wonder Opens at the Time Warner Center
Back to the Blog... | Post Feedback | Author Bio | Printer-Friendly
C Wonder, the brainchild of Chris Burch, the former husband of Tory Bruch--and we're guessing the star of the marketing team and a good part of the creative genius behind her line--has opened its second store in Manhattan, on the second floor of the Time Warner Center, in The Shops at Columbus Circle. Since it just opened this week, you might want to wait a day or three until the herd thins, as the place was crowded (not unshoppable-crowded, just busy) both times I visited. (And expect a very chripy, cheery hello from the very uber-exuberant staff; these guys are like on uppers.)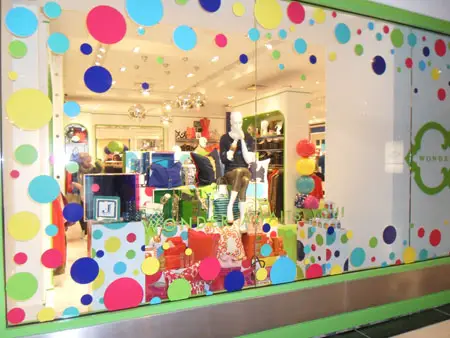 To say the emporium is a Crayola box of color, a symphony of rainbow tones, is an understatement. Clearly, here, more is more is more; the word "less" is assuredly not in Mr. Burch's vocabulary. A charming concept store, it is part Lily Pulitzer, part Newport preppie, part glamazon's lair, and part Britain's Primark, which if you don't know it, is sort of like Zara, H & M, Top Shop, and the old (wonderful) Loehmann's all rolled into one: Fashion with a bang, available for a song.
Here the price tags are not songs, but they are definitely sing-able, i.e., within reach, sort of like the furniture store, Design Within Reach. You won't mind in the least spending $78 for a pair of suede driving mocs (especially when there is an $88 pair of gaily-colored suede loafers in J. Jill's current catalog) in a bold Kelly green or a hot turquoise; but you also won't get an item that is made like the driving mocs from Tod's or from its little-sister shop (no longer open in SoHo), Hogan. The quality of the suede is not top-drawer, but the manufacturing is neat and trim, and definitely not shoddy...and for the price, it's a steal.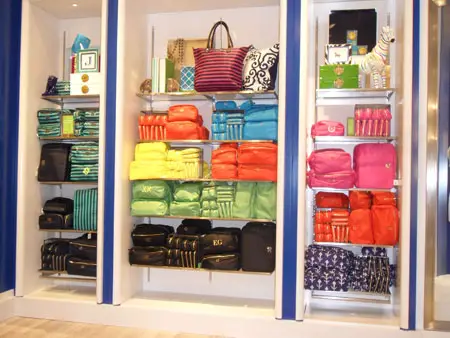 With much of the merch in the store, you also won't mind laying out the moolah for the tariff on the tag: for example, $50 or $75 for a nice wool cardigan or slipover crewneck or a lovely Perry Como-style, vesty sweater, that is a little edgy, but still from the prepsters, 'cause it will get you through this season and next—and you'll still look fashionable, should you keep it in your closet longer. There are very handsomely designed sweaters, a faux fur vest, trench coats, belts, and nice cotton button-down style shirts (without the buttons), with contrasting fabric—like maybe a paisley or a plaid against a blue-and-white striped shirt or a—on the interior of the collar and cuffs....very stylish.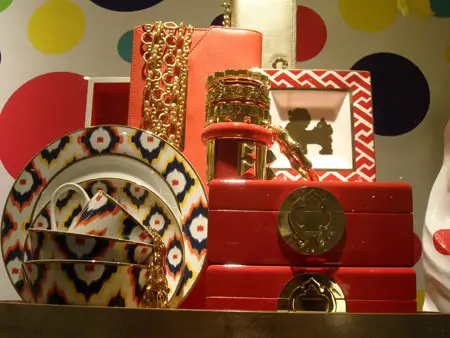 Totes, wallets, little handbags, and purses abound—in every shape, style, size, variety you can imagine, and you'll want to snatch up a few to put inside the big tote you will assuredly end up buying. The boutique's logo "C" is on a few items, as well, but there are many opportunities to put your own initials on something, as monograms are a hot commodity here....whether on dishes, ashtray-like catch-alls, clothing, tchotchkes for strategic placement around the house, or whatever. (There is even a dedicated monogram shop-within-the-shop.)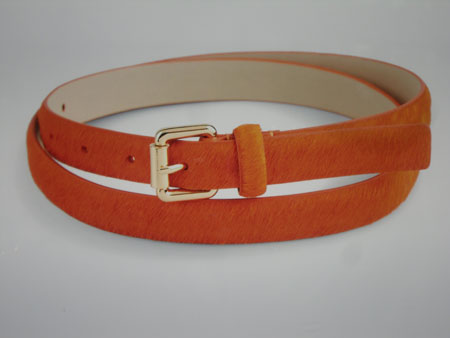 Home furnishings are abundant, as well—pretty pillows, tailored desk accessories, cache pots, smart lacquered trays, frames, mugs, and way more—and it's all in a rich kaleidoscope of saturated tones. And lest we forget the jewelry: Many bangles, some in faux–enamel, many in gold-tone with bamboo deisgns, others in squiggly, organic, stackable forms, and many that are sort of Hermès-like. Not so many earrings, but that is of no import, as there is something for everyone in the little jewelry room.
C Wonder is a wonder and it's no wonder that the company already has half a dozen shops around the States with many more planned. There will be wonder in your neighborhood soon! And if not, you can always visit Columbus Circle or SoHo, to get a glimpse of the jolly-ness and joy that the colorful shop brings to your eyes and your smile. C Wonder is a fun boutique-y concept and a lovely place to fork over your money for something useful, well designed, and fun.
Posted on September 29, 2012 - by

---
Reader Feedback - Be the first to kick-start this discussion...



---
About the Author: About the Author: Ruth J. Katz is a well-known shopping and service writer based in New York City. She has written about shopping for 25 years for New York magazine; covered the topic on-air at Fox-TV for several years as the Home Services expert; and had her own show on both the USA and Lifetime Cable networks. Katz wrote extensively for The New York Times as well, and contributed periodically to the New York Daily News. She is a passionate shopper, always looking for not merely a good buy, but the best buy, ferreting out a "steal" or discovering up-and-coming designers. She has written five books and is a former contributing editor to Hearst's Redbook, Classic Home, and Colonial Homes; she is currently a Contributing Editor of New York Home, Golf Connoisseur, The Modern Estate, and Promenade magazines. She is also the former Shopping Director for Davler Media's Manhattan Living.

Recent Entries: