THE MET: Live in HD Is Back
Back to the Blog... | Post Feedback | Author Bio | Printer-Friendly
It's time! It's time! At 12:55 p.m., this past Saturday afternoon, The Met: Live in HD returned to a theater near you; and of course, if you were in Gotham, then there were many theater choices for you. This is the seventh season that the Metropolitan Opera is bringing us simulcast operas as well as encore presentations—a dozen simulcasts this year, starting with Saturday's exuberant and joyful L'Elisir d'Amore, which starred Anna Netrebko, Matthew Polenzani, Mariusz Kwiecien, and Ambrogio Maestri, who joined forces in a delightful new production helmed by that master of fun and frolic, Bartlett Sher. One could argue that these Live in HD performances (which have won Emmys and Peabody Awards) are the best thing that the Met's General Manager Peter Gelb has brought us at his "new" Met, but then again he himself has set the bar high and has been responsible for so much innovation at the house that it wouldn't be fair to say that it is the absolute best; but for any opera lover in the hinterlands who cannot get to the Met or for a local who is loath to buy an inexpensive nose-bleed seat, then these are assuredly the best thing since sliced bread.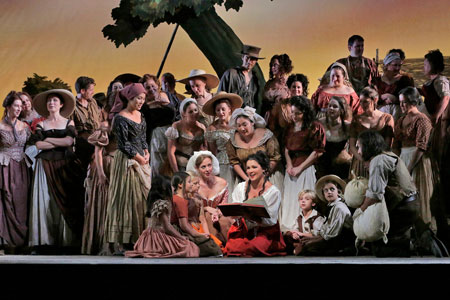 The presentations are brought to the screen by National CineMedia's Fathom Events, NCM's entertainment and events division, which also brings to the screen many other cinematic and cultural performances. (Two weeks ago, Fathom presented the remastered Lawrence of Arabia, in all its glory; and at least locally, in NYC, the house was sold out!) For anyone who missed Saturdays' performance—or, for that matter, cannot attend a live simulcast Saturday afternoon performance—there is always an encore presentation, generally the third Wednesday after the live event, in at least one neighborhood theater, if not more. Noted Gelb: "In addition to bringing grand opera directly from our stage into communities across the nation and around the world, our HD programs energize our performers, who know that a sizeable percentage of the global population of opera fans are watching and listening to them."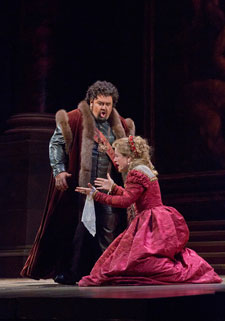 Tickets are available at participating cinema box offices and online at www.FathomEvents.com. (Prices may vary theater to theater, market to market, but are generally around $15 to $20.) The broadcasts will reach 167 U.S. markets in more than 660 select cinemas; the series is also shown in 100 additional independent venues nationwide. The Met: Live in HD is also screened in more than 1,900 cinemas in 60 countries, making the Met the only arts institution with an ongoing global art series of this scale. (The Met: Live in HD series is made possible by a generous grant from The Neubauer Family Foundation; global corporate sponsor of the series is by Bloomberg.)
The schedule for the coming season is below (times are always 12:55 Eastern and 9:55 Pacific, unless otherwise noted, and of course, as you might guess, the programs and the casts are subject to change), but I will report back from time to time so that you do not miss a single must-see performance. Meantime, I just loved, loved, loved the charming L'Elisir SAsturday and look forward to many more winning operas; expect the rest of the season's performances to be wonderful, exhilarating, breathtaking! (For additional info, check out the Met's Web site at www.metopera.org/hdlive)
Saturday, October 13, 2012
L'ELISIR D'AMORE (Donizetti)
Anna Netrebko and Matthew Polenzani star in one of the greatest comic gems in opera, as the fickle Adina and her besotted Nemorino. Bartlett Sher, whose previous productions of Il Barbiere di Siviglia, Le Comte Ory and Les Contes d'Hoffmann have delighted Met audiences, guides this lively staging, where surface charm will meet with real emotion. Mariusz Kwiecien is the blustery sergeant Belcore; Ambrogio Maestri is Dulcamara, the loveable quack and dispenser of the elixir. Maurizio Benini conducts.
OTELLO (Verdi)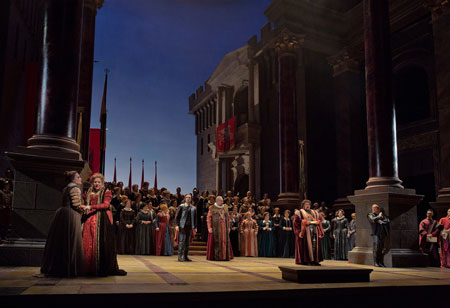 Verdi's Shakespearean masterpiece returns to the Met with Johan Botha as the title role opposite the acclaimed Desdemona of star soprano Renée Fleming, with Falk Struckmann as Iago and Michael Fabiano as the captain Cassio. Acclaimed Russian conductor Semyon Bychkov also makes his cinematic debut.
Saturday, November 10, 2012
THE TEMPEST (Adès) – Met Premiere
British composer Thomas Adès makes his Met debut conducting the first-ever Met performances of his opera, which has been widely praised as a modern masterpiece. Director Robert Lepage recreates the interior of Milan's famous opera house La Scala, including the hidden workings underneath the stage, where Prospero, the banished Duke of Milan, practices his otherworldly arts. The magnetic baritone Simon Keenlyside stars as Prospero, a role he has sung to great acclaim in London.
Saturday, December 1, 2012
LA CLEMENZA DI TITO (Mozart)
The virtuosic Elīna Garanča sings Sesto in Mozart's drama set in ancient Rome. Giuseppe Filianoti is the noble Tito and Barbara Frittoli is Vitellia, in this handsome revival of one of the composer's final masterpieces. Harry Bicket conducts.
Saturday, December 8, 2012
UN BALLO IN MASCHERA (Verdi)
Accompanied by a thrilling score, Verdi's vivid characters grapple with life and love, betrayal and death. Director David Alden's dreamlike setting provides a compelling backdrop for this dramatic story of jealousy and vengeance. Marcelo Álvarez stars as the conflicted king; Sondra Radvanovsky is Amelia, the object of his secret passion; and Dmitri Hvorostovsky is her suspicious husband. Kathleen Kim is the page Oscar, and mezzosoprano powerhouse Stephanie Blythe sings the fortuneteller Ulrica. Fabio Luisi conducts.
Saturday, December 15, 2012
AIDA (Verdi)
The Met's unforgettable production of Verdi's ancient Egyptian drama stars Liudmyla Monastyrska in her Met debut in the title role of the enslaved Ethiopian princess caught in a love triangle with the heroic Radamès, played by Roberto Alagna, and the proud Egyptian princess Amneris, sung by Olga Borodina. Fabio Luisi conducts this revival, which features recent choreography by Alexei Ratmansky.
Saturday, January 5, 2013
LES TROYENS (Berlioz)
The Met offers a rare opportunity to witness Berlioz's vast epic, last performed at the Met in 2003. Deborah Voigt, Susan Graham and Marcello Giordani lead the star cast. Met Principal Conductor Fabio Luisi marshals the large-scale musical forces.
Saturday, January 19, 2013
MARIA STUARDA (Donizetti) – Met Premiere
Fresh from her triumph in the Met's The Enchanted Island, mezzo-soprano Joyce DiDonato, one of the world's most exciting singers, takes on the virtuosic bel canto role of the doomed Mary, Queen of Scots. Having scored a major success with his production of "Anna Bolena," director David McVicar now turns to the second opera of Donizetti's Tudor trilogy, which explores regal characters at fateful moments of their lives. Elza van den Heever sings Elizabeth I, and Maurizio Benini conducts.
Saturday, February 16, 2013
RIGOLETTO (Verdi)
Director Michael Mayer has placed his new production of Verdi's towering tragedy in Las Vegas in 1960—an ideal setting for this eternal conflict of depravity and innocence. In this production, inspired by the antics of the Rat Pack, Piotr Beczala is the womanizing Duke of Mantua, with Zeljko Lucic as his tragic sidekick, Rigoletto. Diana Damrau is Rigoletto's daughter—and their victim. Michele Mariotti conducts.
Saturday, March 2, 2013
PARSIFAL (Wagner)
Director François Girard's timeless new vision for Wagner's final masterpiece explores the many facets of this mystical score, while designer Michael Levine (Eugene Onegin) creates a surreal landscape. Jonas Kaufmann stars in the title role of the innocent who finds wisdom. His fellow Wagnerian luminaries include Katarina Dalayman as the mysterious Kundry, Peter Mattei as the ailing Amfortas and René Pape as the noble knight Gurnemanz. Daniele Gatti conducts.
Saturday, March 16, 2013
FRANCESCA DA RIMINI (Zandonai)
Zandonai's compelling opera, inspired by an episode from Dante's Inferno, returns in the Met's ravishingly beautiful production, last seen in 1986. Dramatic soprano Eva-Maria Westbroek and tenor Marcello Giordani are the doomed lovers. Marco Armiliato conducts.
Saturday, April 27, 2013 – Noon Eastern / 9:00 a.m. Pacific
GIULIO CESARE (Handel)
David McVicar's inventive production of Handel's Baroque classic comes to the Met for the first time, with major stars as Caesar and Cleopatra. The world's leading countertenor, David Daniels, sings the title role of Julius Caesar opposite Natalie Dessay as an irresistibly exotic Cleopatra. Baroque specialist Harry Bicket conducts.
Posted on October 15, 2012 - by

---
Reader Feedback - Be the first to kick-start this discussion...



---
About the Author: About the Author: Ruth J. Katz is a well-known shopping and service writer based in New York City. She has written about shopping for 25 years for New York magazine; covered the topic on-air at Fox-TV for several years as the Home Services expert; and had her own show on both the USA and Lifetime Cable networks. Katz wrote extensively for The New York Times as well, and contributed periodically to the New York Daily News. She is a passionate shopper, always looking for not merely a good buy, but the best buy, ferreting out a "steal" or discovering up-and-coming designers. She has written five books and is a former contributing editor to Hearst's Redbook, Classic Home, and Colonial Homes; she is currently a Contributing Editor of New York Home, Golf Connoisseur, The Modern Estate, and Promenade magazines. She is also the former Shopping Director for Davler Media's Manhattan Living.

Recent Entries: