Hair Today, Frizz Gone Tomorrow: Products to use with Keratin Treatments
Back to the Blog... | Post Feedback | Author Bio | Printer-Friendly
Summer has assuredly ended with a bang, and we are now facing fall, celebrating Halloween, turning the clocks back, enjoying the upcoming Marathon, and—before you know it—ushering in the Christmas season. However, before the summer's halo effect entirely evaporates, I must comment on the wonders of having your hair "glamorized" with the Brazilian Keratin treatment. (Yes, I know, there has been some talk about these hair applications, and doing them responsibly, and not constantly...but I gotta say, wonder of wonder, they really work.) And, I must share info with you about some of the absolute best products to use to care for that "new" hair--and also, if you just want to get and keep relaly "good" hair, using products from Keratin Complex.
I got my treatment at Sergio Limpopo and took advantage of a Lifebooker deal. I wasn't sure what to expect and discovered after my treatment (which did not take as long as I thought it would), that I could not wash my hair for three days, and sort of had to sleep standing up, well, not quite. That was the down side, but the upside was that I discovered, much to my delight, that three neighbors barely recognized me (that was good—they thought I looked very red-carpet glam) and all could not stop telling me how wonderful I looked, not quite pinpointing that it was my very straight mane; the downside of their wonder was that tacit in their compliments and approval was the the implied notion that I must have looked bad before!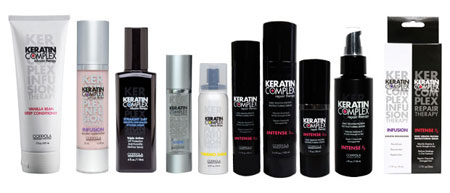 It took a while to adjust to the performance features of my new hair—I wasn't sure just how curly or frizzy it might be, just how much the keratin treatment had removed those tendencies to defy my ministrations for straight hair. I have to say, that through two different on-the-water vacations, through a very humid week in New Orleans, and through a hospital stay (that didn't exactly allow for shampooing, my hair looked GREAT: Straight, manageable, glamorous. But one thing that really mattered and that I had to pay attention to, was using a shampoo that had no sodium chloride; other people I know who have gotten keratin treatments have told me that they were instructed not to use any treatment product that had sulfides, but I was instructed to avoid sodium chloride.
I bought a shampoo and conditioner at the local Duane Reade and found them a little disappointing—expensive and not very bubbly, that is to say, not very foamy or sudsy. Somehow my hair didn't feel clean and slick.
BUT...enter the hair care line from Keratin Complex. These products are simply fabulous, in a word. I road-tested two shampoos and two cream rinses/conditioners: Keratin Color Care Shampoo, the "matching" conditioner, and another pair, the Keratin Care Shampoo and, again, the conditioner from that line. In addition, I tried a few treatment products, the Infusion Therapy, Keratin Complex Intense, Glowtion Potion Styling Oil, and the Instant Keratin Repair pack. They were all terrific, delivering great performance.

Keratin Complex offers a complete, well-balanced range of shampoos and conditioners to keep your hair looking and feeling great day after day–all with natural keratin. These shampoos and conditioners are designed and formulated to complement every hair type and specific need–from maintaining your therapy treatment and hair color to clarifying and re-balancing. Here is rundown on the two shampoos and two conditioners I now swear by:
Keratin Care Shampoo was developed to provide a gentle cleansing that will not diminish the precious nutrients of healthy hair; it is formulated with keratin protein for lasting protection. This sodium chloride-free formula is recommended for dry, chemically over-processed or damaged hair.
Keratin Care Conditioner was developed as a daily use conditioner with specially formulated nutrients and proteins that work in unison with keratin protein to maintain hair's shine and body. Helps detangle, leaving wet hair feeling smooth and slick. Special wheat and soy protein oils provide lasting nourishment while protecting the hair from the heat of blow-drying, hot curlers, and straightening irons.
Keratin Color Care Shampoo was developed to extend the vibrancy of color-treated hair. This sodium chloride- and sulfate-free formula contains mild surfactants that gently remove dirt and buildup without stripping hair of its color. It is formulated with keratin, soy, and wheat proteins for lasting protection.
Keratin Color Care Conditioner was developed to moisturize while protecting hair color. Helps detangle, leaving wet hair feeling smooth and slick. Special Keratin, wheat, and soy proteins provide lasting nourishment while protecting the hair from the heat of blow-drying, hot curlers, and straightening irons. Hair is softer, more manageable and stronger.
Posted on November 01, 2012 - by

---
Reader Feedback - Be the first to kick-start this discussion...



---
About the Author: About the Author: Ruth J. Katz is a well-known shopping and service writer based in New York City. She has written about shopping for 25 years for New York magazine; covered the topic on-air at Fox-TV for several years as the Home Services expert; and had her own show on both the USA and Lifetime Cable networks. Katz wrote extensively for The New York Times as well, and contributed periodically to the New York Daily News. She is a passionate shopper, always looking for not merely a good buy, but the best buy, ferreting out a "steal" or discovering up-and-coming designers. She has written five books and is a former contributing editor to Hearst's Redbook, Classic Home, and Colonial Homes; she is currently a Contributing Editor of New York Home, Golf Connoisseur, The Modern Estate, and Promenade magazines. She is also the former Shopping Director for Davler Media's Manhattan Living.

Recent Entries: