A Mug to Mug Happily About: Lifetime Brands' Thermal Mug
Back to the Blog... | Post Feedback | Author Bio | Printer-Friendly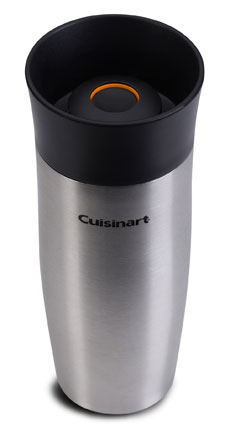 I have tried every single portable coffee mug known to man, or at least I think I have. Every time I find a new one at a trade show, or an editors' event, I try it. I often take a mug outside with me, for when I am walking the doggie and for when we go to the dog park. I have yet to find a mug that doesn't leak. I bend over, the dogs knock the thing over, I shove it into the doggie's carry-all, and so invariably, somehow it leaks and gets coffee all over everything, including me.
So imagine my shock when I tried Lifetime Brands' Cuisinart Easy Clean Thermal Mug. IT WORKS!!! It really works. There is not a tiny leak, making it just acceptable. No, there are no leaks. Turn it upside down, and it doesn't leak. Put it on its side, and it doesn't leak.
Oh, yes, the literature with the mug says it is both spill- and leak-resistant, so I was a little skeptical. Because "resistant" doesn't mean "proof." For my money, they could say it's spill-proof and leak-proof, but I guess they don't want to go out on a legal limb. But, the thing that makes this mug different form all the ones we've tried, is, not surprisingly, the drink spout: It doesn't slide, or flip, or have a lame drink control switch. It has a sort of pop-up button that almost feels like a vacuum kinda' thing. There is a simple center push button that makes it easy to open and close (it clicks so you know it's been activated, or that it's closed), and when it's closed, it's really leak-proof. Plus, you can drink from anywhere on the lid, which is more convenient when traveling, walking, or driving. The body of the mug is made of double-walled stainless steel so hot drinks stay hot and cold drinks stay cold. And the lid has two parts that you can take apart, so you can clean this mug easily and completely; I do it in the dishwasher. Another good thing about it? It's a mere $19.99. Trust me, you'll swear by this mug for your travels.
Posted on November 08, 2012 - by

---
Reader Feedback - Be the first to kick-start this discussion...



---
About the Author: About the Author: Ruth J. Katz is a well-known shopping and service writer based in New York City. She has written about shopping for 25 years for New York magazine; covered the topic on-air at Fox-TV for several years as the Home Services expert; and had her own show on both the USA and Lifetime Cable networks. Katz wrote extensively for The New York Times as well, and contributed periodically to the New York Daily News. She is a passionate shopper, always looking for not merely a good buy, but the best buy, ferreting out a "steal" or discovering up-and-coming designers. She has written five books and is a former contributing editor to Hearst's Redbook, Classic Home, and Colonial Homes; she is currently a Contributing Editor of New York Home, Golf Connoisseur, The Modern Estate, and Promenade magazines. She is also the former Shopping Director for Davler Media's Manhattan Living.

Recent Entries: