Things Are Popping in the Meatpacking District: The POP-Up Jewelry Gallery
Back to the Blog... | Post Feedback | Author Bio | Printer-Friendly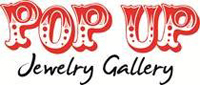 The holiday shopping season is now officially in full swing, and to help you pinpoint that just-right jewelry gift (and who wouldn't want a little sparkly something?), a charming pop-up jewelry gallery, aptly named POP Up Jewelry Gallery, has opened at 30 Gansevoort Street (between Hudson and Greenwich Streets). Open through December 31, the shop has a giant "pop-up" sign in the window...in bright Hollywood-style lights. It's cozy, spotless, and all-white inside, the better canvas for ferreting out sparkly jewels.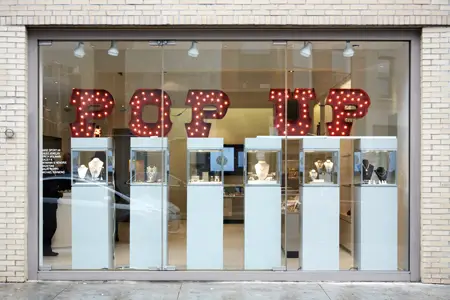 POP Up Jewelry Gallery located at 30 Gansevoort Street in the Meatpacking District features 8 fine jewelry designers for a limited time (until December 31st) including: Anne Sportun Fine Jewellery, Caleo, Heimann & Hendrix, Erica Molinari, Kacey K, MAD by Madstone and Madstone, Mauri Pioppo Fine Jewelry, Michael Raymond Designs
And of course, the timing could not be more perfect since forty percent of all fine jewelry is sold in the last quarter of the year. Unlike most pop-up shops which create an ultimate frenzy for impulse shoppers, this gallery has already been open for two months, establishing a mini-foothold in the ultra-trendy Meatpacking District, and attracting the typical weekend shoppers and the nabe regulars.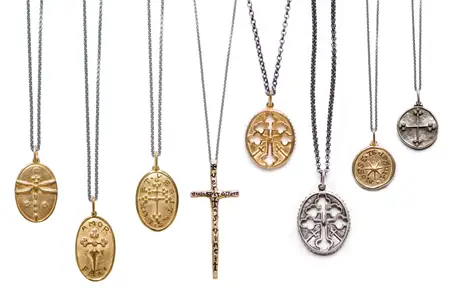 Erica Molinari - Sterling silver double sided charms with oxidized silver chains; 14 karat gold double sided charms with oxidized silver chains; 14 karat gold cross pendants with oxidized silver chains; Suggested retail prices range from $250 to $2,000
The salon is the brainchild jewelry-partners-in-crime, designer Kerri Halpern of MadStone Jewlery and Mad by MadStone and Diana Heimann of Heimann & Hendrix. The partners conceptualized, opened, and will manage the pop-up for the duration of the holiday season. The other designers on board include Anne Sportun Fine Jewellery, Caleo, Erica Molinari (above), Kacey K, Mauri Pioppo Fine Jewelry, and Michael Raymond Designs. Each designer showcases his/her bijoux in a separate case and the feel of the emporium is more gallery than shop.
Jewelry prices range from the highly affordable ($150) to the aspirational ($20,000), with a wide panoply of styles and tastes represented within that broad spectrum. While the majority of the jewelry in the shop is for women, there are also some designers specializing in menswear, with cufflinks, chunky chains, cool logo pins, and the link. There are also fine men's watches with a great deal of style and pizzazz from Jorg Gray. Additionally, there are some other items, such as special coffee table books, which are also available for sale.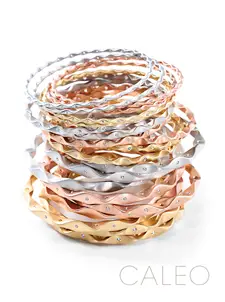 Jewelry from Caleo is actually from a husband-and-wife team, she an architect, and he, a sculptor. Working with elegant moonstones and hematite, they create lovely and delicate chains (and some more substantial ones for men) and talismans. Halpern's two lines range from about $200 to $18,000 and feature some fanciful pieces. She describes herself as a "rocker who loves champagne," and to satisfy that craving, she has created her "Bubble" line, with quartz etched with floating bubbles on the underside of the stones. She handles amethyst, smoky topaz, and quartz masterfully and brings the gems to life magically. Her bangles are a steal at $100. (The Caleo PINCH bangles, pictured right, come in many sizes and variations, and range from $275 to $6,250.)
Heimann & Hendrix's line includes some charming stackables, both feminine and delicate, and well-priced. Kacey K's offerings are dainty and fine, with countless variations of jewelry that can be worked with names, monograms, initials, and personal icons. Her line ranges from about $300 to $3,600. Erica Molinari's jewelry is noteworthy for its reversible pendants and charms. She also creates many dangly earrings, worked with a single stone that sparkles and dazzles. A simple, elegant statement. The work from jewelry Anne Sportun is marked by the use of colorful briolettes, sapphire beads, kyanite stones, shaped spinels (that look like lava rocks)and organic-shaped jewels. The line from Mauri Pioppo Fine Jewelry is rife with crystals, pendants, spirituality, symbolism—from love letters to initials, little locket-like charms that have room for a picture. A yogi, she tries to even incorporate healing stones within her work.
The shop will host themed weekly events (last week it was a doggy day, a fundraising event for orphaned pets from Hurricane Sandy), designer appearances, and entertainment, with a live DJ and an array of smart cocktails. Open to all patrons, the week's events will be posted on the front door. Store hours are Tuesday to Sunday, noon to 7:00 pm, closed Mondays. For more information, call 646-861-1180 or email info@popupjewels.com.
Posted on November 26, 2012 - by

---
Reader Feedback - Be the first to kick-start this discussion...



---
About the Author: About the Author: Ruth J. Katz is a well-known shopping and service writer based in New York City. She has written about shopping for 25 years for New York magazine; covered the topic on-air at Fox-TV for several years as the Home Services expert; and had her own show on both the USA and Lifetime Cable networks. Katz wrote extensively for The New York Times as well, and contributed periodically to the New York Daily News. She is a passionate shopper, always looking for not merely a good buy, but the best buy, ferreting out a "steal" or discovering up-and-coming designers. She has written five books and is a former contributing editor to Hearst's Redbook, Classic Home, and Colonial Homes; she is currently a Contributing Editor of New York Home, Golf Connoisseur, The Modern Estate, and Promenade magazines. She is also the former Shopping Director for Davler Media's Manhattan Living.

Recent Entries: