Turn Back the Aging Clock: StriVectin's Newest Magic!
Back to the Blog... | Post Feedback | Author Bio | Printer-Friendly
It started in 2002 as a wonder cream to persuade stretch marks to disappear. That was StriVectin-SD, and within no time flat, it sold over 6 million units worldwide. A miracle in a tube, indeed, and probably the single product that helped create the cosmeceutical craze. From that one product, the StriVectin Company has developed a multi-faceted line, with over a dozen effective, in-demand products introduced in the past four years alone. Today, the company markets a clinically-proven, scientifically-developed skincare line that offers comprehensive anti-aging solutions for people who would prefer to use a little dab of magic rather than search in vain for Ponce de Leon's Fountain of Youth.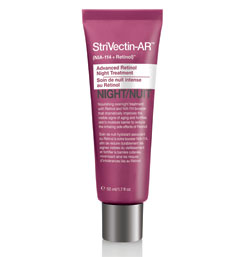 Newest to the StriVectin family is January's introduction of StriVectin-AR Advanced Retinol Night Treatment. A midnight multi-tasker, it combines the company's proprietary NIA-114 molecule and retinol (think: the ever popular retin A and its cousins), which is the gold standard in the anti-aging arena. This product relentlessly fights major signs of aging, helping to reduce the appearance of deep-set wrinkles and fine lines, hydrating and deeply nourishing skin, improving skin firmness and texture, and balancing out skin tones.

The company did a 12-week, independent, placebo-controlled, double-blind clinical trial against a placebo formula that did not contain the NIA-114...and the studies proved that the StriVectin-AR had impressive results after four weeks:
100% improvement in skin texture

88% improvement in skin clarity and radiance

79% had an improvement in skin firmness

8412% had an improvement in fine lines
After this 12-week trial, it was obvious that these were impressive results. For me, after the first of the year, I gave the StriVectin-AR an eight-week test and I can only say I am getting compliments on my skin—and I was actually asked on the street the other day by a dear friend whether I "had had work done." Hmmmm.....that is enough to convert me to a StriVectin devotee for life. (No, indeed, I did not have work done! Well, if having the carpet steamed counts as work, then I guess I did have work done, but it was the carpet, not my face!)

My results were enough to convince me to investigate more of the StriVectin product line, and now my 24-hour routine consists of the newly reformulated StriVectin-SD for daytime use and the StriVectin-SD Eye Concentrate at night...and voila! That is my new regime that I am currently in love with. If you feel like exploring the StriVectin products yourself, there are the StriVectin-AR lines, the -SD, -TL, -EV, and -SH lines, as well, that are worthy of your attention.

All these StriVectin lines consist of products that range from neck creams and cleansers to serums and more. The StriVectin-AR (50 ml / 1.7 oz) that I mentioned is $109.00; the StriVectin-SD Intensive Concentrate (150 ml / 5.0 oz), $139.00; StriVectin-SD Eye Concentrate for Wrinkles (30 ml / 1.0 oz), $65.00.
Posted on March 19, 2013 - by

---
Reader Feedback - Be the first to kick-start this discussion...



---
About the Author: About the Author: Ruth J. Katz is a well-known shopping and service writer based in New York City. She has written about shopping for 25 years for New York magazine; covered the topic on-air at Fox-TV for several years as the Home Services expert; and had her own show on both the USA and Lifetime Cable networks. Katz wrote extensively for The New York Times as well, and contributed periodically to the New York Daily News. She is a passionate shopper, always looking for not merely a good buy, but the best buy, ferreting out a "steal" or discovering up-and-coming designers. She has written five books and is a former contributing editor to Hearst's Redbook, Classic Home, and Colonial Homes; she is currently a Contributing Editor of New York Home, Golf Connoisseur, The Modern Estate, and Promenade magazines. She is also the former Shopping Director for Davler Media's Manhattan Living.

Recent Entries: