Chopard's Happy Sport: Gay Diamonds, Fish, and Fantasy
Back to the Blog... | Post Feedback | Author Bio | Printer-Friendly
This autumn, the esteemed Swiss watchmaker Chopard will celebrate the twentieth anniversary of the creation of its fun and fantasy watch, the Happy Sport. The ingenious creation of co-president Caroline Scheufele, the Happy Sport originally married casual elegance and haute joaillerie in a single timepiece.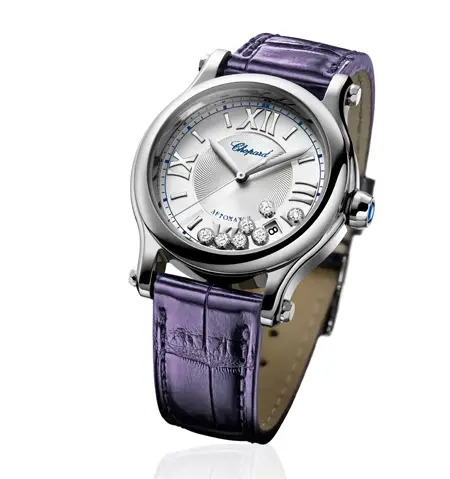 According to Chopard, it was the first time something as precious as diamonds was combined with a material as mundane as steel, exuding the devil-may-care vibe, coalescing diamonds and daytime in a way they had not been used together before. Over the years, there have been countless models of the Happy Sport watch, some giddily silly with "dancing" fish chasing diamond prey, twinkling snowflakes, fantastic four-leaf clovers, others more sedate but still with an toward whimsy, with playful, roving diamonds on the face of the watch. But always, the Happy Sport has brought a smile to a viewer's or a wearer's face.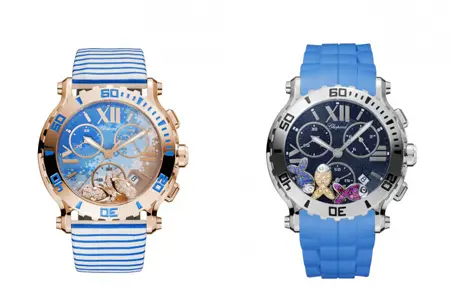 In acknowledging this landmark, Chopard has created a method for customers to create their own contemporary version of the Happy Sport, to have a one-of-a kind, truly singular watch. The Happy Sport customization process allows purchasers to truly personalize a timepiece, engaging them in the design process for the first time. The procedure is kind of fun, too: Download the iPad or iPhone app (or go to a Chopard boutique) and design your watch from scratch through the various options, selecting items from the hot pink Happy Sport traveling trunk-kit (pictured below): Pick a strap (how about lavender or coral rubber?), a face, a design, embellishments (trinkets, charms, and so on), different colors, and, well, you get the point... Three weeks later, voilà! You have a custom-made watch!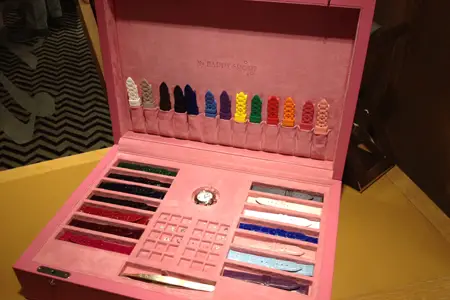 Watch prices vary of course, but most Happy Sport watches start at about $10,000, and of course, the sky is the limit, if you decide that you just need to have many roaming diamonds in the face of your watch! BE prepared to grin every time you look at the watch to check the time.
Chopard Boutique, 709 Madison Ave., 212-223-2304; chopard.com
Posted on July 01, 2013 - by

---
Reader Feedback - Be the first to kick-start this discussion...



---
About the Author: About the Author: Ruth J. Katz is a well-known shopping and service writer based in New York City. She has written about shopping for 25 years for New York magazine; covered the topic on-air at Fox-TV for several years as the Home Services expert; and had her own show on both the USA and Lifetime Cable networks. Katz wrote extensively for The New York Times as well, and contributed periodically to the New York Daily News. She is a passionate shopper, always looking for not merely a good buy, but the best buy, ferreting out a "steal" or discovering up-and-coming designers. She has written five books and is a former contributing editor to Hearst's Redbook, Classic Home, and Colonial Homes; she is currently a Contributing Editor of New York Home, Golf Connoisseur, The Modern Estate, and Promenade magazines. She is also the former Shopping Director for Davler Media's Manhattan Living.

Recent Entries: