Guerlain's Newest: The Audacious Sense of Intoxicating Scents
Back to the Blog... | Post Feedback | Author Bio | Printer-Friendly
I love fragrance; always have, always will. My morning's toilette is incomplete without a splash or spritz of something delicate, something heady, or something exotic. And for years, I have relied on Guerlain's war chest of fragrances for many of my olfactory sensorial desires. This company really knows fragrance, and has bottled so many "big names" that it's hard to even list them: Shalimar, L'Heure Bleu, Samsara, Insolence, and on and on, not to mention the entire group of "beehive" perfumes.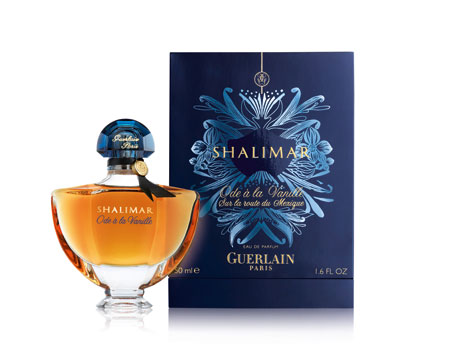 But let's start with the newest addition to the renowned Shalimar family, Shalimar Ode à la Vanille. Hard to believe that Shalimar itself is closing in on its centennial, and yet seems as fresh and refreshing to the nose's palate as the day it was created, perhaps accidentally, by Jacques Guerlain. The story goes that when the master perfumer was examining a sample of vanillin brought back from the Far East he decided for the heck of it (oh, those wacky, reckless perfumers!) to pour it into a bottle of Jicky (a popular Guerlain fragrance, created in 1889 and still a treasured standard in the company's repertoire), just to see what it would smell like, et voilà! Shalimar was born. Guerlain was supposedly stirred to refine his creation further, having been inspired by the legendary Mughal Empress Mumtaz Mahl, the favored wife of Shah Jahan, who built the Taj Mahal for her.
The newest scent is deliriously gorgeous, a mix of bergamot, rose, and iris, set against a sensual base of woodsy notes and spices: The top note is assertively vanilla, with a heart of jasmine and other florals, with a base of tonka bean, caramel, and cocoa....my God, you could cook this stuff and eat it! I did a test drive of the scent last week and cannot get it out of my mind, head, heart. Created by master nose Thierry Wasser, who, on a trip to Mexico found himself in Vanilla Land—and knowing the importance that bean played in Shalimar's history—decided to infuse a little more of that delicious bean into Shalimar, and thus Ode à la Vanille was born. He pays homage to the rich history of both the fragrant bean and the Maison du Guerlain, and the result is that timeless Shalimar has been suffused with a jolt of modernity in it. And happily it is very affordable at $103.00 for 50 ml. (For the record, the Shalimar DNA has several scents in its group, Parfum Initial, Eau de Shalimar, and this latest entry.)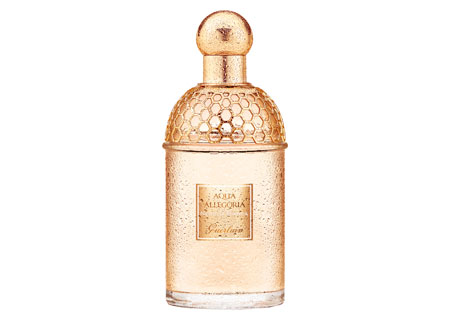 And now to the "Beehive" fragrances: the line is known as the Aqua Allegoria and the scents in this Guerlain family are all bottled in the famous "beehive" bottle which is inspired by nature, just as the fragrances themselves are. Sculpted in the shape and pattern of a bee hive and adorned with Guerlain's symbol of the bee, the Aqua Allegorias evoke a 760-year-old tradition, when the first fragrance—Eau de Cologne Impériale for the Empress Eugénie—in this group was created. Its legendary bottle was adorned with 69 bees, a storied emblem of the Empire under Napoleon and then Napoleon III.
The wonderful scents in the beehive bottles are generally floral, usually citrus—light, refreshing, evoking playfulness. While these fragrances are not specifically limited editions, there are usually only five fragrances available at any given time, therefore each new fragrance that enters the family replaces another one. So, if you become attached to any one of them, snap it up when you can, as it may be hard to find thereafter by the next year. Currently, the line includes the latest, Neriola Bianca, which I am desperately in love with, and the five presently in the group... and I am betting that one will be removed come Sepember, when this one officially launches: Flora Nymphéa, Pamplelune, Herba Fresca, Mandarine Basilic, and Les Soleia. (Fragrances are very reasonably priced at about $65.00 for 2.5 oz., in the eau de toilette spray in the famous bottle)
Posted on July 29, 2013 - by

---
Reader Feedback - Be the first to kick-start this discussion...



---
About the Author: About the Author: Ruth J. Katz is a well-known shopping and service writer based in New York City. She has written about shopping for 25 years for New York magazine; covered the topic on-air at Fox-TV for several years as the Home Services expert; and had her own show on both the USA and Lifetime Cable networks. Katz wrote extensively for The New York Times as well, and contributed periodically to the New York Daily News. She is a passionate shopper, always looking for not merely a good buy, but the best buy, ferreting out a "steal" or discovering up-and-coming designers. She has written five books and is a former contributing editor to Hearst's Redbook, Classic Home, and Colonial Homes; she is currently a Contributing Editor of New York Home, Golf Connoisseur, The Modern Estate, and Promenade magazines. She is also the former Shopping Director for Davler Media's Manhattan Living.

Recent Entries: