One Silicone Oven Mitt + One Hot Pad + Ingenuity = The Hot Iron Holster!
Back to the Blog... | Post Feedback | Author Bio | Printer-Friendly
Emergency room nurse Erin Balogh spent most of her mornings flipping pancakes, doing laundry, changing diapers, and trying to get ready for work. She found herself relegated to using her downstairs guest bathroom for her toilette, in between trips to the laundry room and the kitchen. In that tiny half-bath, she would balance her hot curling iron and flat iron on the edge of the pedestal sink, and invariably, her hair tools would slide into the basin or drop to the floor. There had to be a better way, she thought: She checked locally and on-line in an effort to pinpoint an appropriate implement to hold the pesky implements, but there wasn't much that would work. There were wall-mounted tools and gizmos for the countertop, but in her tiny bath, there was no counter, and she didn't want anything wall-mounted that would be permanent, to spoil her pretty guest bath.
Necessity is almost always the mother of invention, and in Balogh's case, trying to find the requisite tool forced her to be a little more pro-active, to think a little more creatively: She dusted off her sewing machine and grabbed a silicone oven mitt and a hot pad and then sewed them together, creating a kind of over-the-sink-edge holster from the oven mitt for holding her tools. At the other end, she fashioned a pocket from the oven mitt, weighted it with a piggy-bank's worth of coins, and put the sturdy heft into the bowl, to balance the weight. The silicone holster could comfortably hang over the edge of the sink, and the weighted oven mitt was draped into the sink—and it was the perfect assemblage for her hot tools. Yes, this would do it, this rudimentary silhouette would be the model of her ultimate product, the Hot Iron Holster.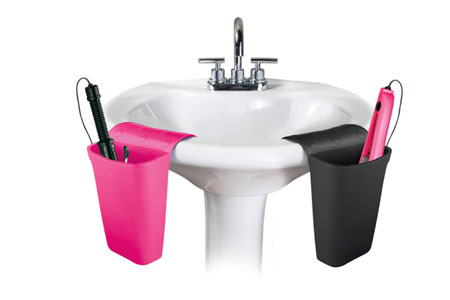 Now, all she needed was a professional and better-designed thingamajig like this. And off she went to streamlining it and having it made professionally. This would be the perfect tool holder, the answer to her prayers! And she knew others would want one, as well, as she knew she simply could not be alone. (And she wasn't...I, among the many, was with her!) She debuted her product at the International Home and Housewares Show, the Big Guns of the home industry, in Chicago, last year, where it was a huge hit.
Balogh ultimately created two versions of her holster—an at-home model and a professional model, for salons and stylists. The holster is ideal for hot tools (up to 500 degrees F)—flat irons, curling irons, hair dryers, and Lord only knows what else we use. The specially formulated silicone clings to any smooth, non-porous surface, including tile, wood, laminate, granite, metal, glass, vinyl, porcelain, plastic, and leather, among the mix. When put into place, both surfaces should be clean and dry; dirt and lint may reduce performance, but can be easily removed by rinsing with water or cleaning with rubbing alcohol.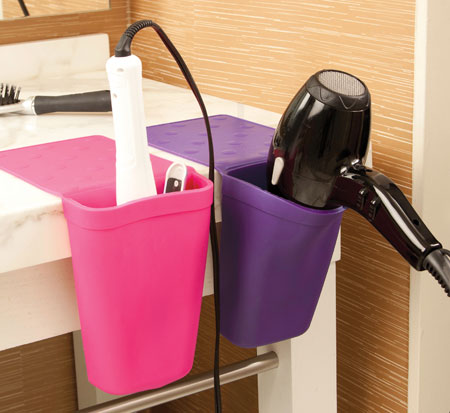 In addition to being easy to install on just about any surface, the longer end can be used over a towel bar, around an open shelf, over the edge of the sink, or (as I do it), over the rod of my portable bathroom moveable cart. The professional model has a longer tail, more copious pocket, and is capable of holding more...and the longer grip-end of the professional model is ideal for putting over the back of the salon chair. To remove the holster, just lift up the tail end. The at-home model retails for $29.95 and the professional model sells for $39.95 on the Hot Iron Holster Web site. Also available at, among other places, the Container Store.
Posted on August 06, 2013 - by

---
Reader Feedback - Be the first to kick-start this discussion...



---
About the Author: About the Author: Ruth J. Katz is a well-known shopping and service writer based in New York City. She has written about shopping for 25 years for New York magazine; covered the topic on-air at Fox-TV for several years as the Home Services expert; and had her own show on both the USA and Lifetime Cable networks. Katz wrote extensively for The New York Times as well, and contributed periodically to the New York Daily News. She is a passionate shopper, always looking for not merely a good buy, but the best buy, ferreting out a "steal" or discovering up-and-coming designers. She has written five books and is a former contributing editor to Hearst's Redbook, Classic Home, and Colonial Homes; she is currently a Contributing Editor of New York Home, Golf Connoisseur, The Modern Estate, and Promenade magazines. She is also the former Shopping Director for Davler Media's Manhattan Living.

Recent Entries: