Makeup Forever's Smoky Extravagant Mascara
Back to the Blog... | Post Feedback | Author Bio | Printer-Friendly
I am addicted to purple mascara, hence I rarely venture out of my comfort zone for mainstream brands, unless they happen to make a color called "Wondrous Violet" or "Ravishing Lavender," or something like that. But, I do keep a few black mascaras in my makeup tray for the times I need that classic, but it's usually so boring. Well, Makeup Forever's new Smoky Extravagant is just that—no, not boring, but rather extravagant.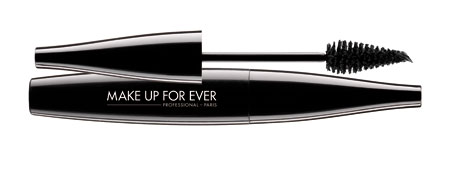 I say extravagant, as it does all the things you want mascara to do, and makes your lashes look natural while it plies its magic. I road-tested it with the usual dollop or skepticism, after having been told it promised to be revolutionary. After all, how different could it be? Black mascaras is black mascara. Well, this one isn't so ordinary.
As it glided on, I was shocked to see that it separated and colored my lashes and rendered them natural-looking, not clumpy, not fake, not thickly artificial. My lashes were instantly darker, longer, and lush. I could not get over it. My normally anemic lashes looked amazing! And my lower lashes, even more thin, were lavishly thick, yet still not clumped and fake-looking.
So, how does it do it? Here is what the company says it does to make this mascara different form all others. And oh, did I mention it is a mere $24?
Volume, length, curl, and precision are delivered through the company's proprietary, innovative formula, with a pigment that has the darkest color that the company could find—natural mineral comprised of micronized iron oxide, with a wax complex and Abyssinian oil base, which allows the mascara to glide on easily and remain smudge-proof. Panthenol pro-vitamin B5 restrcutures eyelashes by covering, nourishing, and protecting them. The conic-shaped brush, the company says, is also important, and that tiny little implement has a staggering 580 bristles on it!
Now if only lit came in purple. But, frankly, I have so fallen in love with this mascara; I am wearing black all the time these days. It's the new purple!
Posted on August 12, 2013 - by

---
Reader Feedback - Be the first to kick-start this discussion...



---
About the Author: About the Author: Ruth J. Katz is a well-known shopping and service writer based in New York City. She has written about shopping for 25 years for New York magazine; covered the topic on-air at Fox-TV for several years as the Home Services expert; and had her own show on both the USA and Lifetime Cable networks. Katz wrote extensively for The New York Times as well, and contributed periodically to the New York Daily News. She is a passionate shopper, always looking for not merely a good buy, but the best buy, ferreting out a "steal" or discovering up-and-coming designers. She has written five books and is a former contributing editor to Hearst's Redbook, Classic Home, and Colonial Homes; she is currently a Contributing Editor of New York Home, Golf Connoisseur, The Modern Estate, and Promenade magazines. She is also the former Shopping Director for Davler Media's Manhattan Living.

Recent Entries: