Who's Bored? You Won't Be, With a Rowenta Ironing Board
Back to the Blog... | Post Feedback | Author Bio | Printer-Friendly
It's that time of year, when we are obliged to iron all our linen and cotton garments, clothing we truly depend on to keep us cool and comfy during the dog days of the season, humid summer days that are assuredly going to return in the next week. Many would wince at the thought of ironing, but I find the task a Zen-like activity, and it's also a rewarding one, 'cause you get immediate results. And when you have a good iron and a super-duper ironing board like the Rowenta IB9100 Pro Compact model, you cannot help but actually appreciate the process. (O.K., maybe I am in the minority here, and you're rolling your eyes, thinking, "She's actually extoling ironing?" But for me, there is something gratifying about hanging up a freshly ironed, crisp linen shirt, rendered to that state of elegance by your hand and a well-designed iron.)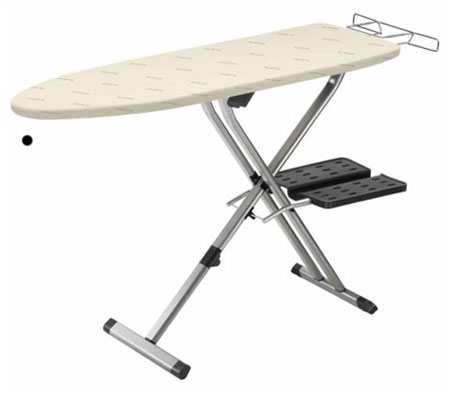 If we are like-minded, then it is Rowenta's IB9100 ironing board that you're gonna' love. Why didn't anyone think of this kind of ironing board sooner? This is a completely marvelous, brilliant product--an ironing board for those of us who are space-challenged in tiny New York City apartments. The board (when stored) measures only 45" high, but when you open it, it's a full 54" long, due to the compact aspect of the design — the end where the resting well for the iron sits folds over itself, knocking off those 9 inches in height, so it's not so cumbersome to store. Very clever.

The opening process is a snap, so you are not fumbling around trying to figure out how to slide the legs out so that they support the board, and where the mechanism locks. It's entirely self-evident and intuitive. There are adjustable heights for ease of standing (or even sitting, for that matter), as you iron. The frame has built-in wheels, making it simple to move the board around. The surface for ironing is cushy and laced with a felt layer. There is a handy steam-iron station restomg well at the end of the board. And a space to rest ironed clothing and a hanging rack... there is just nothing that the knowing geniuses at Rowenta have not thought of. Suggested retail price is $299 and it's worth each and every penny!
Posted on August 23, 2013 - by

---
Reader Feedback - Be the first to kick-start this discussion...



---
About the Author: About the Author: Ruth J. Katz is a well-known shopping and service writer based in New York City. She has written about shopping for 25 years for New York magazine; covered the topic on-air at Fox-TV for several years as the Home Services expert; and had her own show on both the USA and Lifetime Cable networks. Katz wrote extensively for The New York Times as well, and contributed periodically to the New York Daily News. She is a passionate shopper, always looking for not merely a good buy, but the best buy, ferreting out a "steal" or discovering up-and-coming designers. She has written five books and is a former contributing editor to Hearst's Redbook, Classic Home, and Colonial Homes; she is currently a Contributing Editor of New York Home, Golf Connoisseur, The Modern Estate, and Promenade magazines. She is also the former Shopping Director for Davler Media's Manhattan Living.

Recent Entries: