Fashion Plates to Wear and Eat: Dining Stylishly and Smartly
Back to the Blog... | Post Feedback | Author Bio | Printer-Friendly
Starting next week, coinciding with Gotham's famed Mercedes-Benz Fashion Week, 27 ever-so-chic Upper West Side restaurants are stepping up to the plate (virtually and figuratively) and are offering their "Fashion Plate" deals on meals. The Lincoln Square Business Improvement District's successful dining promotionis back for the fourth year and the seventh seasonal Fashion Week, with a wide range of eateries participating, some with jaw-dropping, over-the-top menus -- places you've always wanted to try, but were hesitant. The event runs from September 5th to September 12th, for Fashion Week. The promotion expands each year and this season, Asiate at the Mandarin-Oriental joins the ranks of participants.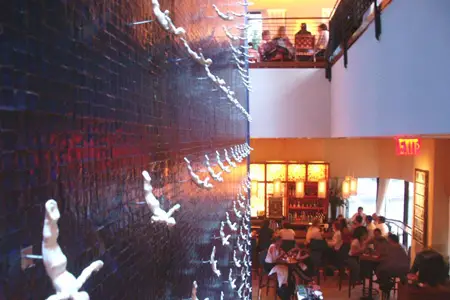 Fashion Plate Prix Fixe is open to the public for lunch, dinner, and brunches during Mercedes-Benz Fashion Week. Herewith a few examples of the deals to be had: Upper West Side staple Rosa Mexicano (above) is featuring a $25 prix-fixe lunch special as well a three-course dinner for only $38; The Smith is hosting a $27 three-course lunch with complimentary sparkling morning punch with any breakfast entree; and a special two-course, modern Italian weekend brunch is being offered at Lincoln Ristorante for $35.
There are also deals for Fashion Week staff at other, more affordable eateries where the crews working Fashion Week can get a delicious take-out meal to be eaten on the fly, with a deep discount. (That program is called Crew Cuts and it's for the staffs of Fashion Week, who survive for eight days on breathing mere air and eating take-out.) But Fashion Plate restaurants are open to all.
"We're always thrilled to welcome back our highly-anticipated Fashion Plate Prix Fixe and Crew Cuts programs to the Lincoln Square area as locals and visitors look forward to great deals on incredible meals," said Monica Blum, Lincoln Square Business Improvement District president. "Whether or not you have tickets to check out the runway, Fashion Plate Prix Fixe is a great way to dine at some of the city's best and favorite restaurants while celebrating and experiencing the ambiance of Mercedes-Benz Fashion Week in one of the city's most vibrant neighborhoods." The Lincoln Square BID has spearheaded the program since its inception. The non-profit business improvement district also promotes the area's diverse business, educational opportunities, and cultural offerings through annual events such as the annual Winter's Eve celebration, which is Gotham's largest holiday festival; Summer Concert Series at Richard Tucker Park; Tourist Information Ambassador Program, among others. Lincoln Square BID's neighborhood area runs from Columbus Circle to 70th Street between Amsterdam and Central Park West.
Fashion Plate Prix Fixe is open to all (just snag yourself a reservation first, so you can be assured you get into your favorite places) for lunch, dinner, and brunches during Fashion Week.
Click here for the complete list of Fashion Plate participants.
Posted on August 29, 2013 - by

---
Reader Feedback - Be the first to kick-start this discussion...



---
About the Author: About the Author: Ruth J. Katz is a well-known shopping and service writer based in New York City. She has written about shopping for 25 years for New York magazine; covered the topic on-air at Fox-TV for several years as the Home Services expert; and had her own show on both the USA and Lifetime Cable networks. Katz wrote extensively for The New York Times as well, and contributed periodically to the New York Daily News. She is a passionate shopper, always looking for not merely a good buy, but the best buy, ferreting out a "steal" or discovering up-and-coming designers. She has written five books and is a former contributing editor to Hearst's Redbook, Classic Home, and Colonial Homes; she is currently a Contributing Editor of New York Home, Golf Connoisseur, The Modern Estate, and Promenade magazines. She is also the former Shopping Director for Davler Media's Manhattan Living.

Recent Entries: