Wild for Wahl: Therapy for Tired and Pained Muscles
Back to the Blog... | Post Feedback | Author Bio | Printer-Friendly
I have written about Wahl products before, but maybe in at least one instance I ought to say "we" have written about the company previously since it was four-legged, furry Austin Katz who was doing the guest-blogging at least once when Wahl was the subject of a story. He extolled the virtues of Wahl's doggie-grooming tools. And now it's time for mom to praise Wahl's people products — the massagers and hot-cold packs for aching muscles that have saved my life recently.

Having survived two surgeries (both "structural," as I call them — shoulder and a new knee), I have nursed myself through months of physical therapy, iced irritated muscles, heated aching joints, elevated sore feet, and massaged throbbing trouble spots. I have every conceivable gizmo my physical therapist has recommended, but I recently added to the collection, incorporating a few products from Wahl that are unparalleled for my wellness program.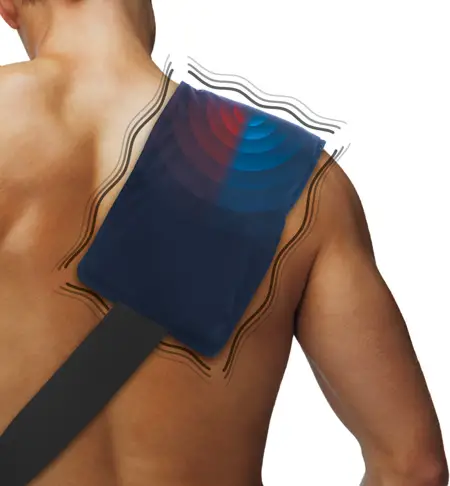 The first is the Hot-Cold Massaging Gel Pack. (Sure beats the cold-only bag of peas in the freezer, an old physical therapy trick.) This is terrific product for pain management, and it's a little surprising that Wahl, the company that invented the first electric massager nearly 100 years ago, took this long to combine the therapies of heat and cold with a massaging gadget. Notes Jenny McLaughlin, the product manager for Wahl's massager division: "People in pain use heating pads, hot/cold packs, and massage separately because there has never been one product incorporating them all." Well, now there is. It's so obvious, why didn't I think of this? And it's ideally suited for my knee...wraps around it just perfectly. And at a mere $24.99, it's a steal.

The benefits of heat and massage are known to include increased circulation which promotes healing and brings relief to sore muscles. Cold therapy is designed to restrict blood flow to a spot to reduce swelling and inflammation; for treatments such as joint pain and soreness of the extremities, light massage plus cold therapy can help speed up the recovery. And this product can deliver just that. You can pop this into the freezer or microwave and the gel pack holds its temperature for up to 30 minutes. The Velcro straps keep it in place handily. And having a little massager right in a pocket in the wrap is sheer genius!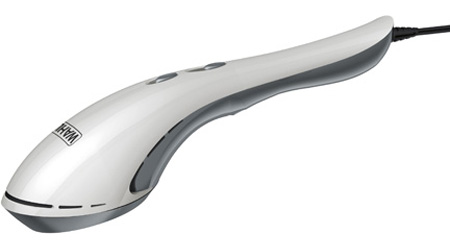 Speaking of hot and cold therapy brings me to another Wahl product, the Hot and Cold Therapy Massager, which is a corded massaging device that features a large flat surface, which is perfect for the lateral side of my knee, where tightness still lingers. The temperature plate is large and, therefore, it covers a lot of surface on the side of my knee, where there is still nerve damage, so anything I can do there to stimulate activity is welcome. It has four interchangeable plates, although I find the flat plate works the best for my purposes, and I think in general, this is ideal for swollen muscles, poor circulation (which is inherent in the knee, as you need to drive nutrition to the joint and get the synovial fluid into that tight space), and for general pain. This is a an invaluable tool for the days I have spent on my feet at the Javits Center, say, walking 6 hours at the Gift Show. (Approx. $69.99)

Lastly, for my shoulder, I needed something with a very focused nozzle, or pointed energy, so I could dig it into my shoulder, where the tear was and where there is still sensitivity and tenderness. Deep pressure and massage work best here. The Personal Therapeutic Massager ($18.95), which features a flexible neck (and is battery-operated) was the answer to my prayers here. The flexibility of the neck allows me to really press it into the hard-to-reach interstitial space in my shoulder, to focus on the tender spot that needs the massaging. It comes with a travel case, as well, and a few other additional attachments.

You can find all these products online at the Wahl store here.
Posted on September 17, 2013 - by

---
Reader Feedback - Be the first to kick-start this discussion...



---
About the Author: About the Author: Ruth J. Katz is a well-known shopping and service writer based in New York City. She has written about shopping for 25 years for New York magazine; covered the topic on-air at Fox-TV for several years as the Home Services expert; and had her own show on both the USA and Lifetime Cable networks. Katz wrote extensively for The New York Times as well, and contributed periodically to the New York Daily News. She is a passionate shopper, always looking for not merely a good buy, but the best buy, ferreting out a "steal" or discovering up-and-coming designers. She has written five books and is a former contributing editor to Hearst's Redbook, Classic Home, and Colonial Homes; she is currently a Contributing Editor of New York Home, Golf Connoisseur, The Modern Estate, and Promenade magazines. She is also the former Shopping Director for Davler Media's Manhattan Living.

Recent Entries: