Nespresso On-the-Run at Grand Central
Back to the Blog... | Post Feedback | Author Bio | Printer-Friendly
Nespresso, the coffee giant and worldwide pioneer in portioned coffee that has stormed these shores after so much success in Europe (where it is a household name), is increasing its footprint, albeit temporarily, in the Big Apple. As a way of marking and celebrating the tenth anniversary of the brand's AAA Sustainable Quality Program (in partnership with the Rainforest Alliance), the company is debuting today a pop-up Nespresso shop/boutique in Vanderbilt Hall at Grand Central Terminal. It will be open through this Friday, October 4th. Here, at this "experiential center," visitors will be able to immerse themselves in the company's bean-to-cup process, and also be able to savor Nespresso's 21 grand cru coffees.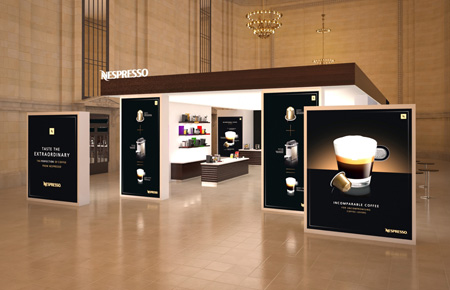 An interactive element of the Nespresso pop-up boutique is the "What Grand Cru Are You?" digital installation. Upon answering a series of questions about taste preferences, a real-time algorithm immediately processes the answers to define a specific coffee recommendation for each participant, who will then be invited to savor his or her grand cru match. A large, single wall of glass measuring 18' x 4' provides space for up to six people to interact with the display simultaneously. Visitors will also be able to view the various machines and ask questions to learn which machine, at which price point, is right for them.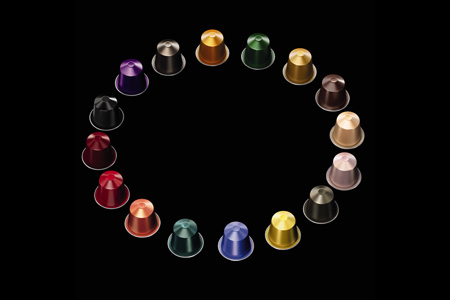 New Yorkers and tourists alike can enjoy and purchase Nespresso coffee while shopping for machines and their favorite capsules. This pop-up shop will be open daily from 7am to 6:30pm, with the exception of Thursday, when the shop closes at 4pm.

And lest I sign off without complete honesty, a personal disclaimer: I am addicted to my Nespresso machine and only wish there were more decaf "flavors," so I could drink mroe all day long, without fear of tossing and turning all night long; but, I suspec, that will come in time. I am also quite partial to the non-decaf specialty flavors that debuted this year, the Vanilio, Caramelito, and Ciocattino. Ummm-ummm good!
Posted on October 01, 2013 - by

---
Reader Feedback - Be the first to kick-start this discussion...



---
About the Author: About the Author: Ruth J. Katz is a well-known shopping and service writer based in New York City. She has written about shopping for 25 years for New York magazine; covered the topic on-air at Fox-TV for several years as the Home Services expert; and had her own show on both the USA and Lifetime Cable networks. Katz wrote extensively for The New York Times as well, and contributed periodically to the New York Daily News. She is a passionate shopper, always looking for not merely a good buy, but the best buy, ferreting out a "steal" or discovering up-and-coming designers. She has written five books and is a former contributing editor to Hearst's Redbook, Classic Home, and Colonial Homes; she is currently a Contributing Editor of New York Home, Golf Connoisseur, The Modern Estate, and Promenade magazines. She is also the former Shopping Director for Davler Media's Manhattan Living.

Recent Entries: