Serious About Sirio - The Top-Flight Restaurant in the Pierre Hotel Introduces Its Fall Menu
Back to the Blog... | Post Feedback | Author Bio | Printer-Friendly
When Sirio Ristorante opened in the late fall of 2012, under threat of torture (just kidding!), I was "forced" to do a road test of the menu and could not have asked for a better, cushier assignment: Everything was perfect, from the service, to the fine, seductive cuisine, to the pleasant surroundings.
To reiterate and recap a little of what I noted earlier:
In 1974, La Forêt, a swell boite in the Pierre Hotel, opened and was quickly embraced by the smart set. At that time, Italian-born Sirio Maccioni, today one of Gotham's most beloved restaurateurs, worked at the hotel and oversaw the La Forêt lounge, restaurant, and nightclub. He had arrived in the States some 13 years prior, after paying his professional dues in the hospitality profession in Europe. He landed at the legendary Wall Street eatery Delmonico's, and subsequently, at the celebrated Colony. It was not long after that that the revered impresario opened his own showcase, the much-loved Le Cirque, in the Mayfair Hotel. (It's worth noting that Maccioni helped launch the careers of many luminaries among the brightest stars in the current foodie firmament; among them, Jacques Torres and Daniel Boulud.)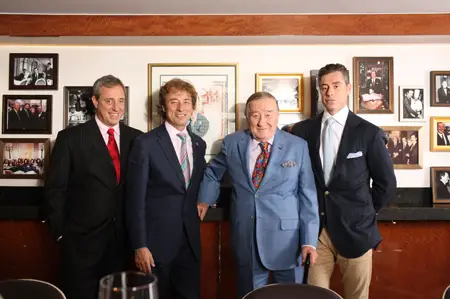 The Maccioni Family. Photo: Melissa Hom

So, it was all the more gratifying for him to return to the Pierre, currently a Taj Hotel, to open yet another restaurant, adding to the Maccioni Group's prestigious holdings. (The space had previously housed a branch of London-based Le Caprice.)
Designed by the renowned architect Adam D. Tihany, it marks the eighth collaboration between the two legends, and it is likely safe to say that at this point Tihany knows precisely what it is that Maccioni needs and wants in a restaurant. And Sirio Ristorante is likely the epitome of that wish list: inviting, cozy, warm.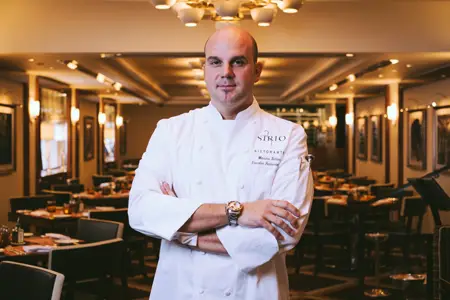 Newly ensconced executive chef Massimo Bebber, an avid cook from an early age, comes to the eatery with a solid CV. Armed with a degree from the Culinary Institute in Levico, Italy, Bebber worked in several prestigious restaurants in northern Italy before coming to New York to join a childhood friend, chef Denis Franceschini (currently owner of Bar Italia), who welcomed him into the Cipriani culinary family; from there he opened the successful restaurant Caravaggio in 2009 and most recently joined the Maccionis at Sirio.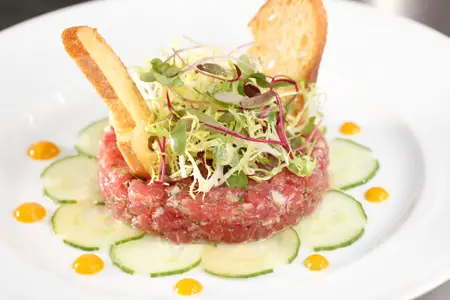 I heartily recommend stopping by to sample the autumnal fare gracing the menu currently. But before dining, you must first sip a few splendid cocktails from the colorful and interesting drink menu: There is the Grumpy Conquistador, a combo of Don Julio Tequila, jalapeno, pineapple, and pomegranate. What can I say? Sip it cautiously, as these kinds of drinks leave a heady punch when imbibed as if they were harmless "umbrella" drinks. The Russian Roulette is also worth way more than a few sips, but again, don't swig it down in one fell swoop, or you'll be sorry...it packs a punch, a good one! Organic cucumber, vodka, St. Germain liqueur, fresh cucumber, and a few other secret ingredients.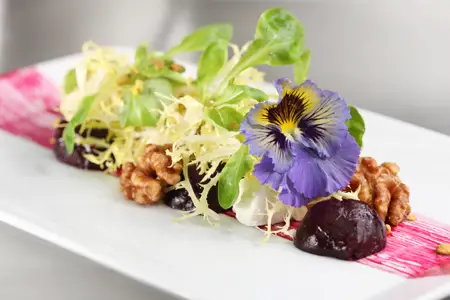 So much for drinking...and now to the main event: I adored the beet salad, Insalata di Barbabietole (pictured above), i.e., roasted baby yellow and red beets, with deliciously crunchy, candied walnuts, pistachios, goat cheese, and mache. I was torn between having the beets and the Buffalo mozzarella with the baby arugula and prosciutto, and truffled honey, but my colleague had it, so I got to taste it. Amen. Do not pass up an interim pasta course and I would strongly recommend a lamb ragout Bolognese with papardelle as well as the gnocchi, Gnocchetti al Profumo di Tartufo (pictured below; ricotta gnocchi with porcini mushroom purée, white truffle oil, and smothered under a canopy of airy, light Parmesan foam).
Main courses will delight and satiate, especially the classic meats like the Costoletta di Vitello al Forno, the roasted grass-fed veal chop, served with fingerling potatoes, sautéed spinach, and veal jus; and the Agnello in Crosta, herb-crusted loin of lamb, plated with braised Swiss chard, cauliflower purée, and lamb truffle jus. Both these heady meals were sensational. But there is so much more on the menu — seafood, fowl, and of course, the famous Sirio cheeseburger. Clearly, you will not go hungry here and, in fact, you'll be asking the waiter to slow down before dessert, as it would be a shame to miss it, but you're likely to be full, so pace yourself.
The tiramisu is served with a slight twist — it's mocha! And the expected tartufo is not loaded with a cherry-flavored ice cream or a spumoni-style gelato , with rather with a sophisticated pistachio ice cream; similarly, the torta al cioccolata has the Siro signature — it is prepared with chocolate mousse, apricot caramel, and surprising banana cake; and the bomboloni are also not to be missed: served hot, they are enchanting little doughnuts filled with thick, mouth-watering vanilla custard, accompanied by a gravy-bowl of a dee-vine, warm chocolate sauce.
Go to the restaurant hungry and eat slowly; you'll dine regally and peacefully here, and moreover, you'll leave satisfied and charmed. 795 Fifth Ave. (61st St.), 212-940-8195; siriony.com
Posted on October 22, 2013 - by

---
Reader Feedback - Be the first to kick-start this discussion...

1


by 4 @ 02/07/14, 08:49:44 PM

20

1
by 4 @ 02/07/14, 08:56:35 PM

20

1
by 4 @ 02/07/14, 08:56:35 PM

20

1
by 4 @ 02/07/14, 08:56:36 PM

20

1
by 4 @ 02/07/14, 08:56:36 PM

20

1
by 4 @ 02/07/14, 08:56:37 PM

20

1
by 4 @ 02/07/14, 08:56:37 PM

20

1
by 4 @ 02/07/14, 08:57:16 PM

20

1
by 4 @ 02/07/14, 08:57:17 PM

20

1
by r2skpy6i @ 02/07/14, 08:57:17 PM

20

1
by -1 OR 2+495-495-1=0+0+0+1 -- @ 02/07/14, 08:57:18 PM

20

1
by -1' OR 2+619-619-1=0+0+0+1 -- @ 02/07/14, 08:57:18 PM

20

1
by -1" OR 2+223-223-1=0+0+0+1 -- @ 02/07/14, 08:57:18 PM

20

1
by if(now()=sysdate(),sleep(10),0)/*'XOR(if(now()=sysdate(),sleep(10),0))OR'"XOR(if(now()=sysdate(),sleep(10),0))OR"*/ @ 02/07/14, 08:57:18 PM

20

1
by (select(0)from(select(sleep(10)))v)/*'+(select(0)from(select(sleep(10)))v)+'"+(select(0)from(select(sleep(10)))v)+"*/ @ 02/07/14, 08:57:19 PM

20

1
by -1; waitfor delay '0:0:5' -- @ 02/07/14, 08:57:19 PM

20

1
by -1); waitfor delay '0:0:5' -- @ 02/07/14, 08:57:19 PM

20

1
by -1)); waitfor delay '0:0:10' -- @ 02/07/14, 08:57:20 PM

20

1
by ge4V7wYu'; waitfor delay '0:0:10' -- @ 02/07/14, 08:57:20 PM

20

1
by O6irVt3n'); waitfor delay '0:0:5' -- @ 02/07/14, 08:57:21 PM

20

1
by 66UkbC1a')); waitfor delay '0:0:10' -- @ 02/07/14, 08:57:21 PM

20

1
by -1;select pg_sleep(10); -- @ 02/07/14, 08:57:21 PM

20

1
by -1);select pg_sleep(15); -- @ 02/07/14, 08:57:21 PM

20

1
by -1));select pg_sleep(10); -- @ 02/07/14, 08:57:22 PM

20

1
by OMoIhkU7';select pg_sleep(15); -- @ 02/07/14, 08:57:22 PM

20

1
by lD8GaQxc');select pg_sleep(5); -- @ 02/07/14, 08:57:23 PM

20

1
by g2M6vrem'));select pg_sleep(10); -- @ 02/07/14, 08:57:23 PM

20

1
by 4 @ 02/07/14, 08:58:03 PM

20

1
by 4 @ 02/07/14, 08:58:03 PM

20

1
by 4 @ 02/07/14, 08:58:03 PM

OiCfcGSg

1
by 4 @ 02/07/14, 08:58:04 PM

-1 OR 2+414-414-1=0+0+0+1 --

1
by 4 @ 02/07/14, 08:58:04 PM

-1' OR 2+231-231-1=0+0+0+1 --

1
by 4 @ 02/07/14, 08:58:04 PM

-1" OR 2+981-981-1=0+0+0+1 --

1
by 4 @ 02/07/14, 08:58:05 PM

if(now()=sysdate(),sleep(5),0)/*'XOR(if(now()=sysdate(),sleep(5),0))OR'"XOR(if(now()=sysdate(),sleep(5),0))OR"*/

1
by 4 @ 02/07/14, 08:58:05 PM

(select(0)from(select(sleep(10)))v)/*'+(select(0)from(select(sleep(10)))v)+'"+(select(0)from(select(sleep(10)))v)+"*/

1
by 4 @ 02/07/14, 08:58:05 PM

-1; waitfor delay '0:0:15' --

1
by 4 @ 02/07/14, 08:58:06 PM

-1); waitfor delay '0:0:5' --

1
by 4 @ 02/07/14, 08:58:06 PM

-1)); waitfor delay '0:0:10' --

1
by 4 @ 02/07/14, 08:58:06 PM

6SxRiDAF'; waitfor delay '0:0:10' --

1
by 4 @ 02/07/14, 08:58:06 PM

z5YreU1T'); waitfor delay '0:0:5' --

1
by 4 @ 02/07/14, 08:58:07 PM

Cdv66YJZ')); waitfor delay '0:0:5' --

1
by 4 @ 02/07/14, 08:58:07 PM

-1;select pg_sleep(15); --

1
by 4 @ 02/07/14, 08:58:07 PM

-1);select pg_sleep(10); --

1
by 4 @ 02/07/14, 08:58:08 PM

-1));select pg_sleep(15); --

1
by 4 @ 02/07/14, 08:58:08 PM

r2CDRCtX';select pg_sleep(5); --

1
by 4 @ 02/07/14, 08:58:08 PM

StG5SPER');select pg_sleep(5); --

1
by 4 @ 02/07/14, 08:58:09 PM

74j3aY6s'));select pg_sleep(15); --

1
by 4 @ 02/07/14, 08:58:20 PM

20

1
by 4 @ 02/07/14, 08:58:22 PM

20

j0tJXN3r
by 4 @ 02/07/14, 08:58:22 PM

20

-1 OR 2+573-573-1=0+0+0+1 --
by 4 @ 02/07/14, 08:58:23 PM

20

-1' OR 2+168-168-1=0+0+0+1 --
by 4 @ 02/07/14, 08:58:23 PM

20

-1" OR 2+289-289-1=0+0+0+1 --
by 4 @ 02/07/14, 08:58:23 PM

20

if(now()=sysdate(),sleep(10),0)/*'XOR(if(now()=sysdate(),sleep(10),0))OR'"XOR(if(now()=sysdate(),sleep(10),0))OR"*/
by 4 @ 02/07/14, 08:58:24 PM

20

(select(0)from(select(sleep(15)))v)/*'+(select(0)from(select(sleep(15)))v)+'"+(select(0)from(select(sleep(15)))v)+"*/
by 4 @ 02/07/14, 08:58:24 PM

20

-1; waitfor delay '0:0:5' --
by 4 @ 02/07/14, 08:58:24 PM

20

-1); waitfor delay '0:0:10' --
by 4 @ 02/07/14, 08:58:24 PM

20

-1)); waitfor delay '0:0:15' --
by 4 @ 02/07/14, 08:58:25 PM

20

h7jDpBBc'; waitfor delay '0:0:5' --
by 4 @ 02/07/14, 08:58:25 PM

20

FFg61rMm'); waitfor delay '0:0:10' --
by 4 @ 02/07/14, 08:58:25 PM

20

3UhDjSYt')); waitfor delay '0:0:10' --
by 4 @ 02/07/14, 08:58:25 PM

20

-1;select pg_sleep(15); --
by 4 @ 02/07/14, 08:58:26 PM

20

-1);select pg_sleep(15); --
by 4 @ 02/07/14, 08:58:26 PM

20

-1));select pg_sleep(5); --
by 4 @ 02/07/14, 08:58:26 PM

20

v11evSQk';select pg_sleep(5); --
by 4 @ 02/07/14, 08:58:26 PM

20

km9326mL');select pg_sleep(10); --
by 4 @ 02/07/14, 08:58:27 PM

20

NHXHb6jU'));select pg_sleep(10); --
by 4 @ 02/07/14, 08:58:27 PM

20

1
by 4 @ 02/07/14, 08:58:35 PM

20

1
by 4 @ 02/07/14, 08:58:35 PM

20

1
by 4 @ 02/07/14, 08:58:36 PM

20

1
by 4 @ 02/07/14, 08:58:36 PM

20

1
by 4 @ 02/07/14, 08:58:37 PM

20

1
by 4 @ 02/07/14, 08:58:37 PM

20

1
by 4 @ 02/07/14, 08:58:37 PM

20

1
by 4 @ 02/07/14, 08:58:38 PM

20

1
by 4 @ 02/07/14, 08:58:38 PM

20

1
by 4 @ 02/07/14, 08:58:38 PM

20

1
by 4 @ 02/07/14, 08:58:38 PM

20

1
by 4 @ 02/07/14, 08:58:39 PM

20

1
by 4 @ 02/07/14, 08:58:39 PM

20

1
by 4 @ 02/07/14, 08:58:39 PM

20

1
by 4 @ 02/14/14, 11:22:34 AM

20