Brooklyn's FIRST LEGO League qualifier, which was filled to capacity with more than 400 students competing, advanced 22 teams to the NYC-wide regional robotics challenge.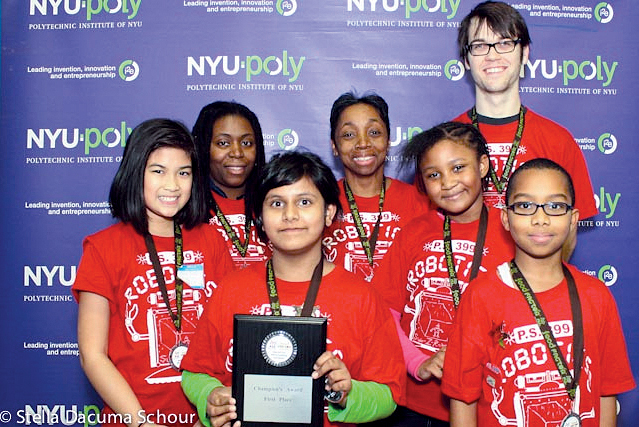 Students of P.S. 399's Gear Hawks team took top honors at NYC FIRST Lego League's Brooklyn qualifier, alongside M.S. 113's Falcon Robotic Allstars and I.S. 383's Skybots. The Gear Hawks included team members Maximus Britton, Janiya Coward, Janelle Delacruz, Sabiha Obaid, Charles Sims, Denzel Stephen, Nigel Wardally, and Shania Williams (not all students are pictured); NYU-Poly grad student and mentor Andrew Cave; and teacher/coach Sharon Holliday.
On Jan. 14, more than 400 elementary and middle school students from across the borough competed for the top spot in NYC FIRST LEGO League's 12th annual Brooklyn qualifying competition. Three teams walked away champions, while about 20 more received awards in categories like innovation, design, and core values.
NYC FIRST is a chapter of the national FIRST (For Inspiration and Recognition of Science and Technology) organization, a nonprofit created to spark young people's interest in science and technology and help them acquire the knowledge and skills needed to pursue careers in these fields. The LEGO League program introduces students ages 9-14 to real-world engineering challenges by encouraging them to build Lego-based robots to complete a variety of tasks that simulate real-life technological challenges -- this year's theme was food safety issues. The students spend several months researching and building their robots for FIRST competitions.
The Brooklyn qualifier, held on the Polytechnic Institute of NYU's Brooklyn Campus, was the largest of the five boroughs and filled to capacity. Each team awarded in the qualifier will advance to the citywide competition, which will be held March 16-18 at the Jacob Javits Convention Center. This FIRST Mega Weekend brings three intense robotics competitions under one roof. Qualified teams from FIRST Lego League as well as FIRST Robotics and FIRST Tech Challenge -- from all five boroughs -- will compete to win the regional competition and for a chance to go on to the national competition. Visitors can also stroll through a career fair, which will feature college representatives and fortune companies ready to discuss careers in technology.