The Brooklyn Superhero Supply Company in Park Slope houses the non-profit 826 NYC - together, these organizations lead local children in the fight against crime and poor grammar.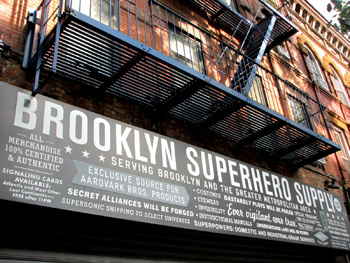 Somewhere among the cafés, brownstones, and trendy thrift shops on Park Slope's Fifth Avenue sits the imposing storefront of the Brooklyn Superhero Supply Company. Just behind the black-and-white awning boldly boasting the store as your "One Stop for All Your Foe Battling Needs" is much of what a contemporary young crime-fighter might put on his or her Christmas wish list: a standard 58-inch superhero cape, a shiny pair of glittering deflector bracelets, and of course, the obligatory pair of tights.
The Brooklyn Superhero Supply Company is staffed by a group of young and bookish volunteers (or superheroes with really good secret identities - which, by the way, are also sold in the store). They're eager to outfit the genuine cape hunter or help aspiring crime fighters find that perfect satin eye mask they've been looking all over the city for. When I stepped through the supply company's doors for the first time, though, it wasn't the photon shooter or leotards that caught my attention, but rather the whisper of young voices escaping from behind the shop's walls: In the corner of the store, tucked behind a hidden door, are the wooden working tables, overstuffed bookshelves, and chattering children of one of the city's most innovative educational non-profits, 826 NYC.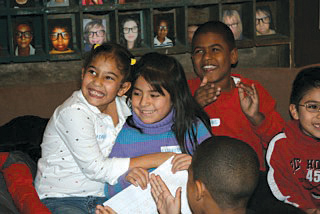 826 NYC is a not-for-profit literacy organization dedicated to supporting students with all of their writing endeavors. And while the Superhero Supply Company draws its fair share of puzzled passers-by, it is the writing room that beckons most of the youngsters that pass through the storefront's doors. 826 NYC is one of eight organizations across the country that borrow their name from the address of the first site opened at 826 Valencia Street in San Francisco by author Dave Eggers (A Heartbreaking Work of Staggering Genius, The Wild Things).
The writing center's services range from daily afterschool homework help to workshops detailing the art of writing fiction for a canine audience, all free of charge and open to the school-aged public (elementary through high school). It is this spirit of unfettered creativity and community service that led me to join 826 NYC's roster of volunteers for an afternoon this fall.
In order to become an official 826 volunteer, even if just for a day, I had to fill out a few forms, attend a short orientation session, and provide professional references (who were, in fact, later contacted via telephone, something that should reassure any parent leery of such a large volunteer pool). Once approved, my inbox began to fill up with volunteer opportunities in the writing center, and I signed up right away to volunteer for an elementary school field trip that same week.
On the day of the field trip I met with my fellow volunteers who would help me attempt to wrestle attention from the 30-odd fifth graders coming in from a charter school in Williamsburg: the seven of us included a stay-at home mom who is a regular at the writing center and a few university students looking to make good use of their Thursday afternoon.
The next few hours were nothing short of inspiring. Despite a few mild lapses in behavior, the students were genuinely engaged in the story-making activity and showed more interest in the written words before them than they did in all of the superhero outfits in the adjacent store.
The students worked collaboratively with the help of volunteers to craft a narrative about an eloquent talking towel, and ended the day by writing original endings to the story on their own bound copies. As a writer who agonizes over coming up with fresh ideas, I left the writing center that day jealous of the effortless creativity of youth - but feeling like a superhero nonetheless.
826 NYC is located at 375 Fifth Avenue in Park Slope. For more information: 718-499-9884
Get Involved!
Parents with school-aged children should encourage their child's teacher to research the organization and sign up online for a free story-telling and bookmaking field trip. Eager adults looking to get their child involved outside of class can stop by the Brooklyn Superhero Supply Company after school for homework help, or register for one of the creative writing workshops on the organization's website.
Volunteering is also a great way for parents to get directly involved with 826's diverse operations. Volunteer sign-up forms are available on the website. And families simply searching for a fabulous Halloween costume can rest easy knowing that all of their purchases at the Brooklyn Superhero Supply Company go directly towards supporting 826 NYC's literacy efforts.
Find more volunteer opportunities (for kids and adults) in Brooklyn and the New York metro area
Consult our roundup of after-school activities in your area