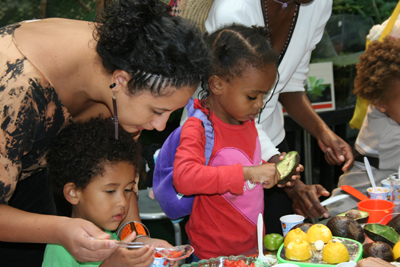 Brooklyn is known for many things, one of which is the variety of culinary specialties created daily in kitchens around our borough. With the varied ethnicities that live here, many Brooklynites capture the taste of their homelands through the meals they feed their families. This month, the Brooklyn Children's Museum celebrates those foods in A Taste of Brooklyn. With special workshops and events, the museum gives visitors the chance to sample and learn more about different cultures through tasty dishes.
In "Tomatina," visitors ages 6 and up can explore the annual tomato-throwing tradition of Tomatina in Bunol, Spain. After that, they help create a masterpiece of food art to take home. "Tomatina" takes place August 1, 2:30-4pm, and August 11 and 25, 3:30-4:30pm.
"Couscous on the Loose" takes families to Morocco. A diverse treat, couscous can be served cold or hot, and kids ages 6 and up can taste-test to see which they prefer. This dish comprised mostly of semolina wheat and ground wheat flour is a staple with a variety of meats and vegetables, and served as a main course or side dish. Catch "Couscous on the Loose" August 4, 3:30-4:30pm and August 14, 1-2pm.
The month-long celebration of food finishes with a full weekend of culinary fun. In "A Taste of Brooklyn Weekend," August 29-30, visitors discover some urban culinary treasures while hanging out in the World Brooklyn gallery. Guests attend workshops to collect recipes and create a recipe book to take home. Drop in anytime 10am-5pm.
Event Info
What: A Taste of Brooklyn
Where: Brooklyn Children's Museum, 145 Brooklyn Avenue
How much: FREE with museum admission: $7.50 per person; free children under 1
For more information: 718-735-4400 or www.brooklynkids.org