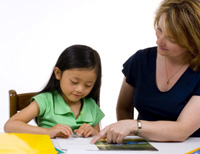 UPDATED AUGUST 2014: The fun doesn't have to end when the school bell rings! Brooklyn, NY is packed with great after-school classes and programs that will keep kids busy and help them grow. Our guide features listings for academic programs, learning centers, dance schools, sports programs and more in Fort Greene, Brooklyn Heights, Park Slope, Carroll Gardens, and the rest of Brooklyn, NY.
7426 15th Ave.
4724 Avenue N
718-236-6494
Between our two Brooklyn-area locations and in-house theater, Acting Out! offers an extensive performing arts curriculum for students, kindergarten to college. Our staff is comprised of professional actors and musicians. Our after-school program includes all levels of acting, musical theater, improvisation, and film and television, as well as private lessons for singing, piano, and audition preparation. Many Acting Out! students have graced Broadway stages and prestigious performing arts institutions, but most important, all of our students are improving their futures and increasing self-confidence under our caring and passionate guidance because we love what we do!
Four great, convenient Brooklyn locations:
4626 Flatlands Ave.
718-692-4809
1866 Flatbush Ave.
718-258-2340
9409 and 9411 Avenue L
718-272-1813
Our classes are for ages 2 through adult. We teach ballet, tap, jazz, pointe, gymnastics, hip-hop, Caribbean, African, boys classes, adult classes, lyrical, praise dance, karate, private lessons, and competition classes. Call or stop into one of our four convenient Brooklyn locations for more information. We also offer a free trial class!
556 Columbia St.
929-210-1362
BASIS Independent Brooklyn, opening for kindergarten through 10th grade, features the STEM-focused liberal arts course of study that places its sister schools at the very top of the world's academic achievers. With master teachers and an expert learning specialist in each class, every student finds support to accomplish more than he or she ever expected. Early-bird and late-bird hours, along with dedicated transportation by bus or water taxi, make BASIS Independent Brooklyn the best choice for New York children to ignite their passion for lifelong learning.
421 5th Ave., Park Slope
718-832-0018
BAX Youth Education provides expert instruction in building technical skills in dance, tumbling, and theater with an emphasis on cultivating creative expression. Working with professional performing arts faculty, BAX students develop improvisation, original choreography, and performance skills, working independently and in collaboration. Youth classes embody BAX's overarching mission to provide the space and support for "artists-in-progress" to explore, hone, and share their unique voice. For more information on BAX's Youth Education programs, visit youth.bax.org.
6722 Fort Hamilton Parkway (entrance on 67th Street and 9th Avenue)
718-238-3288
[email protected]
BounceU is Brooklyn's newest party and play facility. We specialize in private celebrations and after-school active fun for all ages. BounceU offers two giant stadium rooms filled with huge inflatable equipment, and BounceU's own Spider Mountain. Make your reservations today to play in our clean, climate-controlled facility. Our friendly, energetic staff will ensure that after-school active time is fun and memorable. Call today for more information about our awesome facility.
8696 18th Ave., Brooklyn
1902 Avenue T, Brooklyn
259 Rose Ave., Staten Island
718-232-0114
Brienza's Academic Advantage offers a wide variety of programs for students attending kindergarten through 12th grade. We specialize in TACHS, SHSAT, SAT, and ACT preparation. Our programs provide students with the opportunity to increase their skills and knowledge, enabling them to reach their full potential. Programs offered are tutoring in all subject areas (both one-to-one and share-a-tutor groups), test preparation courses, and SETSS (P-4) services to qualified students. Call our office to speak to one of our educational specialists who can help you choose the best option for your child. Please register early as space is limited.
375 Pearl St.
718-852-1029
Joan Martin, director of communications pre-K through 12th grade
A college preparatory, coed, Quaker day school for students in preschool through 12th grade, Brooklyn Friends School was founded in 1867 and is one is one of the oldest, continuously operating, independent schools in New York City. The school offers the International Baccalaureate Diploma Program and enrolls more than 800 students from all five boroughs of New York City; another 55 2-year-old children are enrolled in the Family Center at Brooklyn Friends.
BROOKLYN HEIGHTS MONTESSORI SCHOOL
185 Court St.
718-858-5100
bhmsny.org
[email protected]
After the school day has finished, a place for creative learning and relaxed play can still be found at BHMS in our Montessori Afternoons Plus program. MAP is a comfortable, safe, and progressive after-school program for children from preschool through fourth grade. MAP offers a rich variety of activities under the guidance of our experienced and nurturing staff. The program is open to BHMS students, as well as children from the local community.
COOKIE'S KIDS - THE KIDS' DEPARTMENT STORE
Brooklyn:
510 Fulton St.
718-797-3300
982 Flatbush Ave.
718-287-2300
265 Livingston St.
718-797-3300
Queens:
166-21 Jamaica Ave.
718-291-7700
Bronx:
1534 Westchester Ave.
718-991-9500
567 Melrose Ave.
718-585-0800
With back-to-school season approaching, parents are finding out that Cookie's Kids, the Kids' Department Store, is New York City's premier school uniform supplier. Cookie's carries the largest selection of uniforms, from toddler to adult sizes, stocking quality brands such as French Toast, Nautica, and U.S. Polo Assn. The knowledgeable staff can answer any questions about your child's uniform needs, and provide information on made-to-order plaids, custom embroidery, and screen printing options. Plus, Cookie's everyday low prices on school uniforms will make any parent smile.
THE LITTLE GYM OF BAY RIDGE-BENSONHURST
8681 18th Ave.
718-259-6878
[email protected]
A feeling of success is one of the many benefits your child receives at The Little Gym®. We provide gymnastics-based motor skill development programs for ages 4 months to 12 years. Through sequential skill building, movement, gymnastics, exercise, music, and games, our curriculum teaches students to build their physical, social, emotional, and intellectual skills. Classes are non-competitive and taught in a fun, safe, and nurturing environment. Currently offering gymnastics, dance, sports skill, and karate classes. Schedule your free trial class. Celebrate your child's birthday. Party slots fill up months in advance—reserve today!
Bay Ridge
7409 3rd Ave.
347-443-9728
Bensonhurst
6806 20th Ave.
347-762-8411
[email protected]
Park Slope (opening in August 2014)
361 5th Ave.
718-369-6284
[email protected]
Mathnasium is an after-school learning center where we make math make sense to kids. We support grades K-12, including standardized test preparation. We are the math experts. We provide excellent content at a great value with proven results. Instruction is one-on-one. We conduct an in-depth math assessment, and prepare a customized learning plan for each student. We offer flexible scheduling in a relaxed environment.
6632 3rd Ave. (next to the firehouse)
718-492-8997
[email protected]
At Play Days and Parties, we realize the need for children to release energy after a long day of school, and offer a diverse choice of activities and drop-off options. Children, ages 2-12, are mentally and physically stimulated in our fun and safe environment. We also offer Spanish and Italian classes, arts and crafts, free play, and Introduction to Pre-school Playgroup, where independence and self-confidence are encouraged. Classes are designed to enable children to work collaboratively in a group, where they listen, observe, and recreate situations through imaginative play.
THE PREPARATORY CENTER FOR THE PERFORMING ARTS AT BROOKLYN COLLEGE

234 Roosevelt Hall, 2900 Bedford Ave.
718-951-4111
For more than 35 years, The Preparatory Center for the Performing Arts at Brooklyn College has offered music (including Suzuki violin, cello, and flute for very young children), theater, dance classes, and private lessons for children of all ages and levels. We also welcome adult students for private or group instruction. Our experienced professional teachers, many of whom have extensive performance experience and advanced conservatory degrees, encourage students' growth at all levels. Registration is underway for our 2014-2015 school year, which begins Sept. 18. Call for an individual registration consultation or a Suzuki interview.
SMARTSTART EARLY CHILDHOOD CENTER, INC
8411 Fort Hamilton Parkway
718-921-1868
While providing a safe, warm, and nurturing environment, our staff addresses the social, emotional, and physical needs of children. Through thematic units, arts and crafts, and dramatic play, the "whole" child will flourish. Full- and part-time classes for 2- and 3-year-olds, and free Universal Pre-K for 4-year-olds, with extended-day option. Open year-round; summer program available.
866-893-HOME (4663)
Teach Me At Home offers individualized, one-on-one, live, online tutoring at the location and time of your choosing. Serving first-eighth grades, each student chooses their own tutor. We use Study Island, an instructional and diagnostic tool that enables tutors to help students prepare for and master the core curriculum. Each student takes a preliminary diagnostic test to reveal weaknesses in their knowledge base to target their lessons. Affordable lessons: $20 per hour. Students have optional follow up exercises to reinforce topics, and progress reports are emailed to parents after each lesson.
THE TUTORING CLUB OF BAY RIDGE
7811 3rd Ave.
718-748-8867
The Tutoring Club is dedicated to: helping students increase their subject skills and self-esteem using our advanced curricula; low student-to-tutor ratio; ability to pinpoint and correct problems; high level of student motivation; and qualified instructors skilled in the use of the programs. Our core programs are math, ELA, and writing skills. Test prep programs for Gifted & Talented, SSHSAT, TACHS, ISEE, SAT, and New York state grade-level tests, as well as Homework Help sessions, are available.
WORLD CLASS LEARNING ACADEMY, NEW YORK
An International School for Children Ages 2-11
44 E. 2nd St., Manhattan
212-600-2010
[email protected]
World Class Learning Academy is a diverse, internationally-focused, learning community dedicated to developing a broad world view in students. Through the International Primary Curriculum, our British-trained teachers offer benchmarked, highly personalized learning in an academically rigorous setting. A member of the Nord Anglia Education group of schools, we have been a learning leader for more than 25 years. At WCLA's comprehensive after-school program, children may explore a wide variety of classes and private lessons not limited to languages, art, sports, music, drama, swimming, and movement, in a fun-filled, social environment.
Classes are held at 5602 5th Ave., 2nd Floor (entrance on 56th Street)
347-702-7155
[email protected]
Since 1985, Young Dancers in Repertory has been training dancers and offering dance programs in Brooklyn. YDR classes include creative dance, pre-ballet, ballet, modern dance, jazz, hip-hop, tap, and theater dance for students ages 3 and older at our Center for Dance Studies at 5602 5th Ave. in Sunset Park. YDR also conducts dance residencies and performances for schools, an OST after-school program at PS 127, and a youth ensemble. Call 347-702-7155 or visit youngdancersinrep.org.