Related: children, kids, Brooklyn Arts Exchange, hespians, dancers, acrobatics, singers, artists, ,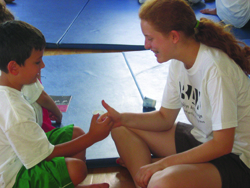 Young thespians, dancers, acrobatics, singers, and artists have an entire week to practice strutting their stuff. The Brooklyn Arts Exchange is offering a President's Week Arts Program in which kids can work on their tumbling exercises, cartwheels, roundoffs, and yoga poses; learn vocal techniques, acting styles and storytelling; write their own songs; or immerse themselves making comic books and doing kamikaze juggling. Guest performances from various disciplines will be incorporated. Kids are split into groups and then swap disciplines so all are exposed to a variety of activities.The schedule is posted online. For grades K-5. Limited to 30 students. $70 per day or $300 for entire week. February 16-20. 8:30am-3pm daily. Late pick-up at 5pm for an additional $5 an hour. BAX/Brooklyn Arts Exchange, 421 5th Avenue (at the corner of 8th Street), Park Slope. 718-832-0018. www.bax.org.


---
Get Your FREE Indoor Activity eGuide!
---
More Culture/Entertainment Articles
Family Theater: 'Dear Edwina' is Back in New York
Theater Review: Broadway's 'Elf: The Musical'
Children's Theater Review: Freckleface Strawberry
Movie Review: The Kids Grow Up
Children's Theater: Cool Fall Shows in NYC - October 2010

Be a good fellow parent and share this with a friend who would be interested
Local Culture/Entertainment Sponsors
See Our Culture/Entertainment Directory