Children's author/illustrator Nina Crews stopped by The Brooklyn Hospital Center's Children Health Center August 9 to read her classic, colorful book One Hot Summer Day. Young patients sat rapt as Crews recounted the adventures of one little girl's summer-day activities, including trying to fry and egg on the sidewalk, taking a popsicle break, and, finally, welcoming a thunderstorm.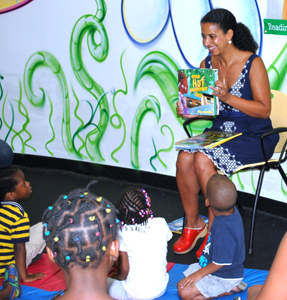 The event commemorated "Early Literacy Awareness Week," organized by the hospital in collaboration with Reach Out And Read, an organization that gives children new books when they come to the hospital for wellness visits. The goal of the initiative was to promote reading and the other socially positive outcomes that come with early literacy, including better attention skills and school performance.
For more information on Reach Out and Read, visit www.reachoutandreadnyc.org.