Related: children. kids, baby, Valentine, New York, dance, family, Brooklyn,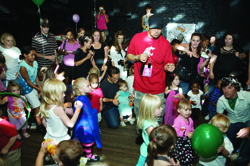 Get your dancing shoes on! Baby Loves Disco is coming to Brooklyn and presenting a
Valentine's Ball
in which families will dance to love songs with a beat.There will be plenty else to keep families entertained, including an area with books, hula hoops, rhythm instruments, swirly scarves, and more, plus healthy snacks and juice boxes, room for stroller parking, and a changing station. Ages 6 months-7 years. $12 online or $15 at the door. February 7. 2-5pm.
Southpaw, 125 Fifth Avenue, Park Slope. 718- 230-0236.

www.spsounds.com

or www.babylovesdisco.com.

Photo Credit: Sarah Miller Photography
More Culture/Entertainment Articles
Family Theater: 'Dear Edwina' is Back in New York
Theater Review: Broadway's 'Elf: The Musical'
Children's Theater Review: Freckleface Strawberry
Movie Review: The Kids Grow Up
Children's Theater: Cool Fall Shows in NYC - October 2010

Be a good fellow parent and share this with a friend who would be interested
Local Culture/Entertainment Sponsors
See Our Culture/Entertainment Directory