SEE OUR MOST RECENT HEALTH & WELLNESS GUIDE FOR BROOKLYN FAMILIES
---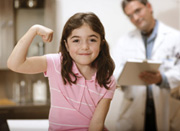 In this comprehensive guide to family health and wellness services in Brooklyn, NY, you'll find pediatricians and doctors, dentists, hospitals, medical centers, gyms, sports programs, and more, all in your area.
ACHIEVE BEYOND
60 Madison Ave, 8th Floor, Manhattan
(877) 665-0999

Achieve Beyond specializes in nationwide pediatric therapy and autism services for children ages 5 and under. Achieve Beyond uses a family focused approach in providing speech therapy, occupational therapy, physical therapy, ABA/autism therapy, and psychological counseling. We strive to serve our patients and their families by providing services and evaluations support in their predominant language, at both the home and community settings.

CATHERINE LABOURE SPECIAL EDUCATION PROGRAM
21 Bay 11th St
(718) 449-1857 or (718) 256-2605
Did you know the Diocese of Brooklyn, Department of Education operates the Catherine Laboure Special Education Program? We are a New York State Approved Academic program for learning disabled, speech impaired and developmentally disabled students currently serving intermediate, junior and high school students in our newest location. For open house and general information, please contact: Margaret Sacca, Principal. We look forward to hearing from you!

CHALLENGE EARLY INTERVENTION CENTER
Executive Offices: 649 39th St
72-38 Main St, Flushing
1900 Richmond Ave, Staten Island
(718) 851-3300; [email protected]
Challenge provides comprehensive developmental evaluations, speech/physical/occupational therapies, special instruction, vision therapy, nutrition, social work, family counseling/training, parent support groups, and service coordination for developmentally delayed infants and toddlers. We also provide home and center-based ABA services for children with diagnoses on the autism spectrum. Services can be provided at our centers or community-based locations (daycare center or child's home). Service coordinators and Social Service department help families access available support services in the community, such as respite, SSI, Medicaid and WIC. Medical referrals available. All services are provided at no cost.

DOWNTOWN BROOKLYN SPEECH-LANGUAGE AND HEARING CLINIC
1 University Place, RM M257
(718) 488-3480; [email protected]
Located at Long Island University, the clinic provides state-of-the-art evaluation and treatment services to the downtown Brooklyn community and nearby catchment area. The clinic sees patients of all ages - from children to adults - with a wide range of communication disorders. Our audiological services include both hearing screening, and complete hearing and auditory processing assessments. The Speech-Language Pathology staff includes Spanish, Russian and Cantonese speaking faculty.

FIDELIS CARE
(888) 343-3547

Fidelis Care, the New York State Catholic Health Plan, serves more than 645,000 members in 53 counties throughout New York State. It was founded on the belief that all New Yorkers should have access to affordable, quality health insurance. Through New York State's Child Health Plus, Family Health Plus, and Medicaid Managed Care programs, members are covered for regular checkups, preventive care, hospital and emergency care, eye exams, dental care, and more. For seniors, Fidelis Care also offers quality, affordable coverage through Medicare Advantage and Dual Advantage programs.

GENESIS FERTILITY AND REPRODUCTIVE MEDICINE
1355 84th St
(718) 283-8600

Genesis Fertility and Reproductive Medicine has been the source of expert fertility care for over 20 years. Our physicians, Dr. Richard Grazi and Dr. David Seifer, are nationally renowned, board certified specialists who have been recognized repeatedly as top doctors by New York magazine. The Genesis facility is comprehensive, providing the full range of infertility-related services, including the most advanced reproductive techniques for both men and women. Services also include psychological services, genetic counseling and an active donor egg program.

HANSON PLACE ORTHODONTICS
One Hanson Place, Ste 707
(718) 622-2695

Adults, children and adolescents are welcome. Featuring SURESMILE®, which cuts orthodontic treatment time by almost 40 percent compared to traditional braces. This brand new state-of-the-art treatment uses robotic technology, 3-D imaging and custom-made archwires for each patient, allowing for the most predictable results, shorter treatment, less office visits, and enhanced patient comfort. We also have Invisalign® and other treatment options all at affordable prices. We accept most insurances. Located in the Clock Tower building, next to Atlantic Avenue railroad, subways and buses. Easily accessible from Brooklyn, Manhattan, Queens and Long Island.

HOUSE OF ORTHODONTIA
122 Atlantic Ave, Brooklyn Heights
(718) 852-4414

House of Orthodontia is a state-of-the-art facility that provides a full menu of orthodontic services and treatment for children and adults, including braces, Invisalign, and temporary implants. The office offers the latest form of digital technology which allows braces to be engineered specifically for an individual patient, making treatment more effective. Dr. Alikhani has been practicing orthodontics for 10 years and currently serves as the Director of Research and full-time faculty in the Orthodontics Department at New York University.

PEDIATRIC IMMEDIATE CARE
698 Manhattan Avenue; (718) 389-PEDS
150 E. Sunrise Highway, Lindenhurst; (631) 956-PEDS
1077 W. Jericho Turnpike, Smithtown; (631) 864-PEDS
Pediatric Immediate Care is a team of hearts where kids come first. State of the art medical office equipment allows them to deliver results of your tests during your visit. Kid friendly, walk-ins welcome, most insurance plans accepted. Complete pediatric and adolescent care, babies, school, and sports physicals. Certified urgent care recommended by Urgent Care Association of America. Twenty-eight years of dedication to our patients. The offices are open every day, seven days a week including holidays, 8am-11pm.

PIROZZI, JAN PSY.D.
551 Bay Ridge Parkway, ground floor
(917) 327-3613; [email protected]
Eileen Feliciano, Psy.D.
(718) 551-4796; [email protected]
Dr. Jan Pirozzi and Dr. Eileen Feliciano are child psychologists with close to 20 years of combined experience providing services for children of all ages with emotional, learning, and behavioral difficulties. They provide individual and family therapy, developmental screenings, psychological and educational assessments, school consultation and advocacy, and a variety of support and treatment groups for children and families. Areas of specialty include: adolescents, LGBT, autism, play therapy, social skills, sibling groups, and parent-infant groups.