See what's happening this February in Brooklyn. We've rounded up some of the best events for kids and families throughout the month, including Black History activities, kid-friendly shows, and fundraising events.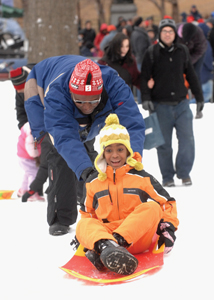 Shredder's Wonderland
Snow-making equipment arrives at Prospect Park for the annual Winter Jam festival. Dust off your snowboard, cross-country skis, snowshoes, sleds, even downhill skis - this event brings ski jumps and more to otherwise non-mountainous Brooklyn. The beloved Nethermead area of the park is transformed into a veritable Lake Placid - actually, they've dubbed it "Lake Placid Snow Field" just for the event. Those without equipment can borrow, and lessons will be given as well, all for free. Or if you prefer, you can build a snowman and other snow sculptures. Also taking place is the Red Bull Butter Cup, a national competitive snowboarding event where pro and amateur riders lay down their tricks. How often do you get to see snowboarders shred in Brooklyn? February 5, 11am-4pm. FREE. Prospect Park Nethermead, Brooklyn. 718-965-8951.
Chinese New Year Block Prints
Gung hei fat choi! Celebrate the Chinese New Year at the Brooklyn Children's Museum on February 5. At 1:30pm, kids can learn about the ancient art of nianhua - Chinese block prints. A colorful decoration for the New Year holiday, these prints portray auspicious symbols that bring good fortune to families for the coming year. Kids can unleash their inner folk artist and create their own print to take home. $7.50 museum admission. Brooklyn Children's Museum, 145 Brooklyn Avenue. 718-735-4400.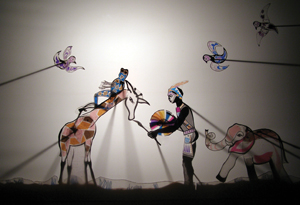 Musical Storytelling
The African Drum beats courtesy of Shadowbox Theatre, February 1-14. The NYC-based Shadow Box Theatre has brought a distinctive, multi-sensory approach to children's theater to audiences since the '60s. Among their repertoire is The African Drum, which they have been performing for years in honor of Black History Month. Here, African folktales are told through a drum, storyteller, and a cast of performers. In true form for the Shadowbox troupe, music rich with African rhythms and timbres frame timeless story's such as "How the Turtle Got its Shell," interwoven with the musical story of a girl named Kijana. Select dates at 10:30am. $15 in advance; $20 at the door. P.S. 3: The Bedford Village School, 50 Jefferson Avenue. 212-724-0677.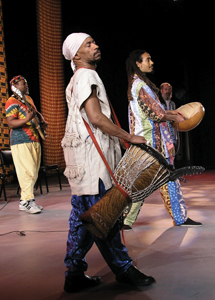 Celebrate Black History
Brooklyn is steeped in black history. It's where Jackie Robinson broke the color line with the Brooklyn Dodgers, and where runaway slaves sought refuge in the Plymouth Church in Brooklyn Heights. So it makes sense that there are lots of local events celebrating Black History Month; among them:
The Brooklyn Public Library presents a range of activities, from music (singer Kwiassa, who melds African, Brazilian, reggae, and more with song and dance), to author talks (with writer and actor Tanya Wright of HBO's True Blood fame). February 3 and 10, respectively. 7pm. The Brooklyn Public Library, Central Branch, 10 Grand Army Plaza, Brooklyn. 718-230-2100.
The Brooklyn Children's Museum offers a series of storytelling and hands-on learning events, including a program (Follow the Drinking Gourd) that teaches how runaway slaves used the constellations to navigate north to freedom. February 22, 1:30pm. Brooklyn Children's Museum, 145 Brooklyn Avenue, Brooklyn. 718-783-4400.
In Manhattan, Symphony Space presents Spirit Men: Heritage OP Family Concert. This quartet of percussionists bang out African diasporal music that encourages audience participation. February 12. 11am. Symphony Space, 2537 Broadway, Manhattan. 212-864-5400.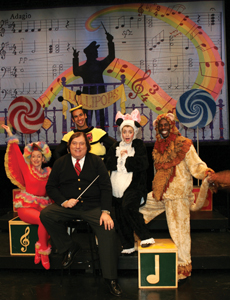 Orchestral Maneuvers
When you put children around musical instruments, something magical seems to happen. The Lolli-Pops series of concerts, presented by Little Orchestra Society, are just for children 3 to 5 years old. For them, the gleaming bell of the tuba or the sonic bombast of the copper tympani registering like a screaming fire truck make an indelible impression. "Do You Hear What I Hear?" invites children on a sonic adventure where orchestral instruments come to life, demonstrating their dynamic abilities and conveying musical nuances such as tempo and tonal attributes. It's a perfect way to sow the musical seeds for young children. February 12 and 13. 10:30am and noon. $40 orchestra and front balcony; $12 rear orchestra and rear balcony. Kaye Playhouse at Hunter College, 68th Street between Park and Lexington Avenues, Manhattan. 212-971-9500.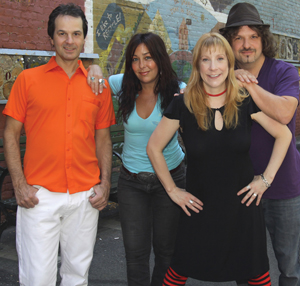 Pop Perfection
Erin Lee and the Up Past Bedtime Band features Lee's brassy, vibrato-rich voice that evokes classic '60s-era girl-group singers like Ronnie Specter or Darlene Love. Combined with her band, the result is bouncy, upbeat pop perfection that grooves, boogies, and plain out rawks! Lee and band are definitely in the family band category, in other words, they appeal to kids and their parents. Making their performance ever more appealing is Erin Lee's background in theater and working with children in music classes, which makes for an interactive, very un-passive experience. February 13. 12:30pm (doors open at 12pm). $10. Knitting Factory, 361 Metropolitan Avenue, Brooklyn. 718-529-6696.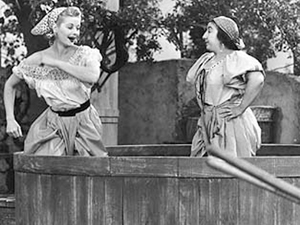 Valentine's Babaloo
Lucy Ricardo had a knack for getting herself into uproarious but desperate situations. Whatever your situation, why not rejoice in the silliness of St. Valentine's Day by watching some I Love Lucy episodes on the big screen? Remember when Lucy became a she-Martian on top of the Empire State Building? Or when she was airlifted by helicopter to meet Ricky on a cruise ship? And isn't watching Fred and Ethel every bit what Valentine's Day is about? February 14. 4pm. $7. Cobble Hill Cinemas, 265 Court Street, Brooklyn. 718-875-9254. www.bigmoviesforlittlekids.blogspot.com.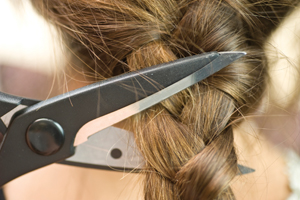 Locks of Love
For children, losing their hair due to medical reasons can be devastating. Brooklynites have a chance to help by participating in the Locks of Love program, sponsored by Park Slope Day Camp. To get involved, make an appointment for February 15 with any of five participating Brooklyn haircutters (you must have a ponytail 10 inches long, or longer). Then, surrender your ponytail and get a new haircut. In exchange, participants will receive a $20 gift certificate toward enrollment in the Park Slope Day Camp. Plus, they will know they did something very kind for someone else.