Check out these great family activities and events scheduled for the month of September in Brooklyn. Whether you're looking to attend the New York Clown Theatre Festival, celebrate Tug and Barge Week, or get the family moving with sports and fitness programs, we've got all the information a Brooklyn family needs.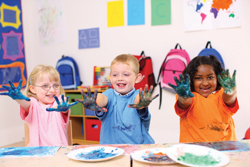 Back to School Fun
Get ready for school with the Preschoolers' Fall Fun Party at the Brooklyn Children's Museum. Kids can celebrate the first year of school or entering a new grade with music, arts and crafts, stories, and more. September 3 at 11am. $7.50. Brooklyn Children's Musuem, 145 Brooklyn Avenue. For more information, call 718-735-4400 or visit www.brooklynkids.org.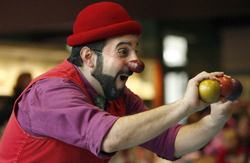 Circus Antics
See diverse clown theater artists from throughout the United States and abroad at the 2010 New York Clown Theatre Festival. The lineup includes 17 main stage shows, four kid-friendly shows, one street show, and five cabarets, including one devoted to clowns over 50. The festival begins with its traditional opening day parade from Union Square through the L line subway to Williamsburg, followed by an open-to-the-public pie fight; it ends with the traditional closing day funeral, with clowns weeping and wailing in the streets of Williamsburg. September 3-26. See website for show times. $15. The Brick Theater, 575 Metropolitan Avenue. 866-811-4111. www.bricktheater.com.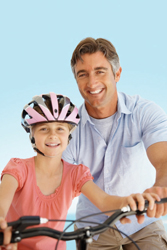 Get Moving!
September is National Childhood Obesity Awareness Month. Check out some great local events to get your family moving:
Play kickball and raise funds to feed the hungry at the same time, at Buy a Run Day for Greenpoint's Food Bank. September 5 at noon. $10. McCarren Park, 347-299-815. www.brooklynkickball.com.
Join OSA and Bike NY for Learn to Ride Your Bike, September 11 at 10am. FREE. Martinez Playground, Scholes Street and Manhattan to Graham Avenue. 311. www.nycgovparks.org.
No Child Left Inside Sports Sampler has a variety of sports and fitness activities including riding, golf, tennis, and yoga, and teaches kids how to avoid sports injuries. September 19 at 1pm. $6. Staten Island Children's Museum, 1000 Richmond Terrace, Staten Island. 718-273-2060. wwww.statenislandkids.org.
Roughin' It
Enjoy an evening of camping out under the stars at Family Camping. Join in on a cookout dinner, a night hike, and a campfire, on two dates this month. Bring sleeping bags; tents will be provided. Registration is required; space is limited. 6pm. FREE. September 3 at Salt Marsh Nature Center, East 33rd Street and Avenue U. September 17 at Prospect Park, East Drive and Lincoln Road. For more information and to register, call 718-421-2021 or visit www.nyc.gov/parks/rangers/register.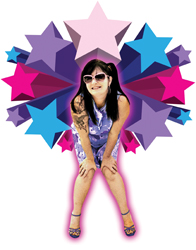 Ready to Rock
The polular children's band AudraRox performs at Carroll Park on September 19. Families can enjoy the concert along with a variety of craft activities and refreshments. All ages. FREE. Carroll Park, between President and Smith Streets. For more information, call 311 or visit www.carrollparkbrooklyn.org.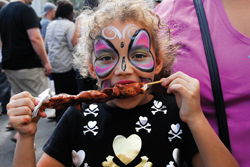 The Tradition Continues
Join more than one million people at the 36th Annual Atlantic Antic. Brooklyn's largest street festival is filled with 10 blocks of food, activities, vendors, and entertainment. The festival boasts 10 live entertainment stages with performances by blues, rock, country, R&B, and jazz musicians, as well as children's bands, drum circles, and belly-dancing. Known for its eclectic delicacies, the festival will offer a variety of foods from around the world plus street fair favorites. Kids will keep busy with pony rides, face painting, balloon sculptures, live storytelling, and inflatable rides. September 26, 10am-6pm. FREE. Atlantic Avenue from Hicks Street to Fourth Avenue. 718-875 8993. www.atlanticave.org.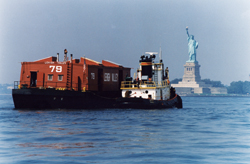 Maritime Marvels
Sail aboard the Waterfront Museum, see the city's sites, and take a tour of the barge during Tug and Barge Week. The museum is housed aboard the 1914 Lehigh Valley Barge No.79 and the 1907 Tugboat Pegasus, both of which are listed on the National Register of Historic Places. Walk, bike, or use mass transit to visit the new dock located in Brooklyn Heights at the foot of Atlantic Avenue behind the new playground. FREE. Pier 6, Brooklyn Bridge Park. 718-624-4719. www.waterfrontmuseum.org.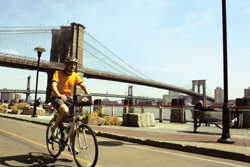 Ride Through the City
Families can now rent bikes in Prospect Park, courtesy of Bike and Roll NYC kiosks. Explore the cultural offerings in the heart of Brooklyn and the unique small businesses nearby. A variety of bikes as well as child seats are available by the hour or by the day on weekends throughout September. Tours of city landmarks are also available. For more information and to make reservations, visit www.bikeandroll.com.
For even more family activities in Brooklyn, visit our Online Calendar.